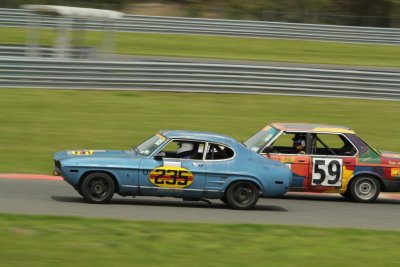 Mechanical Preparation for Lemons Racing of our 1974 Capri or "How to prep a Lemons race car without mechanical skill nor knowledge"
After our debacle with the dirt track car, we (I) made our team's first good decision and decided to look for a car that had lemons experience, since we had none.  After looking for several weeks, we found the two Prompt Critical team cars were available and we eventually drove down to investigate.  
We met with Vince in March 2018 and during our discussions, the Capri looked like a great option for us. It had several successful'ish races and was solid mechanically. In addition, it was relatively easy to drive and since it was from the 70's should be easy to work on. Down sides: Transmission may be a weak spot and parts are probably getting harder to find as we go. Our only show stopper was that team Prompt Critical had begun the process to change the Capri drive train over to match the Mustang. Finally recognizing my limitations (perhaps for the first time, just ask Vicki), I asked for the car to be put back with the original motor and transmission. We eventually met in the middle and they agreed to put the engine back in, but we had to finish up the rest. Consider it our welcome to Lemons World and our first Lemons test.
We agreed and picked up the car the following week. (actually picked up both cars, but that is a story saved for our Mustang Prep post still to come). So now we have a car that needs, in our minds, considerable work to be ready for the NJMP Lemons race in May.
Please remember our status at this point is a team consisting of one 17-year-old son with two high school auto classes, an artistic mom with some mechanical ability gained through YouTube, and a father who can work with wood, but we were pretty sure we shouldn't have much wood in the race prepped car. We also had nearly zero tools beyond standard household and honey-do items like hammers, drills, and screwdrivers. Oh, I also forgot, we have no garage in our current home so whatever we need to do is done outside in the elements and in northeast PA, winter can get cold and last well into what the calendar says is spring. I knew enough to know that working on the ground on a car in the cold is not really enjoyable. In summary, no mechanical skills, no tools, and no place to work. Situation normal for our team.
We end up working on the car to get most of it put together and ready. Thanks to a Hanes manual and high level Google-Fu. Since this is our first effort, we located a local garage to do a quick safety review of the car (and our work). This satisfies my fatherly concern over the safety of rest of the family driving. The garage does find a few issues and agrees to help us fix most of them. In my mind, money well spent. All together we ended up with a car summarized below.
1974 Ford Capri (I believe sold by Mercury in Europe)
Stock 2.8-liter V6
Stock 4 speed manual transmission
Upgrades and changes include the following items
Full welded halo roll bars (already installed by Prompt Critical)
Fuel cell – 12-gallon capacity (already installed by Prompt Critical)
Braided stainless steel tubing to and from fuel cell (already installed by Prompt Critical)
Mr. Gasket electric fuel pump (already installed by Prompt Critical)
Holley Carburetor 700 cc (already installed by Prompt Critical) (cleaned, changed floats and adjusted )
4-wheel disc brake conversion using Volvo 205 brake rotors and pads (already installed by Prompt Critical)
Brake pad upgrade to Raybestos SF-43 racing pads
All water coolant system
Added two cooling fans to the radiator (already installed by Prompt Critical)
Walled in radiator and fans with foam insulation and aluminum HVAC tape to improve air flow through the radiator
Brake fluid changed to 660 racing fluid from Wilwood
Fire Suppression system (already installed by Prompt Critical)
GoPro Hero 6 installed
28" wide panoramic rear-view mirror mounted off center
AIM telemetry system
Race seat (already installed by Prompt Critical)
Adjustable seat back support bars (already installed by Prompt Critical)
Racing steering wheel with quick disconnect (already installed by Prompt Critical)
5-point racing harness (already installed by Prompt Critical)
If anyone wants a more detailed description of any of the above, just let us know.
Special thanks to our friends who built this car originally at team Prompt Critical, D&A Auto Service who helped inspect and/or fix most of the rest and our friends at Three Pedal Mafia / Everyone Racers podcast for advice and tips throughout. We would be even further behind without your endless help and tolerance for our questions.
Any questions are always welcome.
Enjoy the ride!