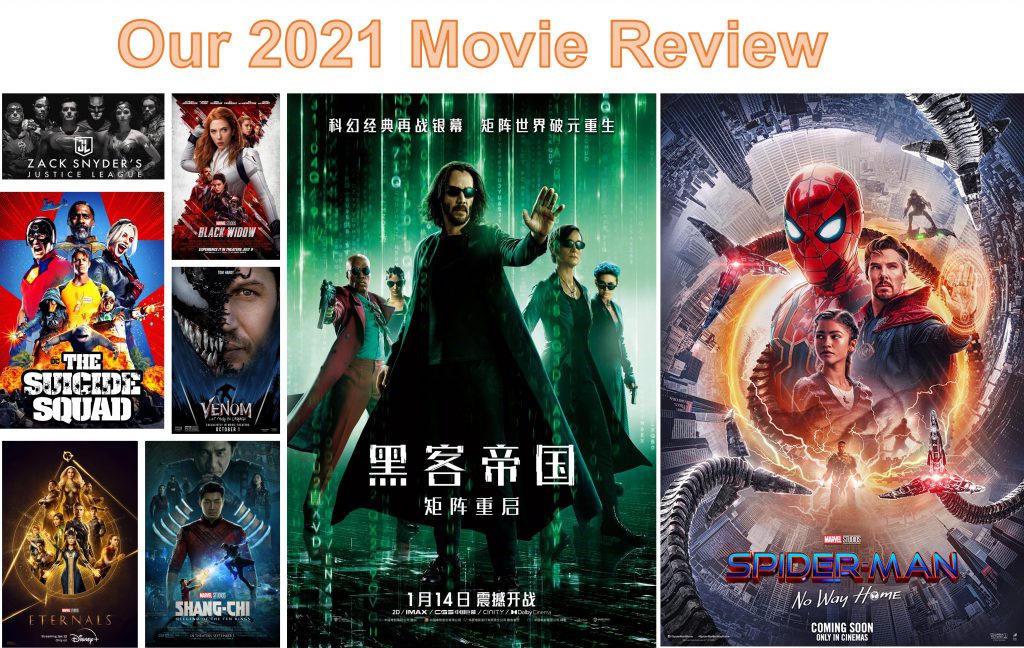 WOOT 0281: (Spoiler Filled) We review Spiderman: No Way Home and Most of 2021's Movies (& The Matrix Resurrections)
It has been quite a year and we decided to review the recent Spiderman: No Way Home movie and then we go into many of the other movies that we went to this year including Shang Chi and the Legend of the Ten Rings and all other MCU and DCEU and related movies and TV shows including The Matrix Resurrections. We then go to ranking the various movies and shows for 2021. Then we go to each of our overall top 5 movies for the year and there was a lot of disagreements and discussions in this area. We also look forward to the upcoming MCU and DCEU releases that are scheduled for the upcoming year plus a bit. After that we then say goodbye to the lovely Vicki and go into the new Matrix movie Resurrections. The movie seems to be very divisive and we have quite strong views on this reboot of the Matrix.
If you would like to help grow our sport and this podcast:
You can subscribe to our podcast on the podcast provider of your choice, including the Apple podcast app, Google music, Amazon, and YouTube etc. Also, if you could give our podcast a (5-star?) rating or even better, a podcast review, we would greatly appreciate it and it would help us to grow the passion and sport of high performance driving.
For instance, leaving an Apple Podcast rating is very easy. If you go to your podcast library, under shows and click on the podcast you can leave a (5?) star rating and enter your review.
We hope you enjoy this episode!
PS Please don't forget that if you are looking to add an Apex Pro to your driving telemetry system, don't forget to use our discount code for all Apex Pro systems you will receive a free Windshield Suction Cup Mount for the system, a savings of $40. Just enter the code "ghitlikesapex!" when you order. They are a great system and truly invaluable in safely increasing your speed on track and/or autocross etc. The recently released second generation systems and app increases the capability of the system greatly.
Best regards,
Vicki, Jennifer, Alan, and Bill
Hosts of the Garage Heroes In Training Podcast and Garage Heroes In Training racing team drivers
Highlights for this No Way Home and 2021 Movie Review episode are:
1) Spiderman: No Way Home is the beginning of the episode and we then have to walk Alex off the Amazing Spiderman cliff. Vicki gets a bit confused over some of the Andrew Garfield Spiderman movies. We then debate the best movie Spiderman.
2) Alex is firmly on the side of Andrew Garfield and also says the Venom movies are good, so we question most of his opinions, lol.
3) Alex's top 5 all time MCU movies starts a war and then the discussion of each of our MCU Top 5 movies of all time.
4) Then we turn to the order of each of the MCU and DCEU movies and shows for 2021. We agreed on one movie amongst us, lol.
5) A quick review of The Witcher season two.
6) If you are looking for some ideas for movies and TV shows, we also go into our top 5 movies and TV shows of 2021 that we would recommend to everyone.
7) What about what is upcoming and scheduled? It is in here too. Alex, as always, stays positive. It was great knowing him on the podcast, lol.
8) Our thoughts on The Matrix: Resurrection ends this episode. Since this is Bill's all time favorite movie, you knew we could not skip this one.
So what is your Top 5 MCU releases to date:
1 Iron Man
2 The Incredible Hulk
3 Iron Man 2
4 Thor
5 Captain America: The First Avenger
6 Marvel's The Avengers
7 Iron Man 3
8 Thor: The Dark World
9 Captain America: The Winter Soldier
10 Guardians of the Galaxy
11 Avengers: Age of Ultron
12 Ant-Man
13 Captain America: Civil War
14 Doctor Strange
15 Guardians of the Galaxy Vol. 2
16 Spider-Man: Homecoming
17 Thor: Ragnarok
18 Black Panther
19 Avengers: Infinity War
20 Ant-Man and the Wasp
21 Captain Marvel
22 Avengers: Endgame
23 Spider-Man: Far From Home
24 Black Widow
25 Shang-Chi and the Legend of the Ten Rings
26 Eternals
27 Spider-Man: No Way Home
We would love to know
WOOT 0281: (Spoiler Filled) We review Spiderman: No Way Home and Most of 2021's Movies (& The Matrix Resurrections)