So we get back home and we had such a great time we "decide" let's race two cars next time. Only a few issues. Second car isn't running and needs a new theme. We only know the four of us who raced, and we need at least 8 drivers. Oh, and the Capri which ran great all weekend won't start. So what does a smart team do. We don't have a clue, but we entered the race in August for Thompson Raceway for TWO cars. Time for Mustang Theme Prep.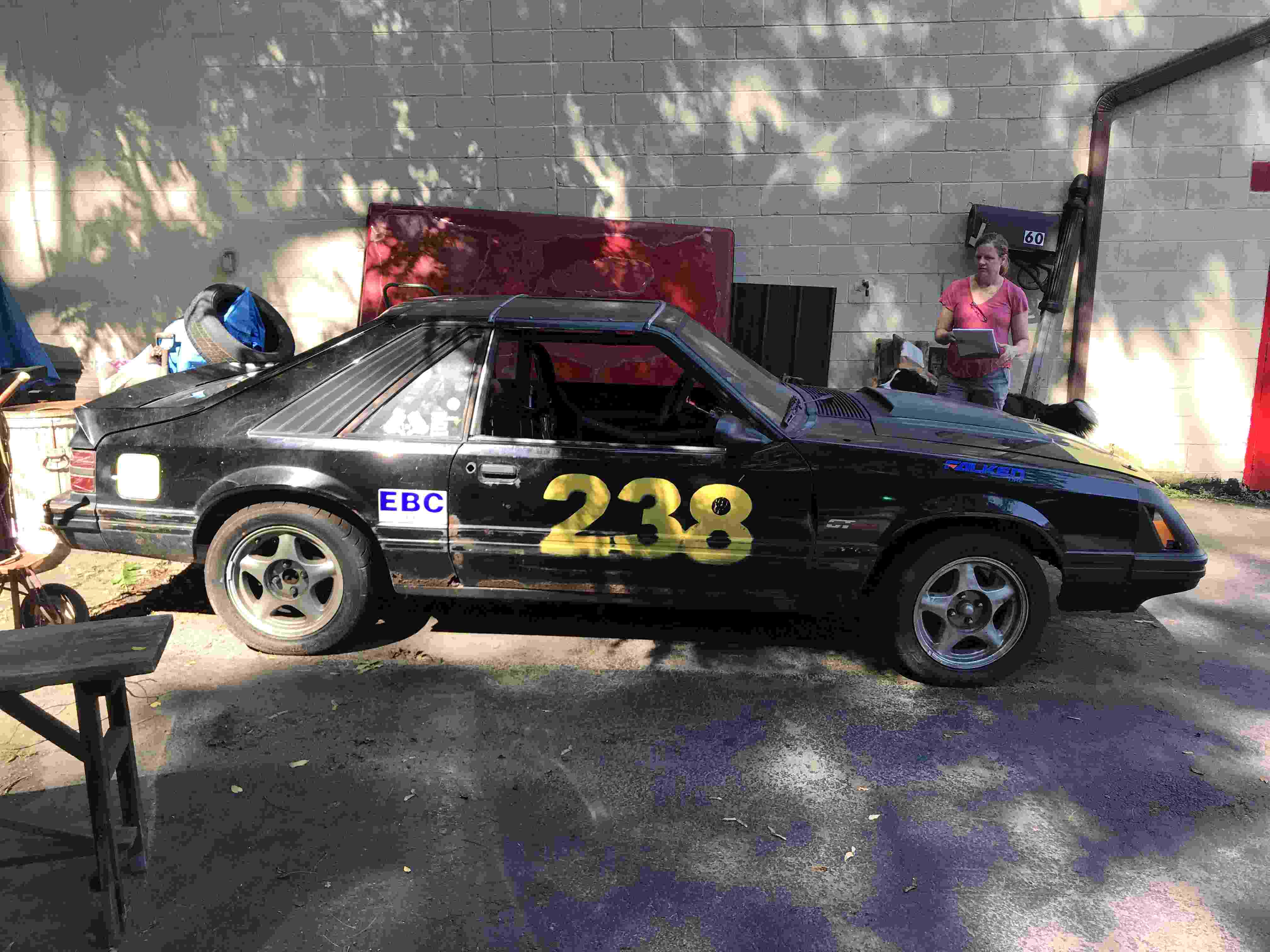 While we had a good plan for our theme, the mechanical fixes put us way behind schedule. We had 2 weeks to get the car ready and it was still in its original condition. The second car is a 1984 Mustang GT Turbo. Not the SVO. (Didn't even know that was possible.) Anyway needed some work to get it going. After getting the car running, it's time to focus on another theme and how to get it done. We checked into wrapping it, but that is pretty expensive and at around $2500-3000 and was not in the budget. We painted the last one with a HVLP system but had issues, mostly due to a lack of talent on our part. But while getting the fuel cell hose at the local parts store, I see a spray on wrap system from Dupli-color. We pick up a few cans (48) and give it a run. It has a base coat that should allow us to remove it like a normal wrap and is likely easier to repair than normal paint. So we are in. How hard can it be?
Our Mustang Theme Prep had to fit the car and our team name. We ended up going for a Spiderman tribute team for this car. The theme isn't terribly appropriate for the car necessarily and the blocky nature of a fox body Mustang doesn't remind you about his movement, but we went for it anyway.
As always, Mustang theme prep starts with a ton of sanding. We had to remove all the decals and prior theme materials to get to a smooth flat surface. Again we avoid using Bondo. This time we had two excuses. We don't have any experience and we also had no time for drying. Luckily the car wasn't too far gone, so the lack of body work isn't too noticeable.
We also decide to try to make a Spiderman to ride on top of the car, at least through tech inspection, but hopefully during the race. Somehow late one night he was given the name "Bondo" by Casey and Vicki and it stuck. Kind of appropriate for Spiderman, no? Version one involved using a flexible mannequin and putting on a Spiderman costume. This worked well except it did not have any flexibility in the torso, so it was very stiff looking, and the mannequin was about 2 meters tall. Not exactly what we were aiming for.
Enter plan B. We get some 1" PVC tubing and fittings and create a mannequin on our own. The "model" was one of our team members laying on the paper covered floor and tracing her to get a more appropriate height for Spidey. Through a combination of T fittings and X fittings, we were able to build up a 3-point stick figure with a "pose" where Spidey was shooting his webbing from the other hand.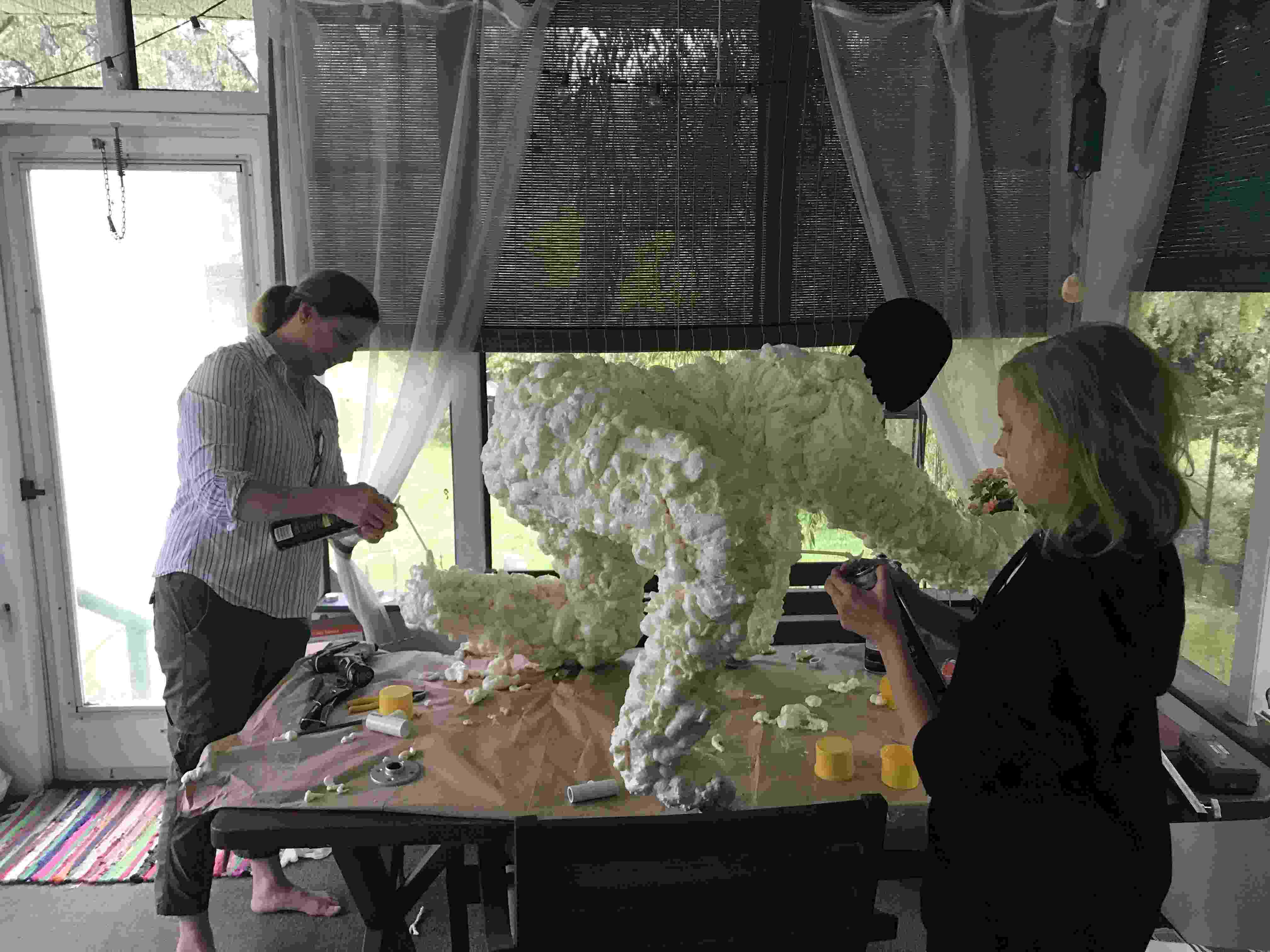 Bondo got his physique using several layers of low expansion expanding foam applied to the PVC. This worked well and was easily sculpted with hacksaw blades to a final form. We then put on the costume. The ends of the PVC tubing would be attached with plumbing fixtures to the roof and we added an extra T fitting mid torso on Bondo in case we needed another attachment point to our car roof. Our plan worked nearly perfectly for what we aimed for. The only issue is that Bondo had a fracture of the femur while putting on the costume. We did not have time to remake him, so he was relegated to low speed use. We may retry for future races. Still TBD at this point. The concept is solid, but the execution failed us.
After lots of sanding and surface prep we begin our first coat of the base color. As you would expect, we had no good place to do this, so we used a few tarps and did all the painting in the middle of the front yard. It took a bit longer than we thought, mostly due to cars stopping by a lot and asking questions or just driving by with puzzled looks on their faces. Those that knew us already knew we had issues.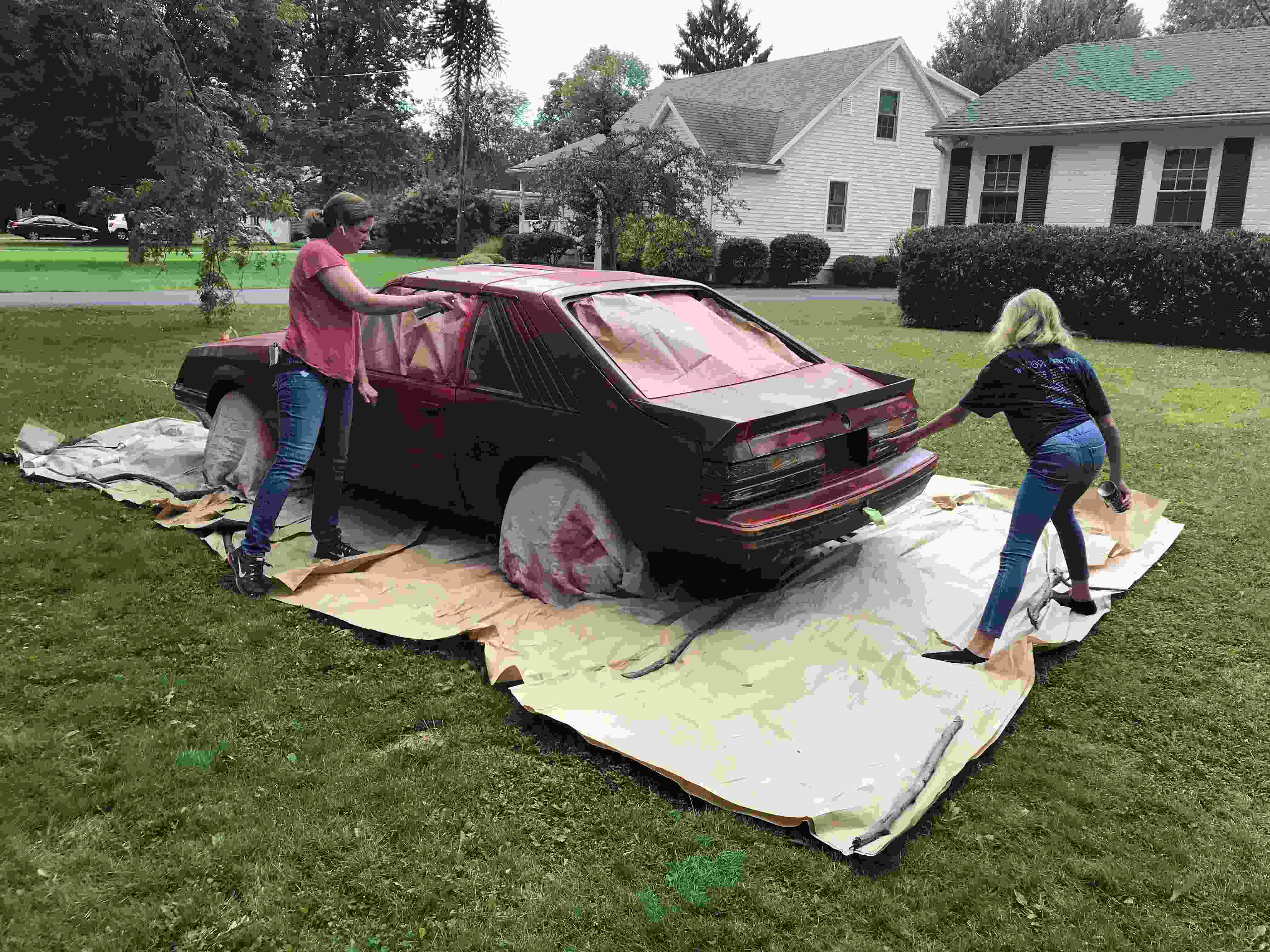 We did learn from our first trial and used much thinner coats this time. Our biggest issue were the wind and sun. The paint ended up not as glossy as we wanted in some spots but that's due mostly to the wind/sun, as some areas are exactly what we were aiming for. If only the photographer would get his shadow out of the frame.
We then taped off the second color with ¼" vinyl tape to get a good swoosh and help break up the blocky shape of the car. Making the second side match requires skill. Skills I don't have. Luckily the rest of my family is pretty artsy and make up for me. A few measurements and tape marking key transitions and we were on our way. It only took a bit more than 40 cans and three days.
It was now time to try to bring it all together. Our team likes to add details that no one notices but us. I'll highlight some as we go. I do like our personalized license plate though.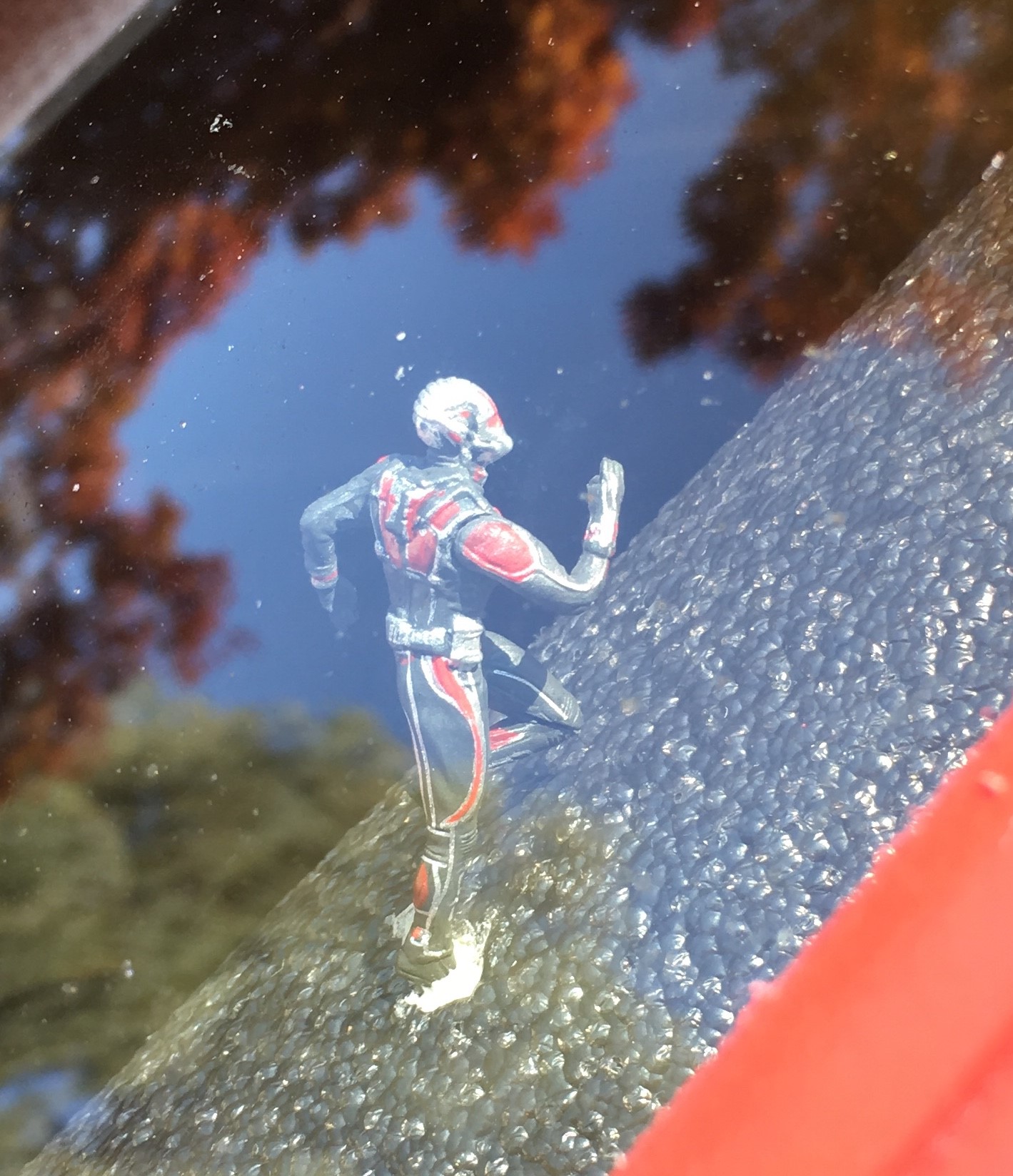 Finally unite our finished car with Bondo. Ready to go to the race. The webbing is 1/4 black vinyl tape. 350 feet of black vinyl tape. I especially like the hood. The tape we used lights up white in the dark. Who knew. PS we got quite a few stares and honks while driving out to Thompson CT for the race. Perhaps it was Bondo inside the car?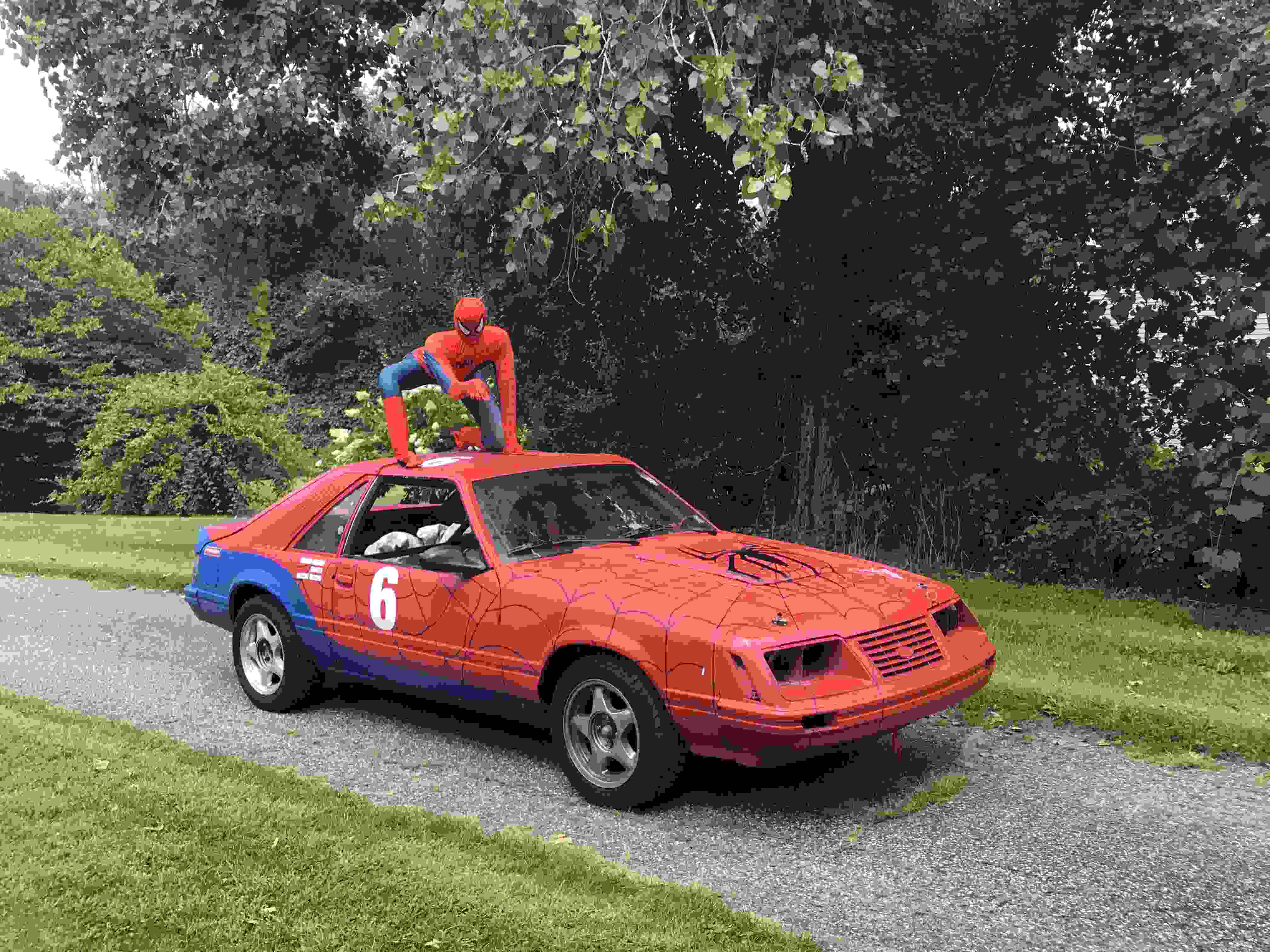 PS there is an alternate use of Lemons car decorations. Place Bondo on your next-door neighbor's car early in the morning and watch as the kids wake up. Especially fun when the little Boss Baby loves Spider-Man and grabs his older brother and sister to see.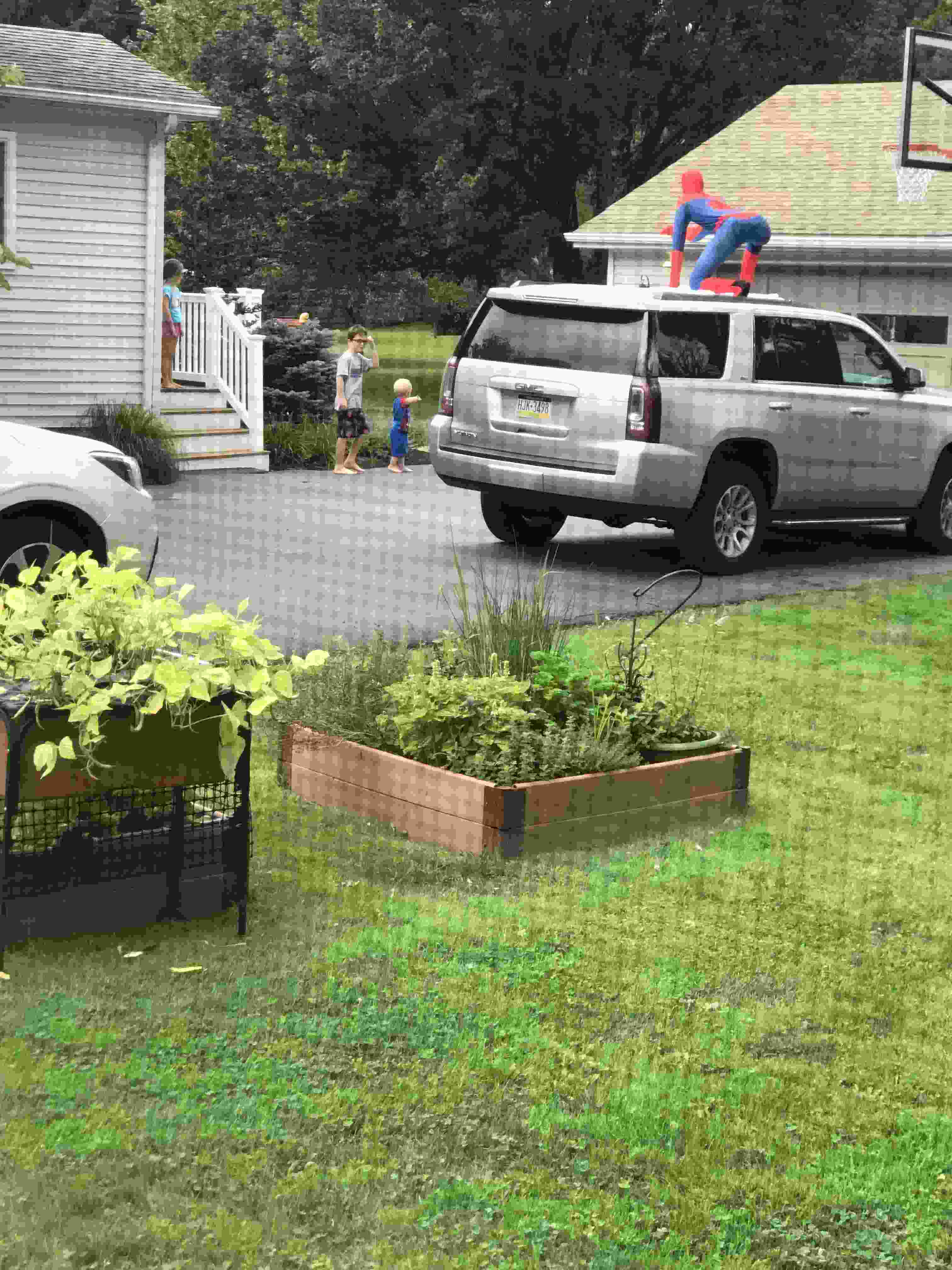 Enjoy the Ride!