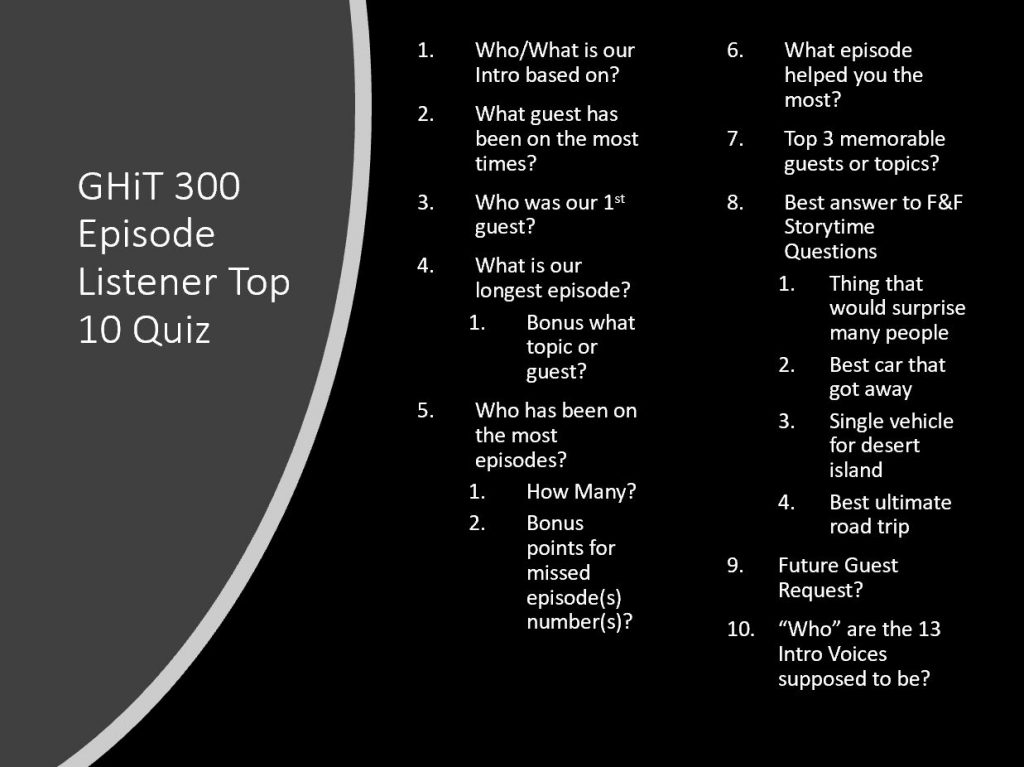 GHIT 0310: Our 300th Episode Trivia Quiz – Review
After three hundred episodes, we wanted to give our resolute listeners a chance to show off with a Top 10 list of trivia questions about the podcast. In our time honored tradition, we thought part of the fun would involve bribing/awarding prizes to those that answered the call. At this time of release, we have not determined who had answered the questions and scored the most points. However, here are the answers along with a bit of nostalgia from the hosts about where we have grown into as drivers, mechanics, and racers.
It has been a long and windy road that we need to thank way to many people, but each and every one of you know what you have helped us with and contributed to the team and the podcast. So, before we get all weepy, here is our episode and a sincere thank you to all of you who have listened to our podcast from the beginning, as well as those who have only listened to one or two episodes. As with the rest of our driving and racing, our podcast will always be "In Training"
If you would like to help grow our sport and this podcast:
You can subscribe to our podcast on the podcast provider of your choice, including the Apple podcast app, Google music, Amazon, and YouTube etc. Also, if you could give our podcast a (5-star?) rating, that we would appreciate that very much. Even better, a podcast review, would help us to grow the passion and sport of high performance driving and we would appreciate it.
For instance, leaving an Apple Podcast rating is amazingly easy. If you go to your podcast library, look under shows. Then click on this podcast. Here you can leave a (5?) star rating and enter your review.
We hope you enjoy this episode!
PS If you are looking to stream or save your integrated telemetry/racing data with you video, Candelaria Racing Products Sentinel System may be the perfect solution for you. We are in the midst of installing the system in two of our cars. If this sounds like something that may help you and your team, please use our discount code "GHIT" for a 10% discount code to all of our listeners during the checkout process.
PS2 Please do not forget that if you are looking to add an Apex Pro to your driving telemetry system, do not forget to use our discount code for all Apex Pro systems you will receive a free Windshield Suction Cup Mount for the system, a savings of $40. Just enter the code "ghitlikesapex!" when you order. They are a great system and invaluable to safely increasing your speed on track and/or autocross, etc. The recently released second generation systems and app increases the capability of the system.
Best regards,
Vicki, Jennifer, Alan, and Bill
Hosts of the Garage Heroes In Training Podcast and Garage Heroes In Training racing team drivers
Highlights for this episode include:
1) Answers to our Top 10 Quiz questions with a ton of unsuccessful herding of the cats.
2) Every host answers what our biggest Ah Hah moment so far since we started
3) What are the 3 biggest surprises we learned about driving or racing to this point.
4) We grade ourselves for initial driving skill and current.
5) Super secret surprise question: what are three great things about you co-hosts