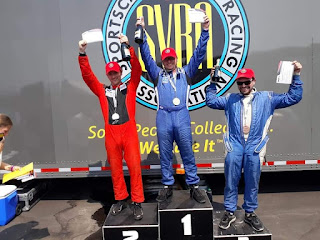 GHIT 0292: Aaron Jongbloedt – Starting in and Comparing Various Racing Types
Aaron Jongbloedt from Jungle Motorsports joins us for this episode and we discuss all things racing, even ice boating.  Aaron seems to race in all series and all types of racing, we may even be able to make it to an ice racing event with him post plague.  Since he has such a wide range of experiences, we try to cover many of them as possible to show how each series and club can vary and each offers a different blend of driving and racing flavor.  The best thing you can do to start is try as many as you can and you will undoubtedly find one that matches your interests and maximizes the fun.  Plus an impromptu race car intervention, lol. We also review the potential path of volunteering as an avenue to start getting into racing and saving on the amount of money needed.
If you would like to help grow our sport and this podcast:
You can subscribe to our podcast on the podcast provider of your choice, including the Apple podcast app, Google music, Amazon, and YouTube etc. Also, if you could give our podcast a (5-star?) rating, that would be greatly appreciated. Even better, a podcast review, would help us to grow the passion and sport of high performance driving and we would greatly appreciate it.
For instance, leaving an Apple Podcast rating is very easy. If you go to your podcast library, look under shows. Then click on this podcast. Here you can leave a (5?) star rating and enter your review.
We hope you enjoy this episode!
PS Please don't forget that if you are looking to add an Apex Pro to your driving telemetry system, don't forget to use our discount code for all Apex Pro systems you will receive a free Windshield Suction Cup Mount for the system, a savings of $40. Just enter the code "ghitlikesapex!" when you order. They are a great system and truly invaluable in safely increasing your speed on track and/or autocross etc. The recently released second generation systems and app increases the capability of the system greatly.
Best regards,
Vicki, Jennifer, Alan, and Bill
Hosts of the Garage Heroes In Training Podcast and Garage Heroes In Training racing team drivers
Highlights for this episode include:
1) Why he selected Spec Miata as a primary racing class and why he also includes and enjoys other types of racing.
2) Aaron opens up the trap door to a quick summary of our racing cars and HPDE cars. We need to get a bit more focus. Time for a garage sale. We may have a race car (or truck) for you, lol
3) Vicki is not familiar with the track at Brainerd, but after our discussion it sounds like we will be soon, lol. Top tip: Also obey the team CFO.
4) Some of the plusses and minuses of racing Spec Miata and how it has influenced hos racing approach and philosophy.
5) Are there significant differences between instructing in autocross and instructing on a race track? Also a discussion of the potential benefits of autocross before driving on track. The skills are complimentary but the approach can be quite different in some ways.
6) Aaron discusses his experience with almost all of the amateur endurance racing series and some of the new ones starting this season.
7) As expected, we also discuss Spec Miata and Vicki is still intimidated with the concept of bump drafting. This will likely change with time. We have a NB Spec Miata car that needs a bit of love to race this season, but we are hopeful. Bilstein shocks may be in our future.
8) Why does Aaron seem to prefer arrive and drive (Seat Rentals) for endurance racing events. Bill has always had concerns and questions that has prevented him from doing many arrive and drives. We discuss several of them.
9) Money saving tips and insight into what is required and what is avoidable to be competitive in the series, locally and nationally.
10) Somehow we return to the topic of our cars. It appears we are in the midst of an informal race car intervention. lol. (Probably long overdue)
11) We also have a discussion of the storage required for a racing car and team. Aaron is curious about the hangar that we use as our teams primary hub.
12) How volunteering at events can minimize or potentially eliminate the cost of racing.
13) How our "press" claim was received by a racing series. (as you would expect)
14) Just when you thought it was over, we get into a discussion of some of the local midwestern tracks that Aaron suggest we try. As always, the answer is "yes"
To follow Aaron further:
Facebook: https://www.facebook.com/aaron.jongbloedt
His blog:  https://junglemotorsports.blogspot.com
GHIT 0292: Aaron Jongbloedt – Starting in and Comparing Various Racing Types