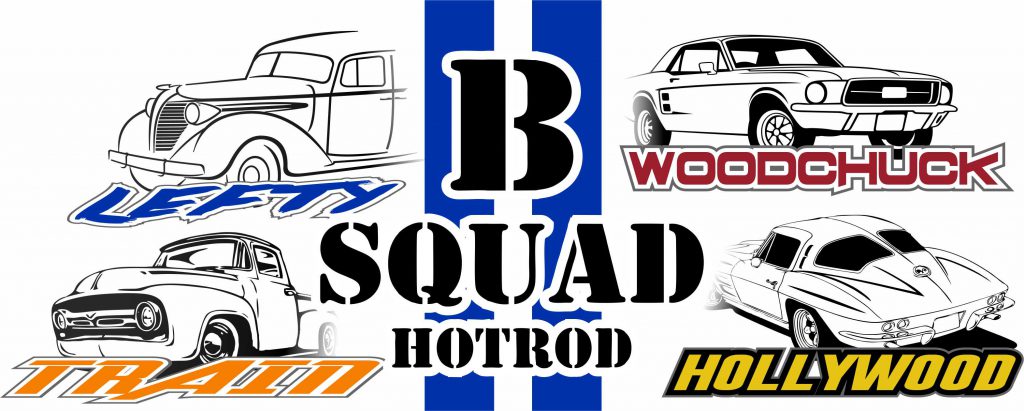 Our latest podcast is number 144 with the B Squad Hotrod Podcast Hosts Train and Woodchuck
Colton (aka Train) and Steve (aka Woodchuck) are two of the four host of the "B Squad Hotrod" Podcast on to discuss how they have learned and continue to learn to work on their hotrod projects, cars and other related projects, like building a huge garage from scratch. We also get into some of the current and upcoming projects and goals for the coming few months. A great podcast hosted by two sets of brothers, in 4 states, and three time zones, they work together towards finishing the project and learning a ton along the way. Since they are B Squad, they came on our podcast, because A Squad would be a guest on a big time TV show.
Ben joins us on our Dominating With Dawson segment to talk about how to buy a car for a project or to become a race car. It is the first of a many part discussion and we will be having at least one returning guest to go over this area more fully in the future. Usually, it I said that you make your money when you buy a stock, or a house, or a car, but in our case it is more like you are only starting to lose your money once you buy the car, lol.
As you would expect, we try to bring them over to the dark side and build a car for a race. We will see how successful we are. We offered to help and race with them. That may not have increased the likelihood of their racing, lol.
Please send in your projects so we can share with the B Squad to help show them what we are doing and drag them into racing.
We hope you enjoy this episode!
Best regards,
Vicki, Jennifer, Alan, and Bill
Hosts of the Garage Heroes In Training Podcast and
Garage Heroes In Training racing team drivers
Highlights from this episode include:
1) What are the projects of B Squad and some of their background and learnings along the way. With their guidance, we may work our way up to the B squad at some point.
2) The logistics of being located in 4 states and 3 different time zones between the four hosts and their individual projects.
3) Everyone is jealous of Woodchuck's projects: huge garage with a lift, a Humvee, 1967 fastback Mustang for the family CFO. Progress continues despite working full time in the public health arena of Wyoming.
4) Train's projects are equally distracted by his (over) full time firefighting/paramedic and when time allows him to work on his 1941-46 Chevy Pickup with an S10 frame swap and full engine swap resto mod.
5) The way that B Squad works out the mechanics of working together with each other remotely. It involves a lot of calls, photos, video calls, and infrequent in person trips when possible.
6) It seems that all of their interests can be traced back to one of their father's Corvette.
7) Train being in south Texas battles the heat most of the year and Woodchuck in Wyoming battles the cold winters.
8) Suggested first projects to begin learning to work on your own car or project and what to grow into eventually and then where you may want to bring in some professional help.
9) Why you may not want to let Train work on your electrical issue, especially if it is perhaps a 200 dollar 1974 Impala. Take home: shot gun shells are not functional fuse replacements.
10) Vicki somehow make an analogy between learning to work on a car and learning a new video game that actually works pretty well even though it initially sounded a bit weird. If only there was a cheat code with the joystick.
11) The El Jeffe tire story comes back to life to help Train feel a bit better about his Impala.
12) Ever wonder how Woodchuck got his nick name, its covered here. And we finally get to ask the question that has pondered the world forever.
13) Some discussion on how to deal with your tool storage when you need portability and mobility to work outside the home garage. Also, a discussion of several alternatives for how to layout a home garage.
14) Train is not a big fan on body work. He would probably be very open to help if you happen to enjoy it.
15) Train is introduced to cars-parts.com. We are sure it will help, especially with some of the later model car projects. B Squad was the source where we learned of the project Farm YouTube channel which has been helpful.
16) Woodchuck makes a great suggestion of trying to find a mentor to learn from/with.
17)  If you notice, there seems to be a truck them with most of Train's answers and interests.  Perhaps we could get him into our race truck one day.