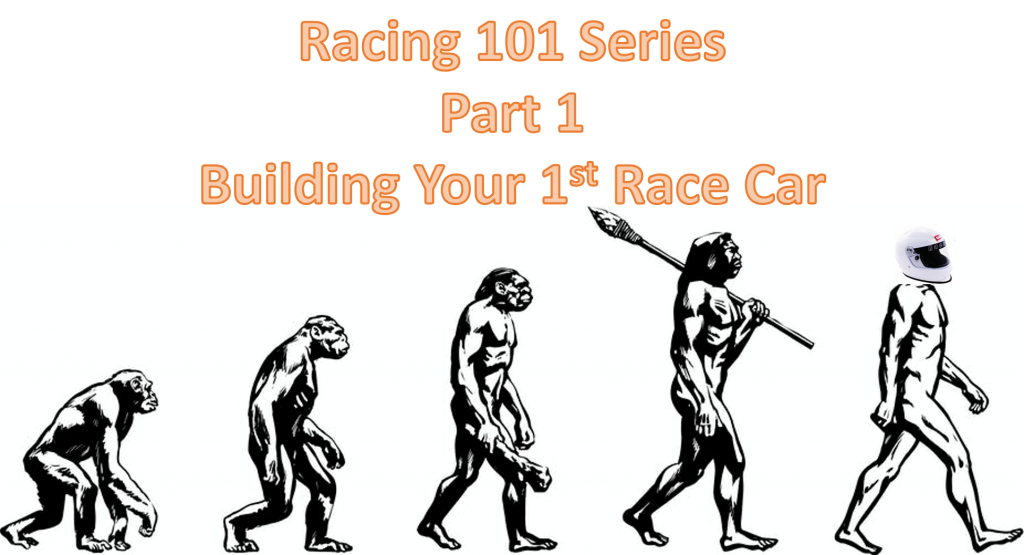 We are getting back to our podcast roots and wanted to start a special series Vicki calls "So You Wanna Racecar" that Bill can't seem to say correctly.  This is part 1 of the series (of ~10) where we go over where we started and how things went at our first events.  We then move on tohow to go about building your first race car.  In case it isn't clear, Vicki strongly feels its better to purchase a car that already races in the series you wish to enter.  So, if you need to build your first race car or only if you need to make sure your race car is ready for your first race, this episode goes into the various steps and areas that should be your primary concerns.  As with most areas, especially safety related, if you aren't already familiar with the specific area, please seek help from us or someone with experience, or the racing series technical representatives.  This should be considered a starting point to work from and not an exhaustive, detailed plan.  We have already talked through many of these areas in prior episodes and will continue to cover each of these areas in future episodes.  Always In Training.
The outline for the series is:
Part 1: Building Your First Racecar (and options to not)
Part 2: Safety and Safety Related Equipment Needed
Part 3: Best Entry Points To Start Performance Driving
Part 4: Buying and Selling Cars (With Special Guest Lara Vernon)
Part 5: Expectations between Going To and From The Event/Track
Part 6: Paddock and Pit – Best Practices
Part 7: Perspective of a New Driver (With Guest Adam Owens)
Part 8: Tools, Spares, Supplies Needed for a Race Weekend
Part 9: Common Issues All Drivers Will/May Experience in When On Track For the First Time
Part 10: Miscellaneous Topics (& Things We Forget to Mention Earlier)
Continuing with our racing 101 Series within our Dominating with Dawson segment, we go into many of the ways to enjoy racing at the track. Especially when you are just getting started, racing is not only about winning the race, but there are also hundreds of "wins" each time we are at the track, many of which occur when you are not even driving on the track. Just going and trying is a victory. Winning isn't everything and it definitely is far from the only thing.
You can subscribe to our podcast on the podcast provider of your choice, including the Apple podcast app, Google music, Amazon, and YouTube etc.
Also, if you could give our podcast a (5-star?) rating or even better, a podcast review, we would greatly appreciate it and it would help us to grow the passion and sport of high performance driving.
For instance, leaving an Apple Podcast rating is very easy. If you go to your podcast library, under shows and click on the podcast you can leave a (5?) star rating and enter your review.
We hope you enjoy this episode!
PS  Please don't forget that if you are looking to add an Apex Pro to your driving telemetry system, don't forget to use our discount code for all Apex Pro systems you will receive a free Windshield Suction Cup Mount for the system, a savings of $40.  Just enter the code "ghitlikesapex!" when you order.  We have two systems for our team and Bill is looking to add a third for this season, pending CFO approval from Vicki.  They are a great system and truly invaluable in safely increasing your speed on track and/or autocross etc.
Best regards,
Vicki, Jennifer, Alan, and Bill
Hosts of the Garage Heroes In Training Podcast and Garage Heroes In Training racing team drivers
Highlights from this episode include:
1) We start off with a quick summary of our first racing events.
2) The car preparation required varies widely, depending on what you are trying to do.
3) At first, we cover what is required for an HPDE event or an autocross event. There you need very little besides a helmet, but we do cover a few potential upgrades like brake fluid and better brake pads.
4) We then go into the preparation needed if you want to go on track with a particular target series or type of racing. The first step is deciding (or guessing) where you want to learn, race, and compete. Then you need to look at the rules for that series. Everything is there, but it is at varying levels of difficulty in reading and understanding the rules and their implications.
5) One additional factor that you should take into consideration when looking to buy or build or fix your first car is making sure it is fairly easy to get parts, support, and work on. Ideally you should choose to use an already proven type of car that is widely used and raced, ideally with a low cost of consumable items, i.e., brake pads, rotors, tires etc.
6) The first step would be having patience and waiting for the right car to start with. The less issues to start with, the easier this whole process will be to complete. Once you have the car selected and in your work area, you should likely look to clean the car up (inside, out, underneath, and within the engine bay) and during this time, perform a thorough inspection and generate a list of to do items that you will find.
7) If it a dedicated race car, you will likely be taking the entire interior out of the car so that you can install your roll bar and/or full cage. In general, you will remove anything heavy, anything flammable, and anything not required to race the car. We prefer to leave the defroster for the windshield. It's up to you but be careful of the electrical systems and the ground connections. If you damage any one of these, they can be very difficult to trouble shoot. Also, in some series, you will need to remove the lock from the steering wheel.
8) The next area to address is installing a roll bar or a full roll cage. A roll bar is a project that you may want to try even if you are new to racing. However, a full roll cage is likely one of the most difficult projects required in racing. It is not a great beginner project and we would recommend working with an experienced cage builder or racing team in your area. This is not an area where you should risk a mistake. Besides the skills required, the design of a cage is not a trivial endeavor, both for safety reasons and fitting within the rules of the series.
9) Vicki is very subtle in her preference towards buying your first race car and learning from there. This is by far the easiest method to get started and reduces the hurdles/excuses to not getting started TODAY.
10) Once the cage or roll bar is installed, you will want to paint the cleaned interior of the car and the bars for two reasons. The first is to protect the bare metal. The second is it is easier to keep clean and inspect the interior for part, tools, debris, before going out on track. The key to a good project is prepping and protecting surfaces that you don't want painted like glass, electronics, wiring, etc.
11) This is an opportune time to review the rules again to make sure you are planning to conform to the series. It is much easier now, than redoing or undoing. It is also often way cheaper. We also provided several tips for generating a to do list and ways that we have found to work for our team that can have as many as 20 or more people working on the cars at a time.
12) At this point, it is a great time to reset your car and do a full inspection including changing/replacing all fluids and wear items like brake pads and rotors, and any rubber bits within the suspension etc. (Essentially try to look at and at least inspect anything on the car that goes round and round or up and down) In many cases, you will not know the history and current status of the car and this is a great time to make it yours and bring everything up to date and current. To the surprise of absolutely no one, Bill has a long list, and it is available on our website.
13) Vicki mentions No Money Motorsports blog where he tries to show how to save a bit of money and still enjoy your racing hobby.
14) Next is safety. Don't ever try to skimp on this area and make doubly sure to meet any and all safety standards. You can replace your car but your drivers, not so much.
15) It is at this point that you should even consider working on the process of making your car pretty and things involved with the livery of your race car. There are a few different ways to add numbers and a multitude of ways to change design/color.
16) Bill misspeaks HVLP as High Volume, Low Pressure as high velocity. Sometimes the brain doesn't engage fully with the mouth.