Preview and History (WOOT #4)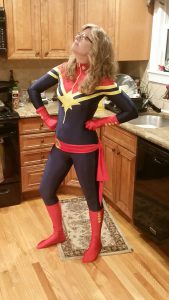 On this non-spoiler episode, Vicki, Benny, and Bill discuss the past history of Captain Marvel and Carol Danvers in advance of the release of Captain Marvel this Friday. This will be our 4th WOOT episode and again is Way Off Our "normal" Topic.
Captain Marvel is Bill's #2 favorite Marvel superhero and he is a bit pumped to see the movie this weekend and already has reserved seats for the sneak preview Thursday night and again on Friday night. It also helps that two of his friends have already seen the film and fed him feedback.
Bill's Top 3: #1 The Vision, #2 Captain Marvel, and #3 Nova
Carol Danvers history goes all the way back to the sixties and her powers originated in the mid seventies in Ms Marvel #1 before later becoming Captain Marvel many years later. On this episode, we cover some of her long and convoluted history, including several aspects that have aged poorly over the decades.
We are all very optimistic for the upcoming Captain Marvel movie and will report back with another WOOT episode after the weekend's viewing.
We ended up doing a really deep dive into the past history of all the Captain Marvels and digress quite a bit as we always do.
Please enjoy the episode and learn a bit of background of the character before you see the film. If you only watch the Marvel movies, all you may know to this point is that her insignia appeared at the end of the Avengers Infinity War movie on Nick Fury's intergalactic pager.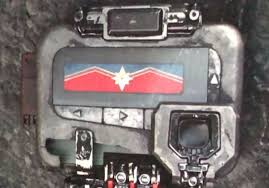 Please let us know what you think of the movie and our podcast, we would love to hear it.
Thanks again from the Garage Heroes In Training!
If you would like to subscribe to our podcast on iTunes, please click here.
If you'd like to subscribe to our podcast on Stitcher, please click here.
We would love a review to help others find our podcast. Please click here to leave a review.