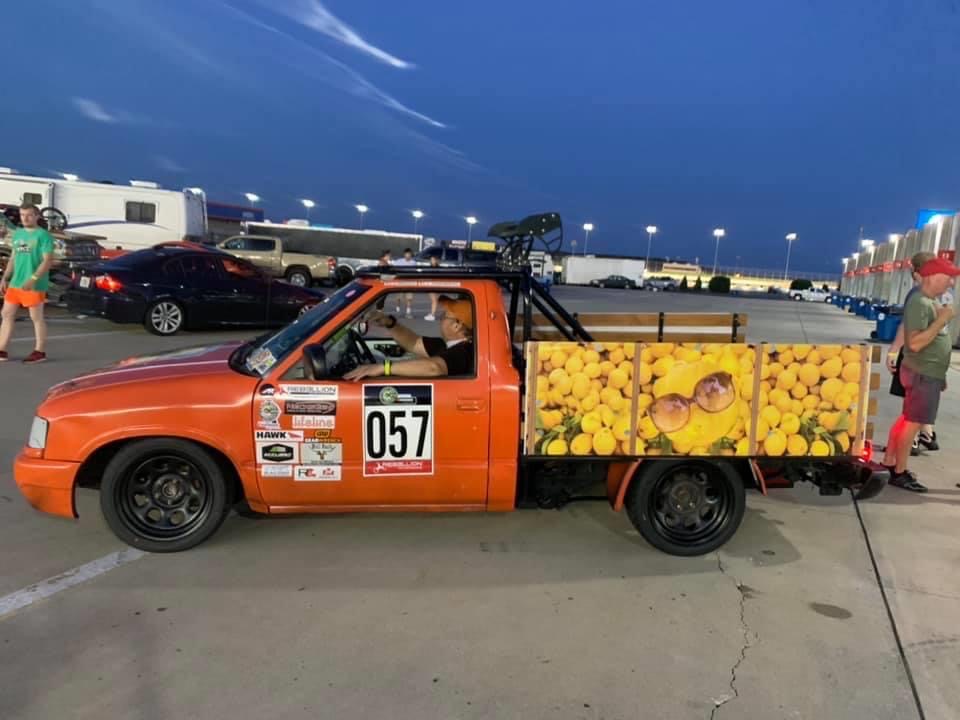 On this episode, we review the entire race weekend at the Charlotte Roval for our Lucky Dog endurance race.  The first race started Friday night and ended Saturday morning.  The second race was a 10-hour enduro that started at noon Sunday.  It was our first time at Charlotte Motor Speedway, our first time at a big oval track, and our first race of the year.  How hard could it be?  What could go wrong?  We found a few things.  Luckily, we had several friends and new friends at the track to help us work through the problems and we all had a great racing weekend.
On our Dominating with Dawson segment, we start to discuss the progression of driving skill and driving styles as you improve, moving from the introductory stages where you try to limit your inputs to one at a time and how to progress safely to where you begin to use and work towards mastering multiple inputs and more advanced techniques like trail braking etc. There is a lot to discuss and we are sure to add more to this area in future segments.
We hope you enjoy this episode!
Best regards,
Vicki, Jennifer, Alan, and Bill
Hosts of the Garage Heroes In Training Podcast and Garage Heroes In Training racing team drivers
Highlights from this episode include:
1) The two new car themes/liveries for our E36 "Deadpool" race car and our "'Dat Tang Truck" citrus racing truck. Several pictures will be on our website.
2) Mechanical car prep saga for the race.
3) Vicki and Jen drove the E36 BMW 3 series race car for the first time on track. we cover their first impressions from Friday's practice and the races.
4) Our issues with both cars. In summary, our race truck had issues with the power steering pump and hit a cone that tore off the oil line and also had issue with the mass air flow sensor. Our E36 had an intermittent problem with the fuel pump and then tried to converse with one of the walls ending its weekend.
5) Our thoughts on the Charlotte Roval and driving on the high banked turns, the chicanes, and the infield "mushroom" track of the Roval.
6) Vicki finally experienced her first use of controlled slip angle during her stint as she progressively got faster and more comfortable with the E36 race car Friday night.
7) The Bad Hombre/El Jeffe race truck experienced a brake fade issue, again, and was down on power until the issue with the mass air flow sensor was addressed (on Sunday)
8) How the weekend went for our two guest drivers from the west coast from Deaf Power Racing, Jeff Wright and Lonnie Tannenberg.
9) Jen's accident going into turn 8. We are waiting for Deadpool to regenerate. Video on our YouTube channel and on our website on the post for this episode.
10) How Jen is feeling after her accident and what the prognosis is for the rest of her season.
11) We had a little fun picking on the vultures next to us picking the bones off the E36 carcass. Lol.
12) What we should do about replacing the E36.
13) How we are going to treat the video like the Zapruder film and figure out what happened and what we can learn from the incident.
14) We invent a new drinking game for this episode where you drink once for every time Race Bar is referred to as brilliant and/or somehow helps us get back out onto the track. Try it. Our podcast only gets better with drinking.
15) Jeff Caplan from Race Bar took a run for an hour in our race truck and even with power steering issues and being at less than full power, he seemed to really enjoy the race truck.
16) We came. We saw. We were conquered.
17) Bill is still working on getting all the names straight on the Race Bar team, since each of them seems to have at least three names. Lol.
18) Racing at night and on the high banks, we looked just like NASCAR, just at half speed, lol.
19) Our racing and HPDE plans for the rest of 2020.
20) Our traditional Good, Bad, and the Ugly for the weekend, as well as what we learned and several changes we may need to make going forward to improve.
21) Cue the Kenny Loggins….
22) Jennifer may have the best and shortest responses to her Bad and Ugly ever.
What are our plans going forward to replace the E36? What do you think we should do? Please let us know what you think we should do in a comment or ideally in a podcast review or email us at [email protected]
GHIT 0132: Our 2020 Races at the Charlotte Roval with Lucky Dog