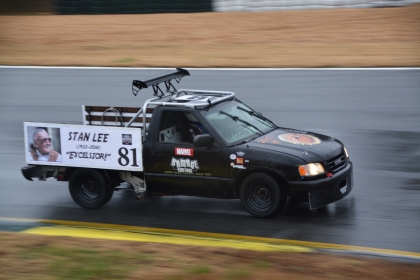 Our team went to race at Road Atlanta for our first time.  When you think about Atlanta, we usually don't think of cold, but for the second year in a row, the weather was cold, rainy/snowy.  Since Road Atlanta is a fast track with lots of elevation changes so learning it in the cold rain was less than optimal.  
We did a total of three episodes for this race. Friday night we tried a quick update recording from our hotel. It went to so well (?) that we did it again on Saturday. These episodes have nearly zero editing and we didn't have access to our usually microphones. so your mileage may vary.
We had a blast and we hope it shows on the podcasts.
We finally posted a final race recap after a week of recording issues.  
If there is anything that you would like to know that we may have left out, please send us an email using the link below or even better would be to leave a review on iTunes for our podcast and in the comments section enter any questions or topics you may be interested in us finding an answer for you. Thanks again for coming.
Podcast Episode 0010: Road Atlanta – Friday Night Review
Podcast Episode 0011:  Road Atlanta – Saturday Race Review