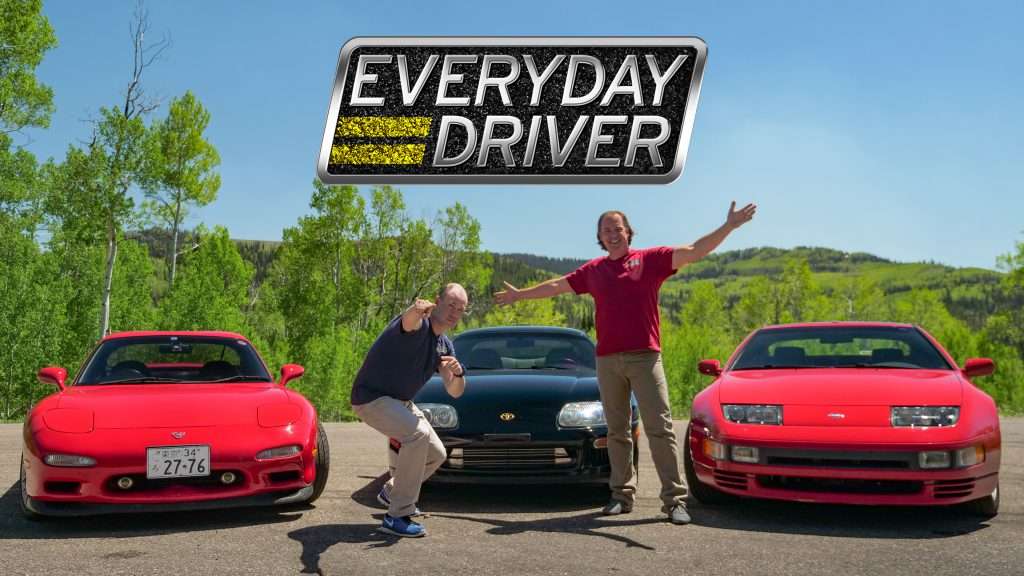 GHIT 0242: EveryDay Driver's Todd Deeken and Paul Schmucker
Everyday Driver started as one of the early YouTube channels in 2007. They then started an early podcast in 2014 that Bill first discovered in late August. The fundamental premise for Everyday Driver is that ours cars can and should be fun. Paul and Todd work tirelessly to help by testing virtually all types of new cars and many used cars. In addition, most podcast segments are aimed at helping their listeners find the car that matches their needs. And that also maximizes the fun of driving everyday.
Paul and Todd were eventually able to grow this into a full time business. Now each of them and have a television show that is on its 9th season on the Motor Trend channel. they have also produced several of the finest automotive feature films, including the history of the 911, each of the BMW 3 series M cars, and every generation of the Corvette among others. At one point, we were even going to race Road Atlanta with Todd, Paul, and Chance. Unfortunately, things fell through due to scheduling issues. We do have a rain check issued and we hope to cash it in post Covid. Paul and Todd are usually asking the questions or answering car related questions, so we tried to learn a bit more about them and their background during this episode.
Everyday Driver provided the final push to our team starting racing. So you can blame then in part for our podcast, lol.
If you would like to help our podcast,
You can subscribe to our podcast on the podcast provider of your choice. This includes the Apple podcast app, Google music, Amazon, and YouTube etc. Also, if you could give our podcast a (5-star?) rating, that would be great. Even better would be a podcast review. We would greatly appreciate it and it would help us to grow the passion and sport of high performance driving.
For instance, leaving an Apple Podcast rating is very easy.  If you go to your podcast library, look under under shows. Then click on the podcast you can leave a (5?) star rating and enter your review. 
We hope you enjoy this episode!
PS Please don't forget that if you are looking to add an Apex Pro to your driving telemetry system, don't forget to use our discount code for all Apex Pro systems you will receive a free Windshield Suction Cup Mount for the system, a savings of $40. Just enter the code "ghitlikesapex!" when you order. They are a great system and truly invaluable in safely increasing your speed on track and/or autocross etc. The recently released second generation systems and app increases the capability of the system greatly.
Best regards,
Vicki, Jennifer, Alan, and Bill
Hosts of the Garage Heroes In Training Podcast and Garage Heroes In Training racing team drivers
Highlights from this Everyday Driver episode include:
1) We start of talking about our postponed endurance race and the potential for Todd and Paul to join us in a coming endurance race.
2) Paul and Todd were kind enough to go into their respective pasts and go through their individual processes that has allowed them to transfer from a part time YouTube channel to a full time operation that has a show on Motor Trend, several feature films, two YouTube channels, and a twice weekly podcast that is closing in on 650 episodes with well over 1,000 hours of the podcast content. And in their spare time, lol.
3) If you have ever wanted to drive the Nurburgring and/or Spa, Paul and Todd also run an annual tour of both that allows you to arrive and drive both tracks as well as the transit between.
4) Paul and Todd share the passion for cars and driving, but each are different in their preferences and driving style to compliment each other. They often end up discussing the different cars and end with different preferences. It is close to watching a version of the "Siskel and Ebert" show that is aimed at cars and driving. (with a bit less disagreement lol) Bill seems to usually be a "Todd" and Vicki seems to usually fall into the camp of "Paul".
5) We also go into how they transitioned from a part time, side operation to the more than full time operation that they now have. The highs and lows, as well as what was a bit harder than they expected.
6) Bill takes the opportunity to ask his Ladder question to Todd and Paul. It is roughly stated as what is the lowest price car available to you that you want to own. And then moving up the ladder. What car would be the next rung up the ladder. A rung car is defined as one that you like that is better "to you" than everything else that is less expensive. Repeat until we get to cars in excess of $100,000 or so.
7) We inadvertently almost broke news on this podcast of a future series that they have yet to announce. Tune in to the Everyday Driver YouTube channel in the next few weeks for the reveal.
You can follow Paul and Todd at:
Website: https://www.everydaydriver.com/
YouTube Site: https://www.youtube.com/c/EverydayDriver