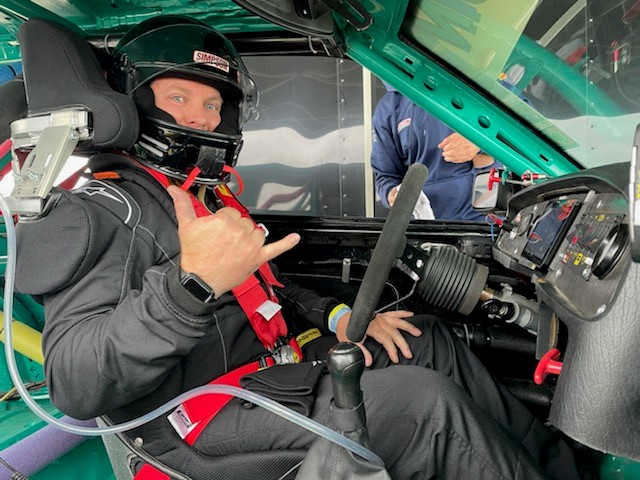 GHIT 0347: Jeremy Hall from Monkey House Racing
Over the past few years, we had met Jeremy at many events, but it was more in passing. Jeremy usually races with his team called Monkey House Racing, but for the Pittsburgh event he was racing with the Skunk Oil Racing team and our team in a 1999 BMW 3 series, an E36 for all the cool dudes. Unfortunately, the event did not go well with two incidents, one Saturday and another Sunday, both at turn 2 of PittRace. Jeremy was driving for the second event and the car may not be repairable. During the episode, we talk about the event, make several blatant attempts to draft Jeremy and his team onto ours. We think he is weakening. This episode was recorded several weeks ago just after our PittRace endurance race with the 24 Hours of Lemons series.
If you would like to help grow our sport and this podcast:
You can subscribe to our podcast on the podcast provider of your choice, including the Apple podcast app, Google music, Amazon, and YouTube etc.
Also, if you could give our podcast a (5-star?) rating, that we would appreciate that very much. Even better, a podcast review, would help us to grow the passion and sport of high performance driving and we would appreciate it.
We hope you enjoy this episode!
PS If you are looking to stream or save your integrated telemetry/racing data with you video, Candelaria Racing Products Sentinel System may be the perfect solution for you. We are amid installing the system in two of our cars. If this sounds like something that may help you and your team, please use our discount code "GHIT" for a 10% discount during the checkout process at https://candelaria-racing.com/
PS2 Please do not forget that if you are looking to add an Apex Pro to your driving telemetry system, do not forget to use our discount code for all Apex Pro systems you will receive a free Windshield Suction Cup Mount, a savings of $40. Just enter the code "ghitlikesapex!" when you order from https://apextrackcoach.com/
Best regards,
Vicki, Jennifer, Ben, Jeremy, Alan, and Bill
Hosts of the Garage Heroes In Training Podcast and Garage Heroes In Training racing team drivers
Highlights for this episode include:
1) We talk about the event at PittRace and Jeremy's history in motorsports and instructing for a wide variety of organizations.
2) Jeremy's philosophy for endurance racing and how it applies to being a successful team, as well as the difference in racing in the first hours versus the last few.
3) How endurance racing is a team event and how the team involves more than the group you are racing with in the same car.
4) What happened at PittRace when Jeremy was driving and what we all can learn from it.
5) Jeremy's team plans for the rest of the season. Little did we know what would actually come to fruition.
6) We also go over what it was like for Jeremy at his first Lemons race.
To follow Jeremy, you can go to:
His team is found at:
@MonkeyHouseRacing3 on Instagram or Monkeys House Racing on Face Book
or
@JeremyHall2 on Instagram
GHIT 0347: Jeremy Hall from Monkey House Racing