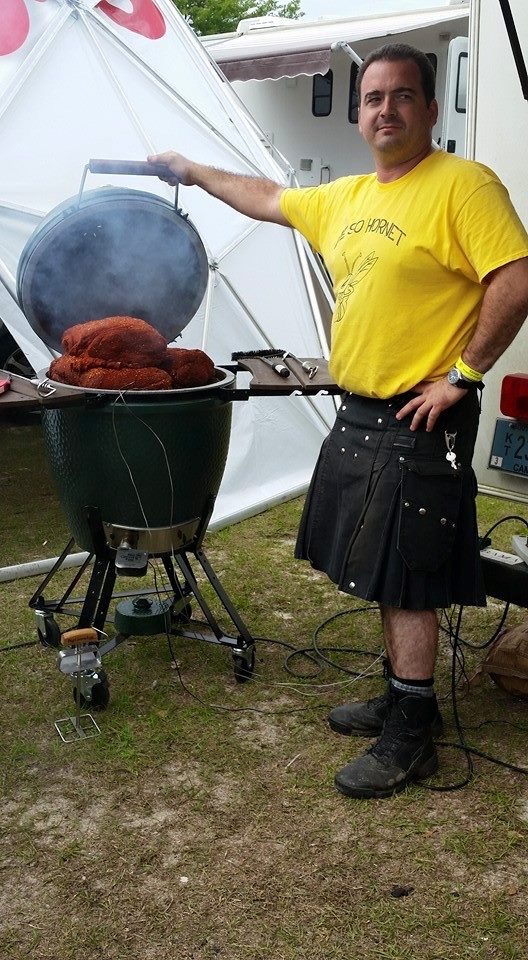 We talk with Craig Ledbetter aka Craiggers, one of our favorite judges and team member of the Terminally Confused racing team from the 24 Hours of Lemons team. Initially we review our future race at CMP and some of the recent debacle we had with relocating our El Jeffe/Bad Hombre race truck from a few episodes back. Bill also makes a subtle plea to be a judge at some point.
Craiggers has been a car guy for many, many years and has been racing for almost a decade. We try to summarize many things from his vast history and things he has learned to do well, and things he has learned not to do. His first car, at his first race, failed tech, so his history has started similarly to most others we know. Unfortunately, his first race did not end with a checkered flag due to a lug nut tightening issue and a lack of repair talent and experience at that point.
Craiggers and Curt are also well known in the southeast for their green egg derived barbecue parties in the lemons paddock. Its not quite America's Butt but it is reportedly awesome and a do not miss item. We end up bribing them to bring up the green eggs to the NJMP race in 2020 by offering them seats in the soon to be completed Capri. No pressure Alan. Ok, a lot of pressure, since its up to you to feed the entire lemons paddock.
We eventually went into how our team is doing and what we could do better along with how his team has progressed and learned over the years. This ended up taking a lot of the episode and ends up with tons of good information. This also forms the basis of the winter training program we are working on, as we speak. Alan reviews his legendary pro move to load a trailer. Luckily, Vicki won't listen to the podcast. Lol.
A lot of these stories came from the recent race at NHMS where we just raced and Craig was one of the judges.
Craig gets into his deliciously/devilishly bad plan for his RX-8.  Its not quite as bad as Alan mis-heard, but it is still a bit of engineering required.  It will likely come out better than Craig's repair of the Fury at an earlier race.  (Details within)
We ended up developing a training matrix for our team, largely as a result of this episode. Please let us know if you are interested. We like to share what we learn. Some of it may even be useful.
Key points of interest we covered were with Craiggers include:
1) How to successfully compete in lemons, beyond self-selection
2) Is speed creep in Lemons factual or perception, or merely a result of the overall increase in performance of relatively newer cars
3) ECU Tuning and modification strategy
4)  We develop a new strategy of making our cars last longer (If we don't drive them)
5)  Alan and Craiggers discuss wheel bearing condition and potential management strategies, which led into the discussion of Alan and his CSI investigation/discussion with Judge Craiggers.  Strap in, this one is a doozy, and Alan
Alan's Interrogation with Judge Craiggers
6)  (Im)proper use of 1970's LTD's as cornering aides
7) Managing room and knowing which cars (and drivers) to manage in heavily crowded tracks
8) Bill has bad Road Atlanta flashbacks from last year
9)  Many Judge stories from Judge Craiggers
Judge Craiggers and Bill at Pitt Race
10) NJMP planning and potential bribing opportunities if we had 3 racing cars ready
11) Craiggers takes a very solid run at the Good, the Bad, and the Ugly
12)  Bill's mom's actual podcast listening is brought into question
13) Is it possible to make a Lemons legal rocket powered car? Why yes, yes it is.
14)  How to properly use 1960s brakes in a racing condition and at least one method for how to determine if a car is race ready
15) Potential ways to entertain Lemons judges at a race
Where else are you going to hear about a jet powered golf cart?  Now, that's real racing!
Craig is nearly useless for theming, but a bunch of fun, as always.
We hope you enjoy the episode as much as we have.