From Our First Year of Racing & Performance Driving
For Ross Bentley's Speed Secrets Weekly Newsletter – Article #1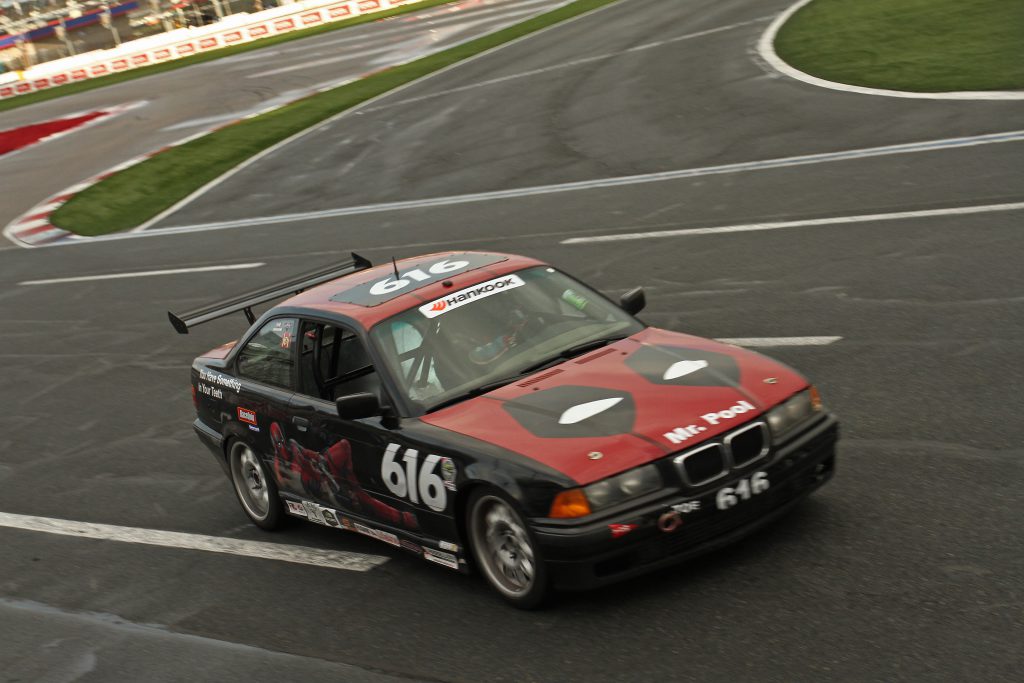 As many of our listeners know, Ross Bentley is a frequent guest and when we were discussing racing, Bill was honored when he asked if he could write that up. So we did. Here it is. Our thoughts on our early lessons learned as an endurance racing team.
In conversations with Bill Fischer over the past few months (I was a guest on the Garage Heroes In Training podcast that he co-hosts), we talked about the journey that he and his teammates have been on since jumping into racing. As someone who has done HPDE, track days, autocross, skid pad training, and a few different forms of racing, I asked Bill to share with you his main lessons from the experience – good and bad. Not surprisingly, since he's always looking for the key principles behind every activity (ideally, that he can put in a spreadsheet – very engineer-like), he had a list of these very things, and was more than willing to share with you.
Enjoy!
Lessons Learned from Our First Year of Racing & Performance Driving
(or Focus on the Basics & not the Shiny or the Fancy)
by Bill Fischer
It all started innocently enough. Our son was at an age to start preparing to drive and we were "experience" enough that our bodies were looking for something to do (other than beach volleyball that required less speed, jumping, and especially landing). At the same time, several other influences converged, and we began to form our own racing team. To say we knew what we were getting into would be an absolute fabrication. Our starting point consisted of:
Zero mechanical skill
And if we did work on a car, it would be in our front yard or driveway as our current house had no garage
No tools to work on a car
What we did have was an interest and three family members: Vicki, our team CFO (and my beautiful bride), and our son Liam who was almost seventeen and knew everything (but was an exceptional driver while still awaiting his driving license), as all sixteen-year-old boys do LOL, and me.
We quickly assessed our options and interests and decided to start with endurance racing; after all, the car was only $500 and how hard could it be? Our first race went better than expected, so naturally, we added a second car and five more drivers (two of whom had never driven a manual transmission). As the law of averages usually works, we made up for our good fortune at our first race by easily quadrupling the work and complexity of our new two-car racing team; we made sure many other teams felt better about their performance by having both of our cars finish just outside the top 100 for the race. Dreams shattered, we quickly said, "This is fantastic!!" We could not wait to learn more and do better at our next event. The hook was set and several years later, we are still learning as we go, and documenting our learnings with our podcast. If anyone you know has ever doubted that they could race a car or that they could ever drive on a track, we are literally an example that it can be done. We have documented that it is not only possible, but among the most fun things that anyone can ever do.
I realize that I am probably preaching to the choir, but sharing our sport with others, and the fun and thrills that can be had while driving a car at (or even close to) the limit is an experience that is hard to replicate in a normal day. Our goal was to get more people to try any type of competitive or non-competitive driving and to experience the fun that we've enjoyed.
Are we a top team? Not close. Not yet. But we are working our way towards being better drivers, racers, and a better racing team. We have learned many, many things while racing. Some were what to do, but equally important were the many things we learned not to do. Thankfully, we did not have to figure them out personally, but learned through our new friends with whom we went to the track or raced against. We were able to improve and learn every single event, session, stint, lap, and even tried to improve every turn.
Since we focus on the goal of eventually becoming "Garage Heroes" by working on the "In Training" part, we wanted to share some of the key aspects we've learned in our first few trips to the track, races, HPDE's, and autocross events during our first racing season. Many of these may be second nature to some or even most of you, but often it's helpful to look back at where we've been and what we've overcome, especially when we feel like we're stuck on a plateau or not progressing (not to mention some of the competitive personalities that are drawn to our sport!).
By far, the three biggest contributors to our team's growth (and any racing team's success) have been driving instruction, mechanical skills and knowledge, and team organization. The biggest waste of time and money were in making the car faster, cooler/better looking, or other go-fast, turn-better items, no matter how impressive they looked in the paddock.
While the mathematical fallacy of "90% of all drivers believe they are better-than-average drivers" exists (and may underrepresent the actual situation), even if you are an experienced, good driver on public roads, driving a car at the limit at a track, parking lot, or runway etc., is an entirely different endeavor; doing so requires a level of concentration, skill, and different technique that is often counterintuitive or sometimes even exactly opposite of what you would use on a public road (e.g. gaining traction by coming off the brake or reducing your steering wheel input to turn more sharply etc.). Our team started racing without any instruction, and looking back, it probably hurt us more than the seat time helped us. What we did do well in our first year was attend several different types of HPDE's, track days, autocross events and classes, karting schools and races. We then determined which type fit our personal and team goals best and then which organizations we preferred to work with that would help our team's drivers' progress.
In addition, there are great resources that can help to shorten the process of driver improvement even when not behind the wheel – obviously Ross's books and website, along with several others that are available. The truth is you can learn a large amount while not at a track; the tricky part we've found is finding what you need, when you need it, and to have it "click" to better get you to that next incremental step. So, while I could easily list several of our team's favorite resources, it really doesn't matter what the information or technique is, but more about when you're ready to receive it and incorporate it into your repertoire. Also, we have found that re-reading a book, or re-listening to a podcast, can often seem like you are getting a whole new message, even though the words have most likely remained unchanged since you first read or listened to them. Also, podcasts are a great way to get in some motorsport-related training while driving on a public road (twice as much at two times the speed, but that may not be for everyone…).
Mechanical skills are the second area that has helped our team while racing, both in pre-race prep and at the race when/if we have a mechanical issue. While we were not fortunate enough to have an extensive mechanical background from growing up nor from training, we did add a few drivers who did, and even more importantly, we found a large group of welcoming friends and friends-to-be within the paddock. These folks were not only interested in us and how things were going, but in many cases, were more than willing to help us figure out the problem, or in some cases, more than willing to "elbow" us out of the way and personally fix the problem while explaining it all to us. The most surprising aspect we have seen in racing is the interest and willingness of the other teams and drivers to help each other get out on the track and compete. Apparently, it is widely known that passing someone on the track or beating their best time is much more fun than having them stuck in the pit or paddock! The racing brought us to the track, but the people are really what has kept us here. As such, we always tell anyone who wants to try high performance driving or racing, do not worry too much about the mechanical part; there are lot of resources to learn from and people willing to help. It truly is a great community.
The third aspect that has had the biggest impact on our team's performance is team organization and preparation (even more important than the driving). It really is simple math: if we could improve our lap times by two seconds over a full ~500 lap race, our team could save 1,000 seconds or a bit over sixteen minutes. But if your pit stops are slow or your team is not prepared and ready, or if the car is not ready to start the race, or breaks down during the race etc., you can see how even extraordinary driving improvements over a long race can be easily squandered with bad team organization. Our biggest improvements were around prepping for the race, bringing the right tools, fluids, parts, etc. and having them in the right place to have a car ready to be on track and to reliably finish. When we didn't perform well, it directly correlated to our prep and organization, not our driving. This does not even address the level of stress involved in what is supposed to be a fun race day or weekend, or the reduced cost of making up for things that were not addressed properly. The local auto parts store will not like it if you come prepared, but your race results will certainly improve!
As mentioned earlier, making your car faster, handle better, and even look better can involve a large consumption of time and budget – without giving you the performance increases you may expect. It has been proven to our team, and to many others with whom we race, that there is a near limitless rabbit hole that while attractive, may not provide you with the benefits you strive for. At best, your car may look or sound better, but it's likely that you're hampering your driving development, and the lap times will not reflect the time and money spent. At worst, many things can make your car worse by being less reliable, and sometimes even slower. Additionally, as you progress, you may find that the changes you made do not fit your driving preferences. It is almost always much better to focus on the basics – the fundamentals – and not the bright and shiny options, especially early in your career.
We do have one area that we support improving on the car side of things and that is changing to a good DOT 4 or even higher-temperature racing brake fluids and an argument can be made for switching to high performance street and/or racing brake pads. The increase in safety is complemented with potentially faster lap times, so if you must scratch your car-tweaking itch, try to limit yourself to this domain. (P.S. Your potential budget savings could easily get you back out to at least another event or two).
We routinely look at every event and see what we can do better. We are even silly enough to do it publicly on our podcast for posterity (for everyone to hear). It has helped our team in the past and will help us in the future. Experience wasted can be one of the costliest losses any driver or team can have. Our team continues to grow and improve, and we will always be "In Training." So should you!
– Bill Fischer
Bottom line summary, focus on any potential lessons learned at each event can be critical to your progress.