– Racing for Cancer Research (and Fun)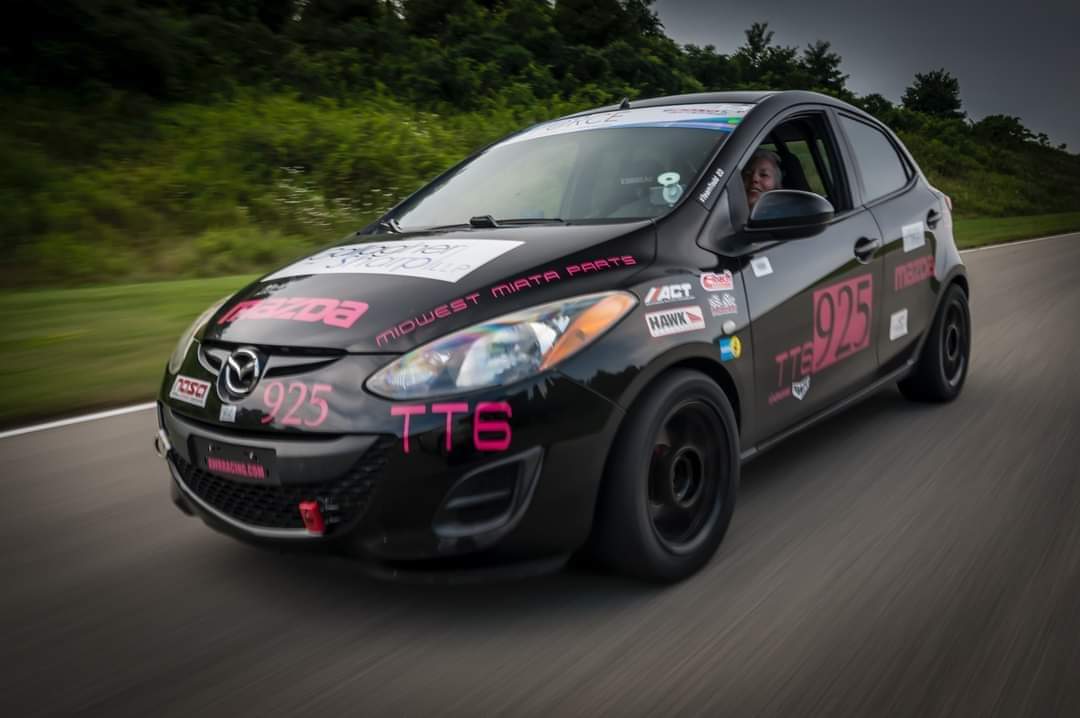 Marlon Sumlin joins us to discuss his racing history and how much fun he has racing and instructing. He is a perfect example of how much fun it can be to drive a slow car fast as he routinely passes many "better" cars in his Mazda 2 across the country. Marlon instructs and races in Grid Life's Sundae Cup and B Spec. This year he is also competing in the One Lap of America in the same Mazda 2. Marlon also races to help support and promote FORCE (Facing Hereditary Cancer Empowered). FORCE is a charity to support cancer research and Marlon has been working with them with his beautiful bride Lauri since she was diagnosed with cancer several years ago. Marlon has continued and will continue to help promote FORCE to battle against cancer and in her memory.
If you would like to help grow our sport and this podcast:
You can subscribe to our podcast on the podcast provider of your choice, including the Apple podcast app, Google music, Amazon, and YouTube etc. Also, if you could give our podcast a (5-star?) rating, that would be greatly appreciated. Even better, a podcast review, would help us to grow the passion and sport of high performance driving and we would greatly appreciate it.
For instance, leaving an Apple Podcast rating is very easy. If you go to your podcast library, look under shows. Then click on this podcast. Here you can leave a (5?) star rating and enter your review.
We hope you enjoy this episode!
PS If you are looking to stream or save your integrated telemetry/racing data with you video, Candelaria Racing Products Sentinel System may be the perfect solution for you. We are in the midst of installing the system in two of our cars. If this sounds like something that may help you and your team, please use our discount code "GHIT" for a 10% discount code to all of our listeners during the checkout process.
PS2 Please don't forget that if you are looking to add an Apex Pro to your driving telemetry system, don't forget to use our discount code for all Apex Pro systems you will receive a free Windshield Suction Cup Mount for the system, a savings of $40. Just enter the code "ghitlikesapex!" when you order. They are a great system and truly invaluable in safely increasing your speed on track and/or autocross etc. The recently released second generation systems and app increases the capability of the system greatly.
Best regards,
Vicki, Jennifer, Alan, and Bill
Hosts of the Garage Heroes In Training Podcast and Garage Heroes In Training racing team drivers
Highlights for this episode include:
1) If you need nicknames of some of the NASA Great Lakes, Marlon shares a few and has a ton more.
2) Why Marlon loves racing Sundae Cup and B Spec in his Mazda 2.
3) The differences between racing wheel to wheel and time trial races.
4) Tips for first time Sundae Cup and attending a Grid Life event. Highly recommended!
5) Any Great Lakes Attendees coming to Grid Life's Lime rock event this August.
6) What is a Grid Life Festival and another explanation to why they sell out so fast.
7) How the Sundae Cup class has been started in the upcoming One Lap of America. We did not get out Fit in time to enter, but we will go as soon as we can get signed in. We are hoping to do a daily update from this class as the event transpires this spring.
8) Why we, and many of our friends at NASA Great Lakes and beyond, will be installing a particular vinyl decal on all our race cars starting this year to support Marlon, Lauri, and FORCE.
9) Some amazing answers to our fast and furious story time questions.
For more information about FORCE or to make a charitable contribution: https://www.facingourrisk.org/
GHIT 0308: Marlon Sumlin – Racing for Cancer Research (and Fun)