with NASA Great Lakes of 2021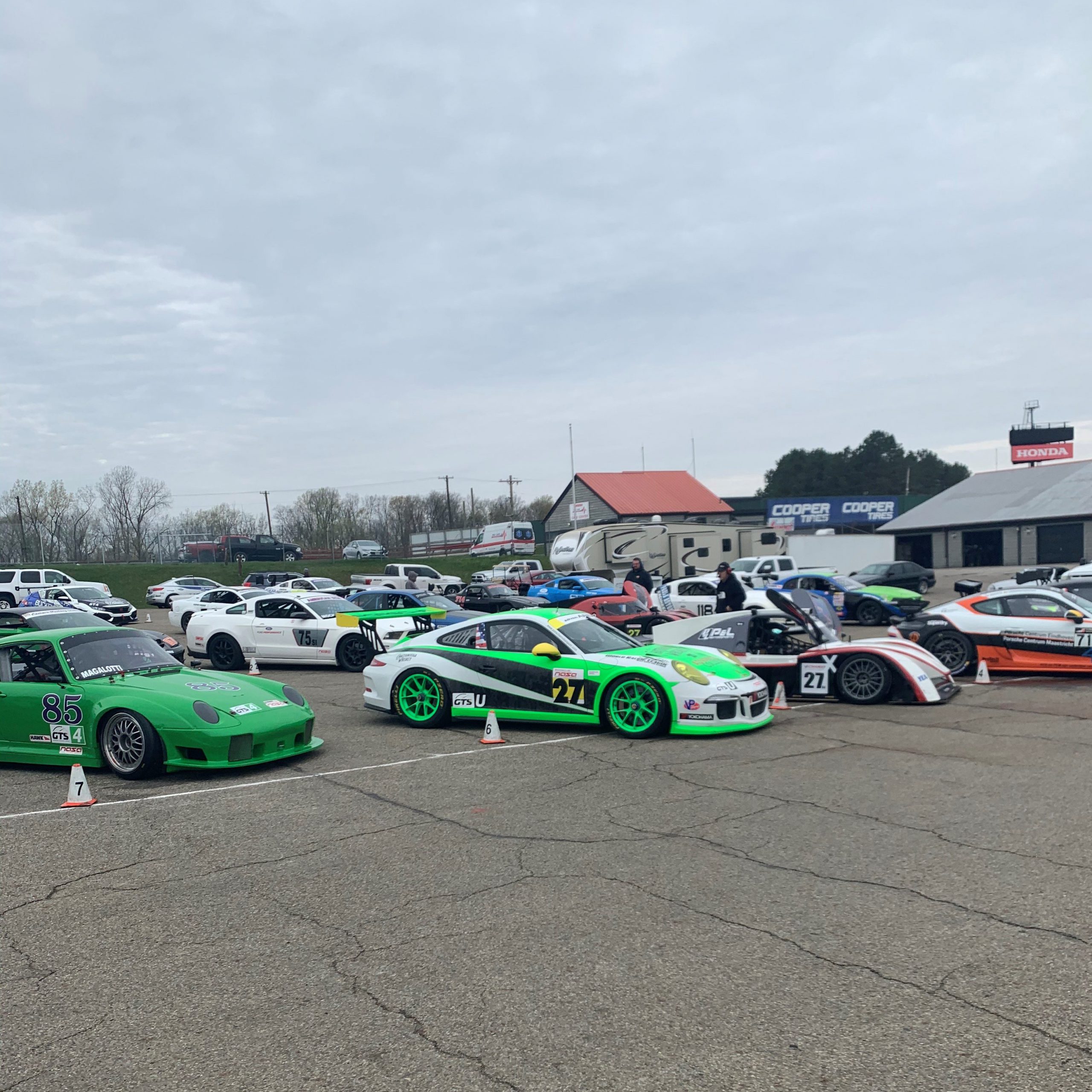 GHIT Podcast #196: Our First HPDE at Mid Ohio 2021 with NASA Great Lakes – Vicki and Bill
Jennifer takes the lead for this episode as we discuss the recent HPDE at Mid Ohio with the NASA Great Lakes group that Bill and Vicki attended as an early Father's Day gift.  The weekend was a bit chilly and started off with two dry stints Saturday and ended with two very wet stints.  Sunday was the reverse.  We go into the event as a whole and also go into what transpires at Mid O when it gets wet.  Mid Ohio is widely known as one of the lowest traction tracks in the US when it gets wet and it did not disappoint Vicki as her first time driving at Mid Ohio 2021.  If all goes well, Jennifer will be joining Vicki and Bill at Mid Ohio in about a month.
On this episode's Dominating with Dawson, we
go over passing and start with defining what dive bombing is and then get into a discussion of the preferred passing approaches, especially during HPDE's and eventually in wheel to wheel racing.  This includes a discussion of the point at which a pass is complete.  We also talk about the approach when trying to pass in a lower horsepower/momentum car.
You can subscribe to our podcast on the podcast provider of your choice, including the Apple podcast app, Google music, Amazon, and YouTube etc.
Also, if you could give our podcast a (5-star?) rating or even better, a podcast review, we would greatly appreciate it and it would help us to grow the passion and sport of high performance driving.
For instance, leaving an Apple Podcast rating is very easy. If you go to your podcast library, under shows and click on the podcast you can leave a (5?) star rating and enter your review.
A link to the episode is:
https://tinyurl.com/VickiandBillatMidO
We hope you enjoy this episode!
PS Please don't forget that if you are looking to add an Apex Pro to your driving telemetry system, don't forget to use our discount code for all Apex Pro systems you will receive a free Windshield Suction Cup Mount for the system, a savings of $40. Just enter the code "ghitlikesapex!" when you order. We have two systems for our team and Bill is looking to add a third for this season, pending CFO approval from Vicki. They are a great system and truly invaluable in safely increasing your speed on track and/or autocross etc.
Best regards,
Vicki, Jennifer, Alan, and Bill
Hosts of the Garage Heroes In Training Podcast and Garage Heroes In Training racing team drivers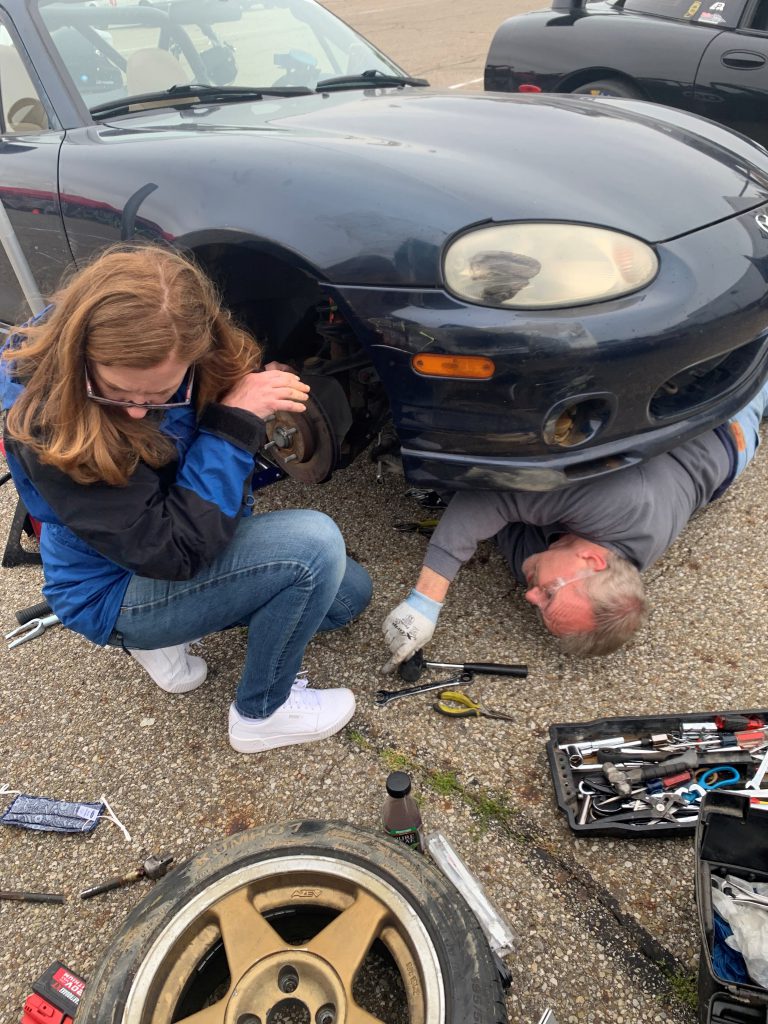 Highlights from this episode on Mid Ohio 2021 HPDE event include:
1) Last minute car changes end in Vicki and Bill sharing the Toyota 86 for this weekend's event at Mid O.
2) This was Vicki's first time at Mid Ohio and her first time driving the Toyota 86 on track. Bill prepared her for driving MidO in the rain, but it is really a hard thing to comprehend how different the traction level is from a dry track to the wet track, especially at MidO. How did Vicki do? What did she think of the track? What did she think of MidO when it's wet? Where does it rank in her personal track top 5 or 10?
3) How did Vicki do? What did she think of the track? What did she think of MidO when it's wet? Where does it rank in her personal top 5 or 10 tracks? Same for Bill.
4) Our earlier skid pad events helped when going around Mid Ohio, especially in the rain.
5) Vicki goes through her first weekend with NASA Great Lakes in HPDE 2. Bill was in the HPDE 3 run group for this weekend. There are several differences between the groups and we try to summarize the differences and how HPDE 1 builds into HPDE 2 and then into HPDE 3.
6) Bill and Vicki try to describe some of the drills that are run at the events. The drills really are great learning tools and tons of fun. Some of the drills were changed due to the lower grip of the rain stints. NASA Great Lakes remains our favorite HPDE group to really learn how to be a better driver and racer, increasing not only your speed but also your safety on track.
7) The three biggest differences that are key to how NASA Great Lakes HPDE program works so well include the in class sessions, the track drills, and the way that the post stint debriefs are held and used to help the drivers to learn more quickly.
8) Bill makes several attempts to get Jennifer to go to the next event at Mid Ohio. While each was weak, they added up to the desired end result, lol.
9) Vicki is tired from the trip and switches the terms "Spoiler" and "Splitter". She really needs to get more sleep before podcasting, lol. Luckily Bill caught it, but ended up doing it poorly and started the process of ending up sleeping in the tub again. lol.
10) We have noticed that the more Vicki learns about working on the cars, the more she worries that something is wrong with the car and comes in to check. Now we need to work on finding the balance. Still "In Training", lol.
11) Our telemetry for this event consisted on the Apex Pro and the Garmin Catalyst. Vicki is relaxing in the car and starting to really understand and use the devices to help her. This was also her first time using the Garmin Catalyst on track. We are starting to develop a process to use both, both on during and after a stint. Vicki especially likes the Garmin since it doesn't sound like Bill when she is driving.
12) A listener requested a discussion of Mid Ohio in the rain. We tried our best to summarize but it really is something that needs to be experienced. Bill also goes into how he approaches a wet track and how he approaches exploring the track to look for higher traction areas of the track.
13) Bill makes another feeble attempt to get Joey to come on the podcast. Someday he will weaken and say yes.
14) How does it feel to have a personal best during the weekend? Great. Except when it is a 1:50.01. Luckily Bill had one more stint to go out at the end of Sunday and break that personal best as well.
15) We go into the customary Good, Bad, and the Ugly, as well as what we learned during the weekend.
16) Vick says that Bill is right. Time to play the lottery. We might actually be on our way to the deserted island race track.