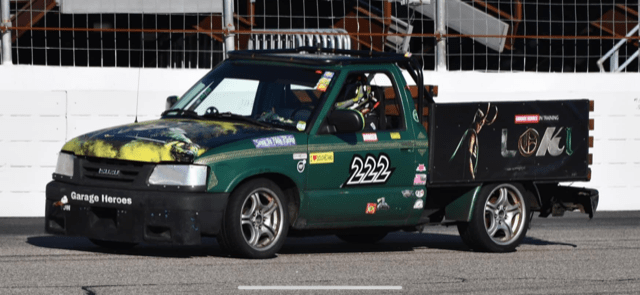 GHIT 0404:  Race Review – NHMS 2022 Part 2:  El Jeffe  
Long delayed due to schedule and sickness, here is part 2 of our teams 24 Hours of Lemons race at New Hampshire Motor Sports track in late October.  We had planned to go over the race and how it went for the flying MooStang and the trophy truck El Jeffe/the Bad Hombre but we have now broken this up into two separate episodes.  In this episode, Jeremy goes through the entire race weekend for the 2003 Chevy S10/Isuzu Hombre.  Which team had a good race?  Who had the most black flags?  Was there any contact?  Who won?  All this and more in this part of the race review.  Want to find out why the intro was what it was?  Stay tuned for the post credits bonus.
If you would like to help grow our sport and this podcast:
You can subscribe to our podcast on the podcast provider of your choice, including the Apple podcast app, Google music, Amazon, and YouTube etc.
Also, if you could give our podcast a (5-star?) rating, that we would appreciate that very much. Even better, a podcast review, would help us to grow the passion and sport of high performance driving and we would appreciate it.
We hope you enjoy this episode!
PS If you are looking to stream or save your integrated telemetry/racing data with you video, Candelaria Racing Products Sentinel System may be the perfect solution for you. We are amid installing the system in two of our cars. If this sounds like something that may help you and your team, please use our discount code "GHIT" for a 10% discount code to all our listeners during the checkout process at https://candelaria-racing.com/
PS2 Please do not forget that if you are looking to add an Apex Pro to your driving telemetry system, do not forget to use our discount code for all Apex Pro systems you will receive a free Windshield Suction Cup Mount for the system, a savings of $40. Just enter the code "ghitlikesapex!" when you order from https://apextrackcoach.com/
Best regards,
Vicki, Jennifer, Ben, Alan, Jeremy, and Bill
Hosts of the Garage Heroes In Training Podcast and Garage Heroes In Training racing team drivers