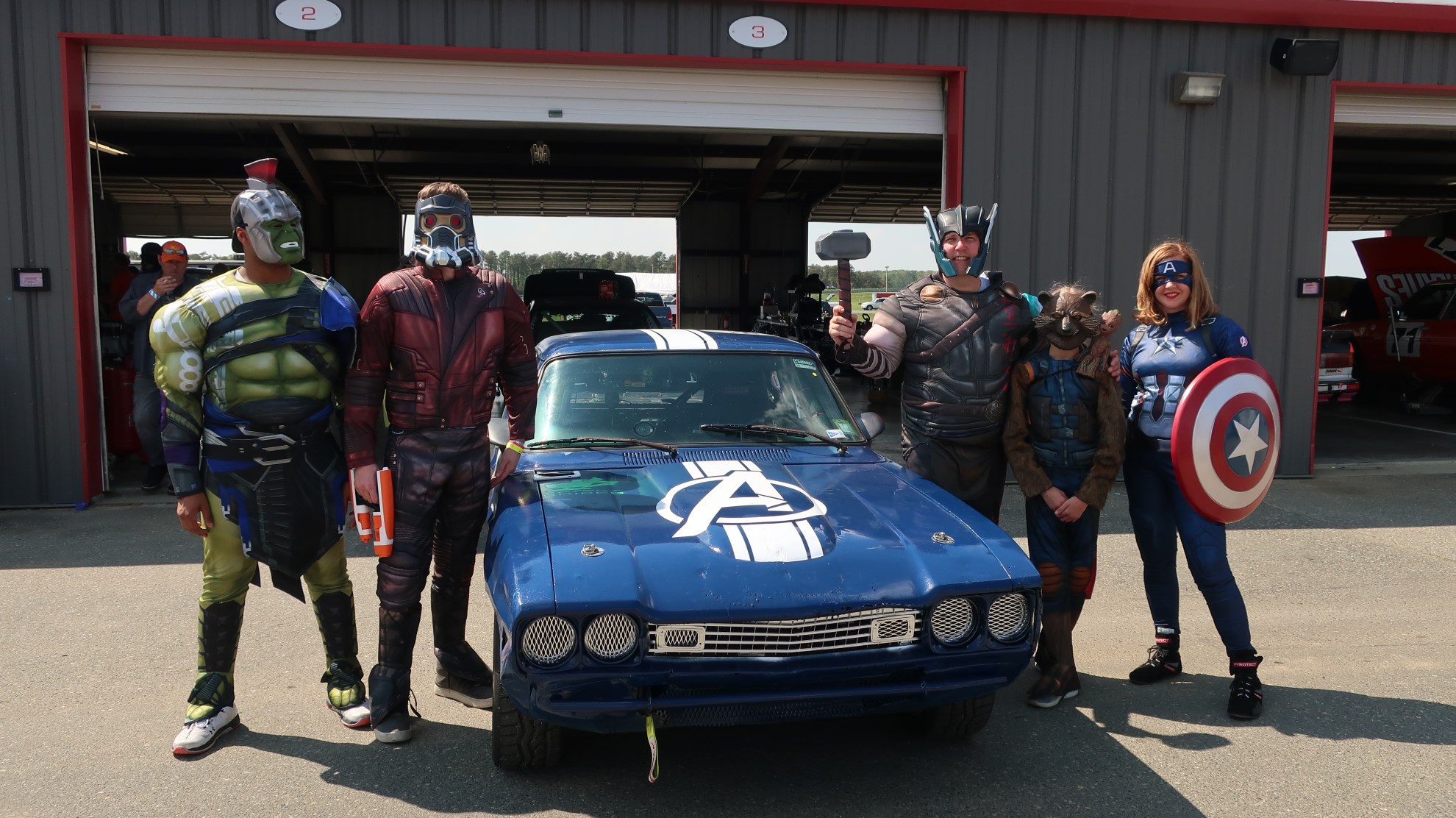 The NJMP race in May was our inaugural event and we prepared from essentially ground zero for the race. The four drivers for this race were Vicki, Liam, Cassian, and Bill. In addition, we were supported by several family members and friends in the paddock, and their contributions and assistance cannot be overstated. Special thanks to our daughter Mia, Vicki's sister Jennifer and husband Jim, as well as their sons Jimmy and Jacob, and Jimmy's friend Aubrey.
Goals: Our team goals were to 1) make sure everyone was safe, 2) pass tech inspection and get everyone at least one turn in the car during the race, 3) no black flags or crashes, 4) finish the race, and 5) ideally finish in the middle of the pack. If we got into the top half, we did more than we could have ever hoped for. The goals were largely adopted by everyone, except Liam and Cassian who were very concerned about "dominating" and especially about beating each other. More on that later.
Pre-Race Prep: In preparation for the race, I developed a "rather long" checklist for the race weekend. It had several sections including spare parts, tools, camp stuff, food stuff, and miscellaneous. It ended up being about 18 pages or so and did help us greatly in making sure we had packed everything we had wanted and didn't leave anything behind. It even had items we knew we did not have yet but eventually wanted to bring when we did, e.g. tools like an engine hoist/lift etc. In general, we had almost everything we needed. (Except for bailing wire. I didn't pack any because I didn't know what it was and silently thought that we didn't need any hay for the race so why bring it.) The nice thing is we can add or subtract things to our list that we run into or see others have that we need. For instance, my daughters first question upon setting up camp was "why don't we have a hot tub?" after seeing Three Pedal Mafia's set up. At least she has her race weekend priorities in place.
Paddock/Camp setup: I arrived early Thursday afternoon with the trailer which also transported the tools, spare parts, and the Capri to the race. Our set up consisted of a Ford F150 and a Look 18' enclosed trailer. No towing experience included. It wasn't too bad as we only did a few things wrong (tying the car down and loading the trailer) and needed to upgrade our hitch system. (But we didn't know any of those until arriving at our next race in Thompson, so we got a bit lucky). We had arranged to stay near our friends at Three Pedal Mafia in the paddock (so we didn't have to run too far in a panic). The buddy system worked great throughout the weekend. We would highly recommend partnering up a with another team if you can, even if they know as little as we do, its still more than you will at your first race.
Once we set up our paddock area and began unpacking the trailer etc., we prepared for Fridays practice day and our teams first time on any track. We did elect to stay at a local hotel to hopefully minimize the complexity of race weekend. Jen and her family stayed on site within their camper and had a great time at the track all weekend. We planned on adding camping at the next race. We did divide up areas of responsibility with Vicki and Jen taking the lead of the paddock area and I focused on the mechanical aspects of the car, race prep, and planning.
Friday Practice: Practice started early and we hit the track after a tech inspection and a fairly brief drivers meeting. Our goal was to get everyone out on the rack for about 30 minutes to learn the car and the track. We did not think to look at any YouTube videos of the track, but at least one of us had looked at the track map ahead of time. One thing we couldn't help but notice right away was that everyone was very friendly and helpful to everyone, even our team that was new and going through everything for the first time. Everyone on our team was able to get out onto the track and do at least 10 or so laps. The nice thing was that during practice, the track was fairly open with few cars on at any one time (approximately 20-30 max). This would not be the case with 140 cars entered for our race.
In hindsight, we probably focused a little bit too much on taking care of our cars and camp and probably should have taken more opportunities to walk the paddock area and see the sights/cars/other teams and meet the teams throughout the weekend. In our slight defense, there is a tremendous number of things going on during the racing and a lot of juggling is needed. Hopefully we will get better as we all learn how to do things and what needs to be done.
Practice went well. Everyone had a turn and began to learn the track and the car.  We did offer our car to a friend (Chris Abbott) to have him take it out for a few laps to see what he thought and if we needed to adjust anything.  He did offer several thoughts that helped our team and car tremendously.  In addition, he beat our best lap time of the weekend in our car by over 10 seconds in one of his laps before we made the upgrades.  Obviously, our team has a lot to learn about racing.  (It was finally starting to dawn on Liam and Cassian that maybe they weren't going to dominate the entire event weekend, lol) 
Upgrade items we changed with Chris's input were to
Improve air flow through the radiator by boxing in a bit with hard foam insulation panel,
Adjusting our brake pedal height to be closer to the gas pedal height for easier transitions between the pedal and maybe even some heel-toe action.
Changing tire pressure to 32 front and 30 rear
Adjust/tighten the throttle cable to eliminate a gas pedal dead spot
These "small" changes made a big difference when we went out in the race Saturday.  I took great pride in Chris's observation that our car "wasn't tragic" and was even "fun"lol. 
Saturday/Race Day #1: We elected to have Vicki go out first on race day for several reasons. One was she drives very well and would be most likely to remain conservative at the start of the race when many other drivers would be at their most aggressive. Second, she is the family CFO so make sure she gets seat time. Third and finally, I am not (that) stupid. She started slow and worked her way up throughout her stint. It was noticeable visually and even more so after we found an app to monitor the lap times in real time. (about $10, who knew). We kept all our driver stints relatively short at around 45 minutes or so to make sure no one got too tired and to maximize the chances that everyone got at least one turn in. Each of our drivers got at least two turns in on Saturday. So we accomplished our first goal of everyone getting to drive, but we did have a few other "issues".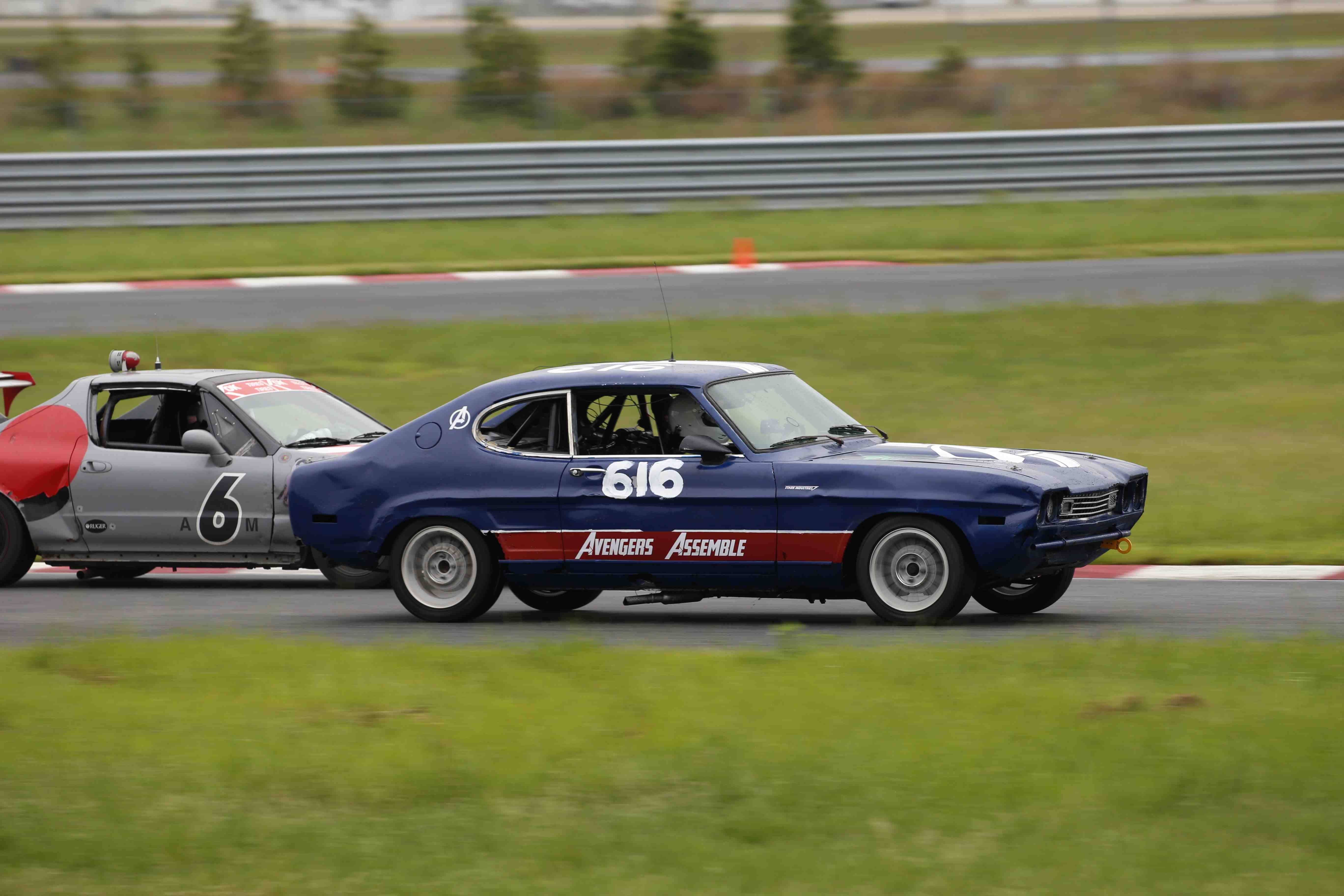 We got our first black flag when someone took off their glove in the pit the adjust a GoPro. (two rules broken at one time). We got another black flag when I "overcooked" it a bit going into turn one by a few feet and went over the line with two tires at the end of the straight, still on pavement, but technically I had two wheels off per Lemons rules. The first infraction was met with a warning. The second with a 30-minute parking spot in the penalty box. Oh, I did end the day in the tire wall so that the racing day ended a few minutes early. So our goals of no black flags and no accidents were out the window early on day one.
Finally, late in the day and late in my stint, I had finally gotten to open track with a good driver ahead of me to follow and learn from. The only issue was he was a good driver and I apparently wasn't nearly as good. I went a few inches too wide onto the curbing and the back end went out a bit. I did not recover in time and ended up stuck in the tire wall. (Yes, Vicki and Mia took pictures of where I hit the wall during our track walk later that evening) After they towed the car back into our pit. The Capri had a minor front left quarter panel bend that was easily fixed with a precision instrument called a persuader. (Some of you may know it as a sledge hammer.) Per team rules, that I came up with on the spot, I could not race tomorrow since I had crashed the car.
PS We also got a bit lucky with at least one other tire off track and possible "rubbing" incident on track that either didn't happen or wasn't seen. These were also not aligned with our goals.
We ended the day fixing the front quarter panel and then being invited for a track walk. Only half out team went, but the experience was simply incredible. We learned so much of what to do, where to look, what the track surface actually felt like and how it varied, noticed minor humps and bumps that could either help or hurt your time, etc. that you don't see when travelling in a car at speed. Highly recommended, but try to go with another experienced team if possible. Again, special thanks to Chris, Jeff, Mental, and Chrissie from Three Pedal Mafia for inviting us on their walk. After a long day, the whole team of drivers hit the hotel for a needed shower and some sleep.
Sunday/Race Day 2: As most of our team is not functional in the morning (17 and 18 years old) so Vicki got the first drive of the Sunday as well. After the track walk, she easily reduced her time by ~10 seconds per lap vs the prior day and continued to improve throughout the day, Liam and Cassian also improved, but not quite as much (see, no track walk). We ended the day with our car still in the race and took the checkered flag and drove the car through the pit area and paddock under its own power. Many happy waves, clapping and high fives to be had by everyone there. Did we belong, not really, but we felt like we did.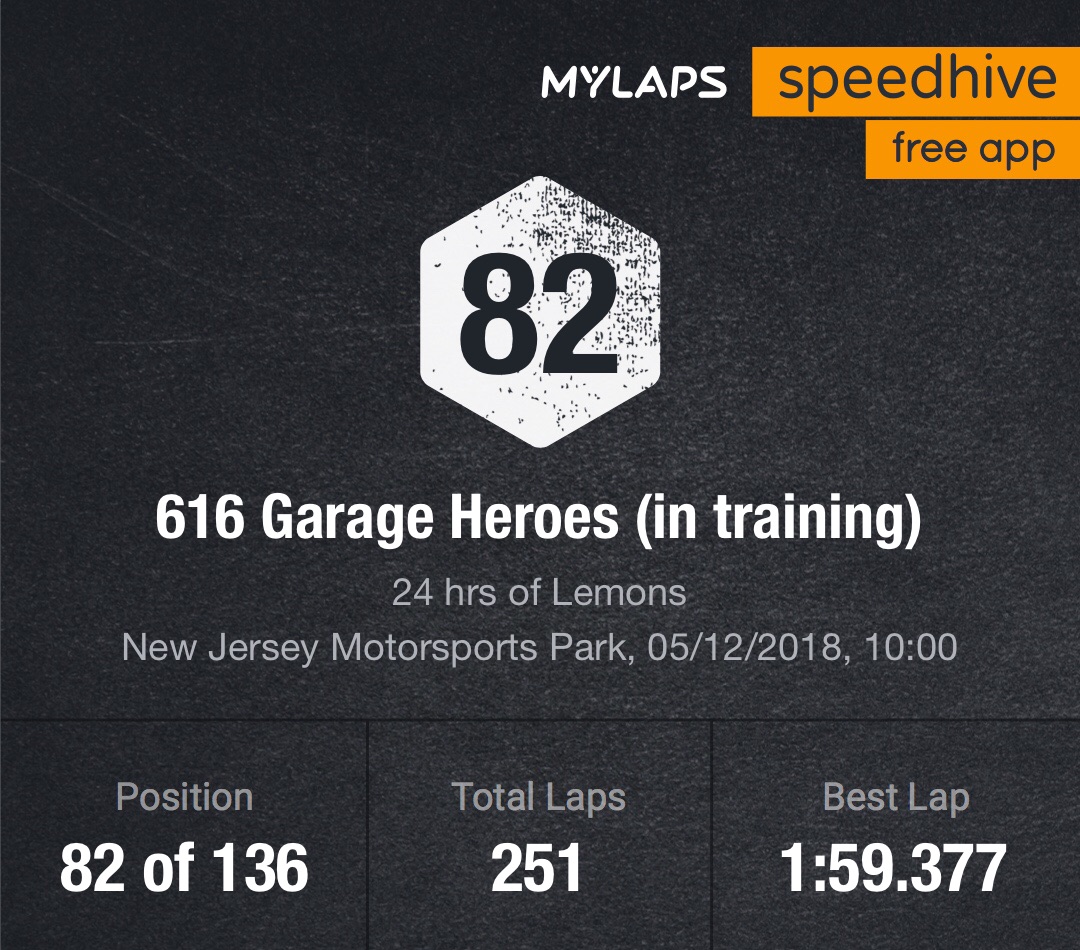 Race Results: We ended up finishing in 82nd place. I can analyze the data a bunch of ways but the easiest way to summarize if we lost to only a few teams with similar lap times as ours (or slower) and we "wasted" a lot of time with slow pit stops and lots of pit stops to keep everyone fresh. In total, we were around 80 laps or so from as good as we could possibly have done at the driving level we were at.
But we did not come to win, we came to try a Lemons race and we loved it. There was a closing awards ceremony, which is an event all by itself. We said our goodbyes to all of our new friends and many, many thank you's to a ton of people who helped us throughout the weekend. We actually did help one team a bit by "lending" them gas so they could get out and race. No money needed. We took the future Karma.
We packed up camp and left the area after the awards ceremony. All of us were tired, a bit dirty, but still excited (and a bit proud of what we had done)
As Vicki and I said while driving home from NJMP "I think we found our idiots".
Takeaways: Things we learned:
Set goals for team and make sure all on same page
Get the track and race schedule handouts – we didn't know these things existed until a week later.  They help. 
Optional practice on Friday is not really optional for first timers at a track.  Do it if you can.  Otherwise it is a trial by fire on race day. 
Lap timing apps are available (and helpful)
If it's your first time racing, try to partner up.  Most teams seemed willing and very helpful.  If not, find us.
Short driving stints are good for the first time to keep everyone sharp and fresh
Track walks are awesome (and essential)
Track videos can be reviewed ahead of time to help learn the track.  We like the ones with the track overlayed especially. 
Bring more than 4 gas cans if possible.  Lots of trips off site to refill can be avoided.  Also, the "Slurpee" tax for each trip really adds up    
Come with Us and Enjoy the Ride!