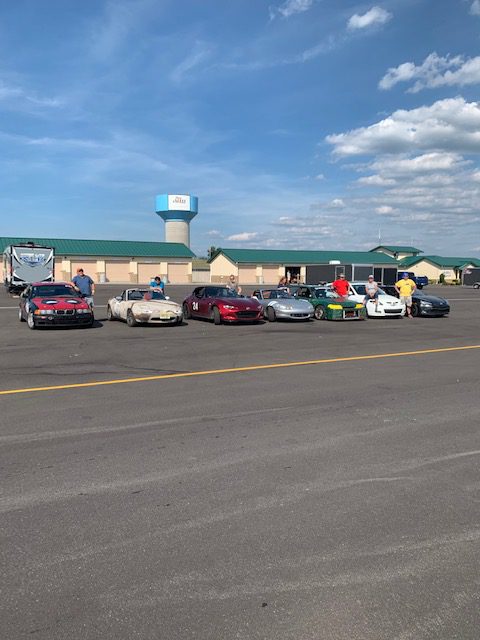 Jen, Vicki, and Bill review how the NASA Great Lakes HPDE event at PittRace went last weekend. It is our team's most anticipated HPDE event of the year and we were not disappointed. Jennifer had our friend Chris as her instructor for the entire weekend and it showed as she progressed dramatically through the event in her ND Miata. Vicki was also in HPDE 1 with another friend Jim as her student partner and also learned a ton, especially related to weight transfer in her NB Miata. Bill was in the HPDE 2 group with both Chrissy and Jeff in the E36 race car and the stock Toyota 86 for this weekend. With COVID 19 controls in place, there was no right seat driving instruction option, but NASA Great Lakes is continually learning, adapting, and responding with improvements that allow for a great amount of instruction for every student.
The Dominating with Dawson segment for this episode was initially in the area of coasting but we quickly wandered off into proper use and application of the throttle and aspects of controlled or over controlled track driving as opposed to pushing the limit and getting out of a comfort zone.
We hope you enjoy the episode!
Best regards,
Bill, Vicki, Jennifer, and Alan
Hosts of the Garage Heroes In Training podcast
and team members in the GHiT
Immature Endurance Racing Team
Highlights from the episode include:
1) Our group of 7 brought 7 cars with us and Chris did his best Randy Pobst impersonation by driving almost every one of them during the weekend.
2) Our teams struggle with car preparation and timing continued and we agree they must be addressed going forward.
3) Jen, Vicki, and Bill all had goals going into the event, largely as we discussed after our last HPDE at GingerMan several weeks ago.
4) Track learning/prep is very important to allow us to focus on our driving and not be distracted by "learning" the track at the same time for a new to us track
5) We discuss the Saturday event and the Sunday event and how we did not prepare our meals as well as normally because we were way behind. Sorry to our camp sharing friends.
6) Vicki converts Jen's RV sink into a disposal, for a short time.
7) We compare and contrast HPDE 1 and HPDE 2 from this event.
8) We individually cover the Good, the Bad, and the Ugly from the event
9) Vicki "surveyed" the track extensively after turn 10 during her spin on Saturday. Vicki did get to wave to Jennifer as she drove by a bit later.
10) Chrissy, Vicki, and Chris encountered a handling issue on the NB Miata that was easily fixed by adjusting the adjustable shocks in the rear. Who knew? PS We are sorry for not listening to you earlier Chrissy.
11) Jen solved her downshifting issue going into a turn that has plagued her to this point. This was solved by slowing down by letting out the clutch, especially on track. The best part is that Jennifer can also practice this on the street during her daily driving.
12) Jennifer failed miserably by not getting her training partner over to our podcast. Lol.
13) We learned a lot from this event both about our prep and our driving.
14) Bill admits we have too many cars and need to downsize significantly.
15) Vicki summarizes our teams learning and progress to this point.
16) Vicki's "ah ha" moment included understanding weight transfer and improving her down shifting/sequencing going into turns. Hopefully, this will help when she races a front wheel drive car again.
17) Jennifer's "ah ha" moment included shifting and especially downshifting and actually her hearing tires "sing" through the turns for the first time ever on track.
18) Bill's "ah ha" moments included 1) Bringing Lemons "skills" and HPDE "skills" together into a complimentary driving style utilizing both, 2) Comparison and E36 race car and the Toyota 86 street car, and 3) How significant the difference between sticker tires and scuffed tires. We won't be sending any of our newer drivers out on track with sticker tires ever.
19) Vicki did not get out onto the track in the E36 BMW race car due to an accident in the prior session closing the track on Sunday prematurely.
20) Some of the advantages of lead follow and some of the difficulties we saw. NASA Great Lakes addressed these by actually switching the lead follow to what is essentially a switch of the cars into a "follow – Lead"
where the student is in front of the instructor at several points.
21) Goals for our next HPDE event for each of us.
GHIT 0129: Review of Our NASA Great Lakes HPDE at PittRace 2020