Well, all in all the race went pretty well. We prepped the car for the race, ran it in practice, ran the race both days. The only things we needed to do was change the tires after Friday's practice to a new set, check our brake pads, and implement the adjustments Chris suggested. This Lemons thing is pretty simple. Prepare car, race car, drive home. No biggie. What's all the fuss. (tongue firmly in cheek as we shall see shortly and even more so at our next race). Post 2018 NJMP race.
After sleeping consistently for the rest of the week or at least wishing we were sleeping……
By the way, the drivers weren't the only ones who had a great time.
Jennifer helped with keeping our camp in order and making sure everyone was fed, but boy was she hooked. She did not know how to drive a manual transmission, but was intent on entering as driver for our next race. She ended up taking my daily driver for a week and she was "ready" to go.
Casey was our primary pit crew person on the site taking care of the car radios and helping with gas runs (as long as there was a Slurpee (or 4) involved) and generally helped everyone out all weekend was also interested in learning to drive a stick and racing at the next race. Casey also ended up learning on my car and was "ready" to go as well for our next race.
The rest of Jennifer's family, Jim, Jimmy, and Jacob. Also seemed to have a great time. Jimmy especially liked having his face on the hood of another car. Jacob and Mia took to the paddock area and were generally entertained. How did we know for sure. No whining all weekend by two 11-year-olds. Jim, a long-time car guy, seemed to enjoy it, helped us in the pits, and was excited to come up and get involved in the next race.
Mia, our little driver in training now, was so excited she also wanted to race in the next race. We were pretty sure the Lemons team wouldn't be open to an 11-year-old entrant, but she could start training for the race when she was older. She now had never ending interest in go carting and we ended up going 12 times between our race at NJMP at the end of May and the next race we entered in CT in mid-August. That's even more dedication since the go cart track was almost two hours away from home each way. Sadly, I actually have to try to beat her now, but so far so good, still undefeated, lol.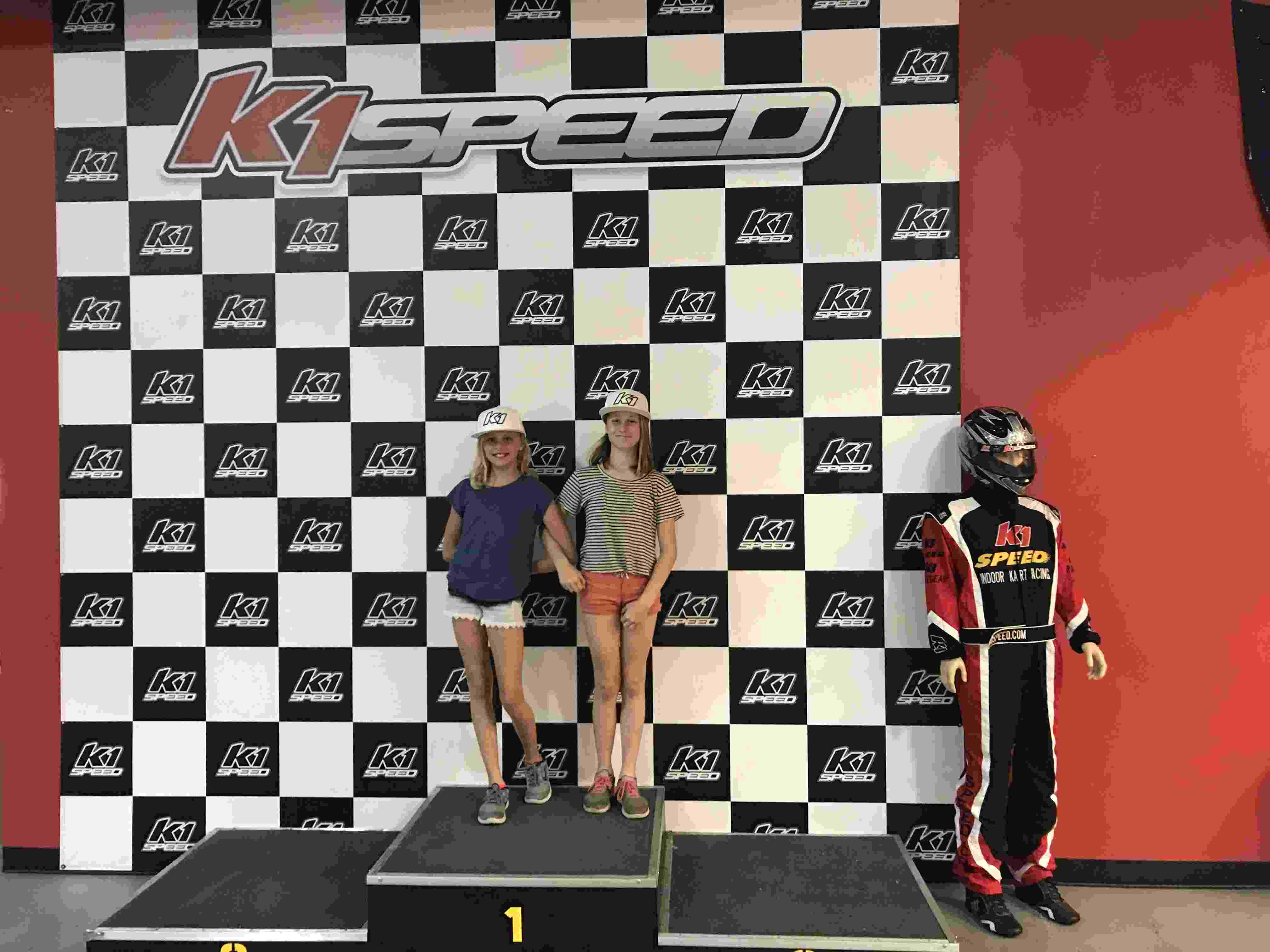 We also learned from a neighbor that our trailer could be made a lot more stable with an upgrade of our tow hitch to one that uses torsion bars.  There are a lot of designs and suppliers, but we ended up going with one from etrailer found here.  
Did the hitch upgrade have the desired effect? Yes it did. We went from having 1) a bit of a wiggle when going down steep hills and 2) when driving next to 18-wheeler trucks to having no issues with either on our next trip. It did cost a bit more than the standard hitch, but it was well worth it for stress reduction and less "pucker" moments on the road.
So now we have 6 drivers, a "working" 1974 Capri and a "TBD" 1984 Mustang GT Turbo. This leads to two projects. More drivers and more cars ready to race in the Lemons race at Thompson CT. The driver issue was partially improved when Vicki posted about our race on Facebook and a friend from CT commented almost immediately. This lead to Alan joining our team. He is tremendous at car maintenance and modifications, helping to partially solve our lack of skill in these areas.
Our final driver to join the team came as a surprise to me. Vicki and I went out to dinner one night after catching up with my old college roommate and meeting for dinner. During dinner with Pete and his lovely wife we ended up talking about the lemons race (nope, not obsessed at all) and Pete said he was in. It came as a surprise to me as it did not seem to fit his personality well, but we now had a full team of drivers.
On to the cars. Remember the whole prep car, drive car, how hard can this be. Well when we arrived home, the Capri would not start. After being bullet proof all weekend and running up until we put it in the trailer, I was puzzled. It turned out we had a bad fuel pump. I'm not sure how or when it died, but it was done. We ended up replacing the fuel pump, fuel cell foam, fuel cell feeder hose and hose filter in order to get it back up and running. We also inspected the spark plugs and they were a bit dark, so we ended up changing the jets on the carburetor. We can't drive on the street, so we shall see what happens at the race.
Onto the Mustang Covered in more detail in a separate posts. (Mechanical and Theme). We had a suggested To Do list from the prior owners (team Prompt Critical) and also performed a general inspection and performed normal maintenance and fluid changes. In total we ended up:
Changing the seat (since our drivers tended to be on the "muscular" side
Changed the steering wheel
Cleaned up the wiring in the engine bay
Tried to find a suspected fuel leak near the O-ring at the fuel supply line (no luck)
Changed the oil pressure gauge from mechanical to electric
Changed brake fluid to racing fluid (Wilwood 660)
Oil Change
Flush radiator and refill with water
The list doesn't look like much, but somehow between the two races, we rapidly ran out of time, even with the help of our friends at D&A assisting with several of the items mechanically. (This was all done before Alan joined our team). It actually seems like no skill level makes things take longer, lol.
Now the car was "ready" and we were off to the races.
Again a status review is probably needed.  We now have two cars racing and 8 drivers (4 brand new and 4 seasoned, with 1 whole race, lol), we are towing two cars for about 6 hours to the race and meeting everyone else at the track.  Oh, I almost forgot, we decided to camp at the track in two rented RV's.  How hard can it be?
Come with us and Enjoy the Ride!