We have finally gotten to our long postponed skid pad event. Our original event in March was cancelled due to COVID 19 and when John from Safety Third Motorsports was kind enough to offer an invitation to an event at Lime Rock Park using the skid pad and autocross track, we gladly said thank you! Was it everything we had hoped for? Should you go to a skid pad? Did it help us? Would it help you? Why do our cars always break the night before we leave? All this and more will be answered in this episode.
A seemingly simple subject for our Dominating with Dawson segment, but very important. How to position your mirrors and the importance of a good seating position on performance driving.
We hope you enjoy this episode!
Best regards,
Vicki, Jennifer, Alan, and Bill
Hosts of the Garage Heroes In Training Podcast and
Garage Heroes In Training racing team drivers
Highlights from this episode include:
1) Goals for the event going in
2) How the event was organized. It included a brief 1-hour classroom meeting, followed by several sessions and drills on the skid pad and ending with several sessions on an autocross course.
3) Jennifer drove in the stock 2019 Mazda Miata MX-5 ND2. Bill drove in the mostly stock 2017 Toyota 86 and Vicki drove her 1999 turbo NB Miata MX-5.
4) Keeping with tradition, we had an issue with one of our cars and this time it was Vicki's NB Miata that had two blown struts in the rear. Parts were unavailable, but Alex Levinson came to the rescue with some struts that he had.
5) How to change the suspension of your NB Miata twice in the parking lot of a hotel the night before, and morning of the event.
6) A brief review of the classroom session, with a few quiz questions to Jennifer and Vicki. We may need another session. Lol.
7) Skid pad drills and what we learned. There were three drills we tried: speed testing, inducing understeer, and inducing oversteer.
8) Vicki had some struggles (again) with in car instruction and we try to get to the bottom of it and how we can look to improve that issue going forward.
9) A comparison of how our three drivers and our three cars compared during the skid pad event.
10) How the autocross course was laid out and what drills we used.
11) How Alex "The Unintended Gigolo" faired in his attempt to use all three cars on the skid pad and the autocross course.
12) Jennifer and Vicki learned heel toe downshifting and did quite well. Bill, not so much.
13) Bill goes into the autocross part of the event and had some issues with the traction of the course or his over driving, or even more likely, lack of skill.
14) Jennifer improved so much that she actually got motion sickness for the first time while driving at the event. And she'd do it again!
15) How both Vicki and Jennifer learned to get comfortable with the car getting loose and even looking forward to it. Still so much more to learn and get comfortable with, but a great first step.
16)  We cover the final part of the autocross event where we were timed.  On the GHIT team, Alex was fastest, Vicki was second, Jennifer (on an empty stomach) came in third but was by far our most consistent driver at the event.  Bill prefers to remain unquantifiable by hitting a cone and posting a DNF.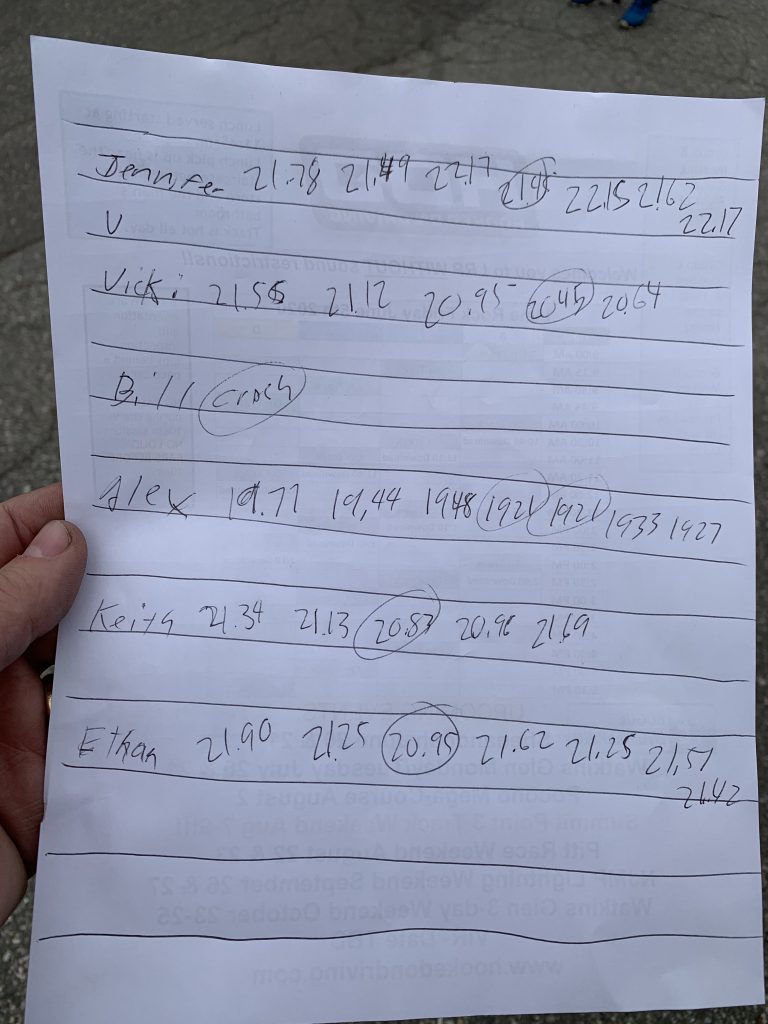 17) We try to cover the event with our traditional "Good, Bad, and the Ugly" but Vicki and Jennifer had so much fun that there really wasn't an ugly.
18) Vicki is planning on some additional skid pad practice in an upcoming snowy parking lot.
19) Bill is committed to incorporating heel toe down shifting into his track driving.
20) Ben will be very happy with the latest version of couples therapy, lol.
Special thanks to John Lavin and John Murphy for hosting and leading the event. Hopefully, we did well enough to get another invite in the future.
GHIT 0145: Our Skid Pad and Autocross Event at Lime Rock Park