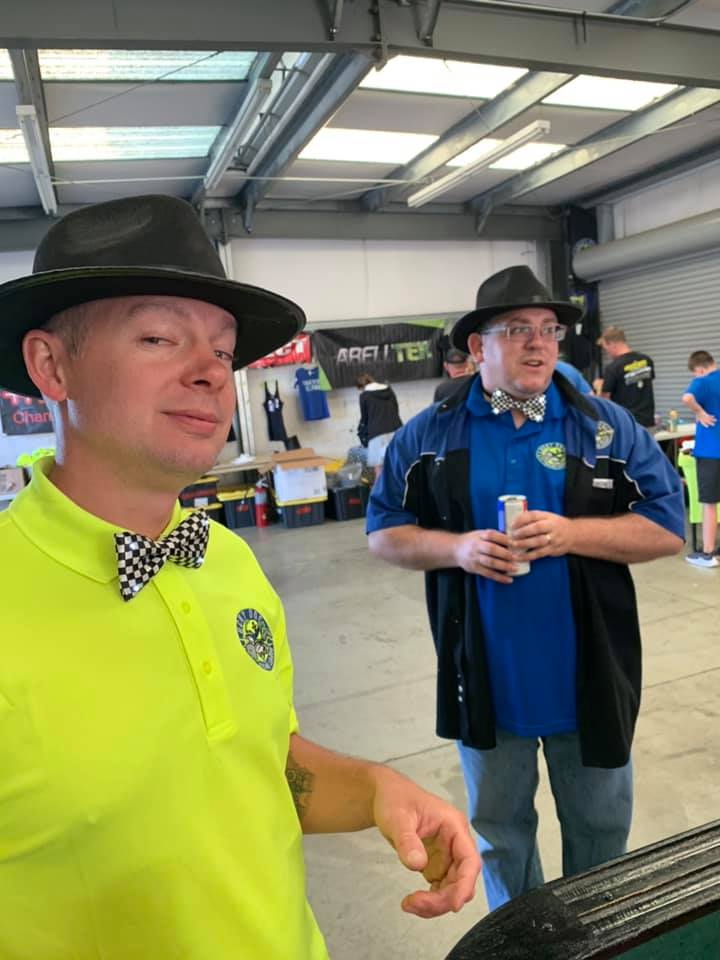 Erik Torgeson and Chris Wilhelm joined us to talk about their racing history and the Lucky Dog racing series.  Erik is the Director of Operations and runs the Dog Pound penalty area during the races.  Chris is the head of vehicle safety and technical inspection as well as usually covering radio control and timing and scoring during the Lucky Dog races.  Erik is also known as Bulldog while Chris is the Junk Yard Dog (JYD).  In addition, we go into the upcoming race (hopefully) at the Charlotte Roval where Lucky Dog comes to the east coast for the first time.  We cannot wait to go to another Lucky Dog race and we found a few items we will need to add to our list to pass tech for Lucky Dog, as well as several of the differences between Lucky Dog and the 24 Hours of Lemons series we traditionally race in on the east coast.
You can find Erik and Chris and the entire racing series at www.racelucky.com and say hello for us please if you see them a the races.
Apex of Failure on Facebook for the RX-8 project Erik referred to.
On Dominating with Dawson, Ben covers several of the racing lines and approaches to circumventing a racetrack in the most expeditious manner.
We hope you enjoy the episode!
Best regards,
Bill, Vicki, Jennifer, and Alan
Hosts of the Garage Heroes In Training podcast
and team members in the GHiT
Immature Endurance Racing Team
Highlights from the episode include:
1) Bill apologizes for his pit lane violation at Laguna Seca by not stopping for his egg timer.
2) Vicki points out that we did not review the rules prior to the last race. This is not best practice. Perhaps her interpretation of the goal of the pit lane timer was a bit off, as well as her not attending tech inspection led to a good discussion of the safety practices for the Lucky Dog Series.
3) Why Lucky Dog has elected to use pit lane timers and why they chose to use window nets, as well as many of the key inspection points prior to a race, along with several of the key differences between the safety requirements of Lucky Dog and several of the other racing series.
4) Alan steals our Lucky Dog branded Hankook RS4 tires for his daily to "test" them, lol.
5) We also go into the importance of the attitude of the Lucky Dog series and how it magnifies the fun of the racing weekend.
6) A lot of the details related to the upcoming race in Charlotte.
7) Our to do list is adding in dash bars into two cars and window nets into one. We are planning on bringing three cars and have an undetermined number of drivers since it is difficult to firmly plan with everything going on currently.
8) Erik and Chris should get Lucky Dog style trophies to represent their Lucky Dog names.
9) Both Erik and Chris have a history of racing that includes autocross as well as their start with working with a series in ChampCar.
10) Chris goes into the excellence of a Ford Fairlane in autocross.
11)  Erik sends out a non-controversial message to auto crossers.  Please send you comments to [email protected]
and we will forward them to Erik for you.
12) We discuss the upcoming season and the uncertainty still within the system, especially with the different states and tracks involved.
13) How racing is not only tremendously fun but also generates great friendships that can last many lifetimes.
14) Car 196 may yet live on in the upcoming Charlotte Roval! (But in a new
form) We also discuss our mutual history with them in Lucky Dogs. It turns out it may not all be our fault after all. But it likely was.
15)  Erik sends out a non-controversial message related to Honda-based race cars.  Please send you comments to [email protected]
and we will forward them to Erik for you.
16) Vicki sets a new record for the number of edits when going into her Laguna Seca experience. This one will be tough to beat.
17) Bill reminisces about her services of the car at Laguna for Mental. It reminds one of the second autopilot scene from "Airplane".
18) Probably two of the worst, and potentially scariest, "Ugly" story we have heard in a while. Some people can be very scary when under the red midst. Bill couldn't help but make another "entrepreneur" joke from the recent YouTube and Facebook racing kerfuffle with a different, but perhaps related drivers. (THESE "DRIVERS" ARE FAR FAR FAR FROM TYPICAL)
19) Alan gets offended that Erik has the title of "Black Flag Guy" but it is for a totally different reason than he originally thought. Alan's version of the title is still intact. Unfortunately.
20)Â Â  Some of the key differences and details that are needed for the Charlotte race.
21) Race Invaders gets a shout out. We are long overdue for having you on.
22) Both Erik and Chris agree that ORP (Oregon Raceway Park) is there favorite track. We are adding it to our list. Now, how do we get a car onto the west coast? New project!
GHIT: 0113 Erik and Chris from the Lucky Dog Racing Series