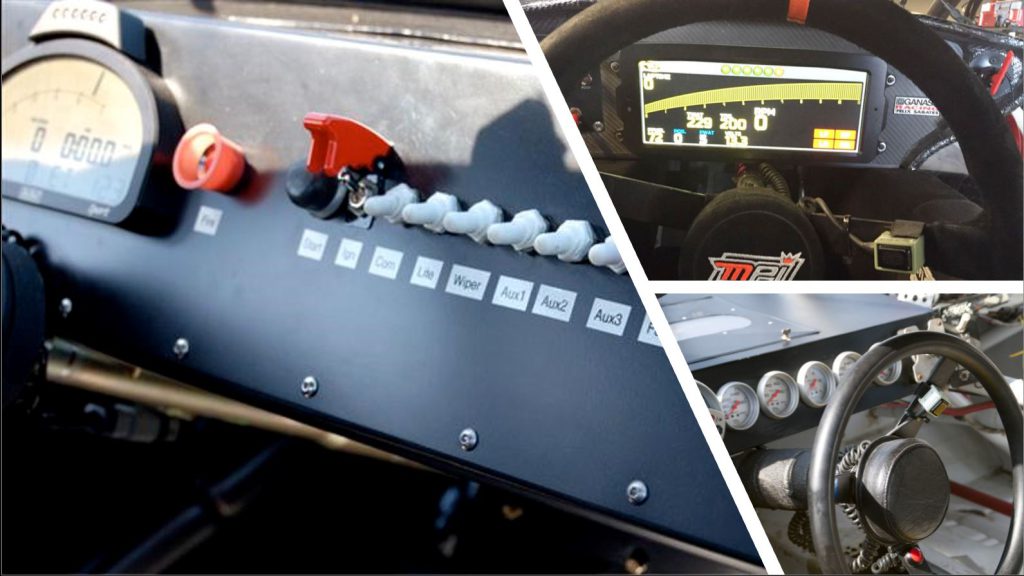 DwD 0337: Dashes, Switches, and Control Panels
Vicki has been hard at work upgrading our dashboard and controls in our Honda Civic race car.  She also has a favorite past time at a track by looking into each car and trailer set up to see what others have done and ideas that would improve our cars (and trailers).  We thought it might be a good thing to discuss our thoughts on control panels and provide a list of things that we like to see on a car and have found to be helpful in maintaining the car or preventing the car from having bigger issues.  On this episode Ben was again joined by guest judge Jeremy, Vicki, and Bill.
If you would like to comment on a favorite gauge, switch, dash, etc. that we may have overlooked, please send it to us at [email protected] or on our Instagram @GarageHeroesInTraining.
Even better send in a photo of a favorite dashboard, or a least favorite dashboard you may have or "seen", lol.
For a link to some of Jeremy's favorite switches:
https://www.painlessperformance.com/
If you would like to help grow our sport and this podcast:
You can subscribe to our podcast on the podcast provider of your choice. This includes the Apple podcast app, Google music, Amazon, and YouTube etc.  Also, if you could give our podcast a (5-star?) rating, that we would appreciate that very much.  Even better would be a podcast review. This helps us to grow the passion and sport of high performance driving and we would appreciate it.
For instance, leaving an Apple Podcast rating is amazingly easy. If you go to your podcast library, look under shows. Then click on this podcast. Here you can leave a (5?) star rating and enter your review.
We hope you enjoy this episode!
PS If you are looking to stream or save your integrated telemetry/racing data with you video, Candelaria Racing Products Sentinel System may be the perfect solution for you. We are during installing the system in two of our cars. If this sounds like something that may help you and your team, please use our discount code "GHIT" for a 10% discount code to all our listeners during the checkout process.
PS2 Please do not forget that if you are looking to add an Apex Pro to your driving telemetry system, do not forget to use our discount code for all Apex Pro systems you will receive a free Windshield Suction Cup Mount for the system, a savings of $40. Just enter the code "ghitlikesapex!" when you order. They are a great system and invaluable to safely increasing your speed on track and/or autocross, etc. The recently released second generation systems and app increases the capability of the system.
Best regards,
Vicki, Jennifer, Ben, Alan, and Bill
Hosts and Drivers for the Garage Heroes In Training team