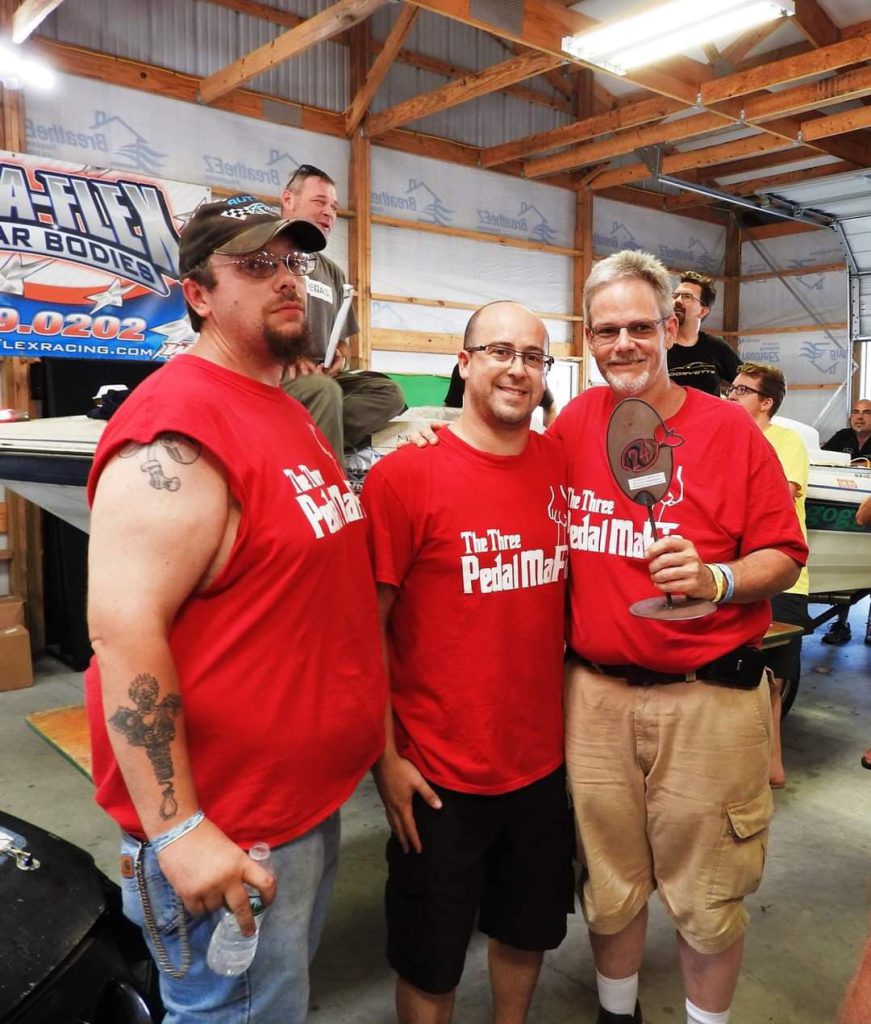 GHIT 0349: Dave Carpenter from the Three Pedal Mafia's Cheaties Car
At long last, we have secured Dave Carpenter for the podcast. Dave drives in the orange Cheaties themed Cressida with the Three Pedal Mafia team. In addition, Bill drove in the Cressida at the last race in NJMP where it finished 6th overall in spite of Bill driving. With so much to talk about, we tried to limit it to the Lemons race at NJMP's Thunderbolt track, all about the Cressida, and how Dave manages the team and maintains a pretty strict budget and still routinely finishes in the top ten overall despite being out paced by a large fraction of the field. Hopefully, we will have Dave on again to talk more about his racing past and iRacing. PS Vicki is in full post race hangover/zombie mode for this episode.
If you would like to help grow our sport and this podcast:
You can subscribe to our podcast on the podcast provider of your choice, including the Apple podcast app, Google music, Amazon, and YouTube etc.
Also, if you could give our podcast a (5-star?) rating, that we would appreciate that very much. Even better, a podcast review, would help us to grow the passion and sport of high performance driving and we would appreciate it.
We hope you enjoy this episode!
PS If you are looking to stream or save your integrated telemetry/racing data with you video, Candelaria Racing Products Sentinel System may be the perfect solution for you. We are amid installing the system in two of our cars. If this sounds like something that may help you and your team, please use our discount code "GHIT" for a 10% discount during the checkout process at https://candelaria-racing.com/
PS2 Please do not forget that if you are looking to add an Apex Pro to your driving telemetry system, do not forget to use our discount code for all Apex Pro systems you will receive a free Windshield Suction Cup Mount, a savings of $40. Just enter the code "ghitlikesapex!" when you order from https://apextrackcoach.com/
Best regards,
Vicki, Jennifer, Ben, Jeremy, Alan, and Bill
Hosts of the Garage Heroes In Training Podcast and Garage Heroes In Training racing team drivers
Highlights for this episode include:
1) Why Bill is scared of Aaron and what it was like to drive with a black flag "bonus" "print" on the windshield of the Cheaties car during most of his stint.
2) How Vicki came to get her "secret" black flag early Saturday and the impact to performance and handling that a 40-pound cookie on the roof of an EG Honda Civic
3) Several variables that need to taken into account when looking at potential upgrades to a car and the unintended implications to other aspects of the car in endurance racing.
4) A quick summary of some of the other cars/carnage in the Three Pedal Mafia fleet at NJMP 2022.
5) How 3PM was able to finish their collection of all 24 Hours of Lemons awards at NJMP this year and secure the missing "Halloween Meet Gasoline" award to complete the trophy case. In addition, they we somehow able to manage a "Blazing Saddles" related theme and not be arrested, lol.
6) Various ways that Dave has been able to successfully race while maintaining a budget and having a car that performs well and reliably.
7) How to prioritize performance changes for endurance racing.
GHIT 0349: Dave Carpenter from the Three Pedal Mafia's Cheaties Car