Rob Krider who is a driver and managing partner of the Double Nickel Nine Motorsports racing team joins us on this episode. Rob has a problem in that he and his team won't let anyone else win, lol. His team is the reigning 4-time national champion in NASA's Honda Challenge series, while also having both team cars on the podium each year. Our discussion covers not only their team history but what they have learned since starting in the 24 Hours of LeMons series and progressing through other racing series and classes. Within this episode, there is useful information that can be applied to any racing series and any racing team can improve your results with little, if any, expense. To see a lot of Rob's team in action folks can watch the documentary film "Double Down" about racing in the 25 Hours of Thunderhill where his team took an ex-24 Hours of LeMons car and beat the factory Mazda racing team. Link to the video at www.team559.com.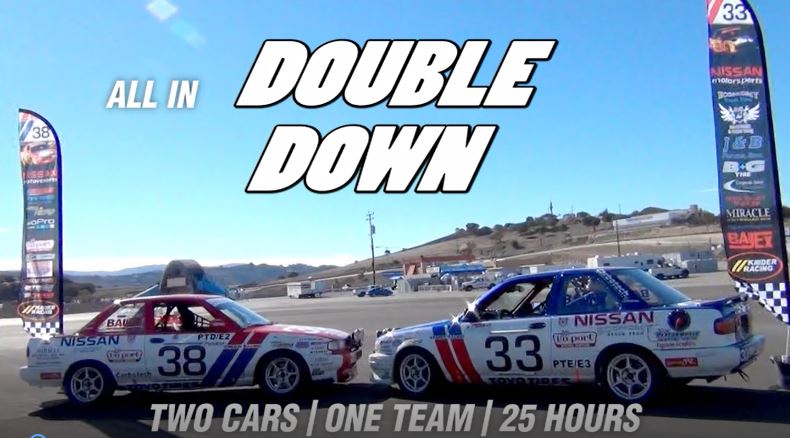 In addition, Rob was kind enough to guide us through the latest in our series covering the Usual Suspects of racing car platforms and went into a deep dive about racing Hondas and Acuras, especially in endurance racing.
Finally, Ben covers both Understeer and Oversteer in the latest Dominating with Dawson series. We just couldn't cover them separately, so we went for a double shot.
We hope you enjoy this episode. It will make you faster!
PS If you are interested in watching or reading more of Rob and his teams exploits, please go to:
KriderRacing on Instagram
www.RobKrider.com
www.Team559.com
www.DoubleNickelNineMotorsports.com
And don't forget to get a copy of Rob's book "Cadet Blues", a humorous look at one of his most fun driving training events at www.cadetblues.com
Best regards,
Bill, Vicki, Jennifer, and Alan
Hosts of the Garage Heroes In Training podcast
and team members in the GHiT
Immature Endurance Racing Team
Highlights from the episode include:
1) Some of his team's best learnings since starting in LeMons several years ago
2) Rob and Bill commiserate about putting together team communication emails and texts that are summarily ignored
3) How Double Nickel Nine Racing team has "added" to the various series rule books through creative race car engineering
4) Jennifer asks the dirtiest of the dirty question that you can ask a race car driver
5) The value of a spare/donor parts car and Vicki tells Bill to go buy another car. He left the podcast to search CraigsList
6) Team structure and organization techniques to maximize performance across all levels of racing, even a two-car team of 60 people for the NASA 25 Hours of Thunderhill
7) Their scouting trip preparation for national races
8) What is the Double Nickel Nine garage involved in
9) A comparison of large LeMons fields to some smaller or shorter or higher performance fields
10) How they communicate within their team, especially on track with their spotters
11) Storytime of Alan's stint at Thompson last year where he would not come in for a driver change. Rob fully approves.
12) Rob gives the advantages "keys to success" in Honda and Acura racing
13) Diapers win races, well they used to anyway
14) Rob shared some endurance racing wisdom, like pit stops practice and it's not about top lap times but it is about endurance
15) What is a Honda Taco and how it is to drive one
16) We finally find a way to compare ourselves to Roger Penske
17) We go over several tips and tricks from several of Rob's helpful articles, many are linked below
18) Be a Racing team or Beer racing team? Correct answer is: Yes
19) You can hear an alert for every time Bill's computer went blue screen of death if you listen closely. It happened often
20) Bleed brakes after every endurance session
21) Rob and Alan bond over tire balancing. In the end, it comes down to the preparation done before coming to the track
22) Get things done as soon as possible. Don't start when you have just enough time left to get it done.
23) Internal competition for fastest lap is detrimental to team performance and overall team success.
24) Rob's team has learned that for endurance races, lap timers are not allowed within the car.
25) EJ2 Track Rat has a fashion suggestion for next year's nationals
26) How to choose an engine machine shop to work with
27) Rob's documentary film about endurance racing, titled "Double Down" is available free on YouTube, 1 hour 15 minute run time on the Krider Racing YouTube channel.
28) Tactical Ops Brewing's Double Nickel Nine IPA named after the race team with an image of their Honda Challenge car on the bottle. This stuff is high test at 10.9% ABV!
And here are some of our favorite articles that we discussed on this episode:
GHIT 0101: Rob Krider from the 4X National Champion Double Nickel Nine racing team