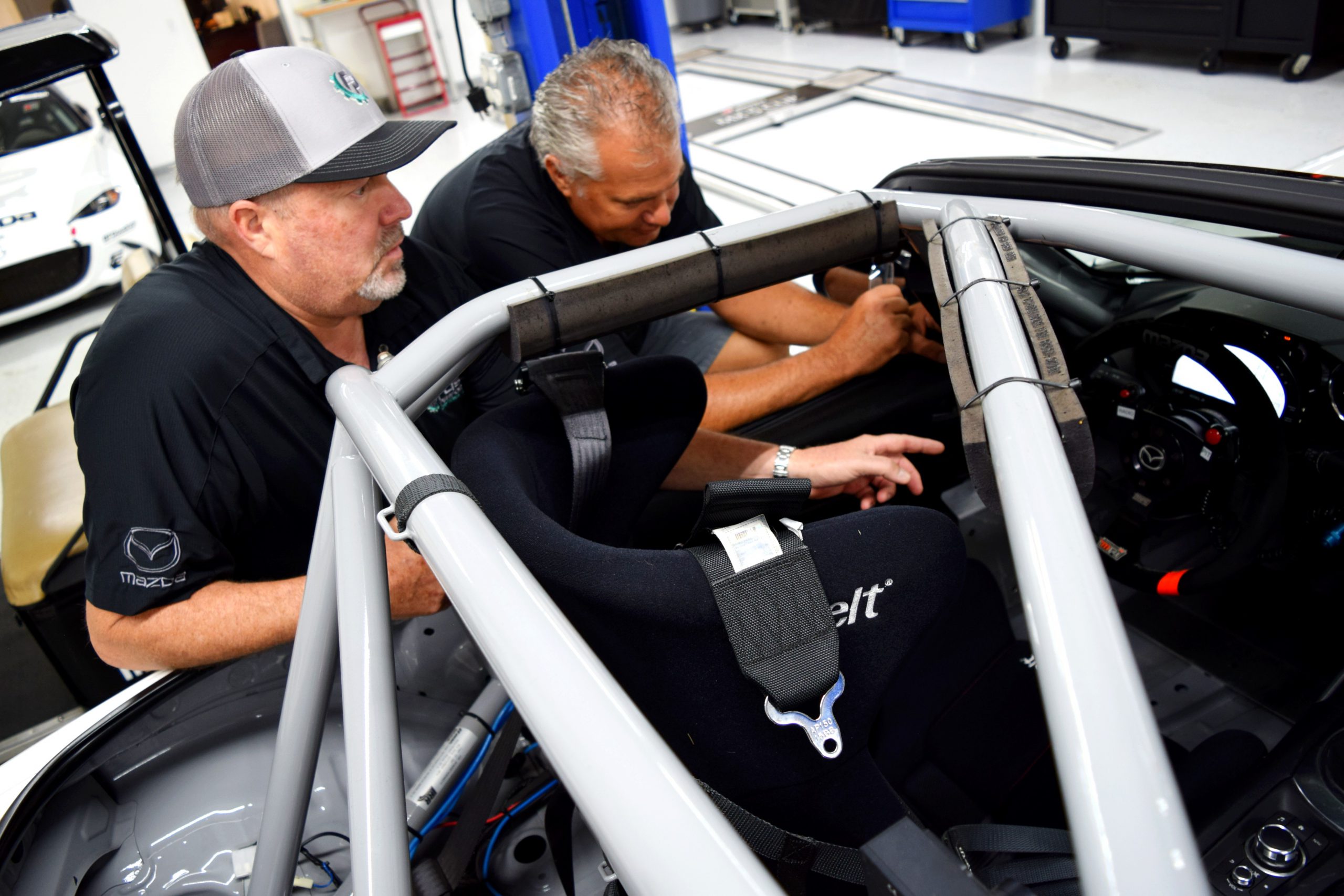 GHIT 0283: Global MX-5 Cup with Todd Flis of Flis Performance
Todd Flis has been involved with various levels of racing and now his company Flis Performance provides all of the cars for the series.  The Global MX-5 Cup is a great entry level series for professional racing.  The races are typically some of the most competitive races we see with margins of victory usually measured in a few thousandths of a second.  If you are looking to compare your skill in a pro level racing series, Todd's cars and the Global MX-5 Cup may be the series for you and the costs are exceptionally reasonable cost of entry, as well as the costs associated with a racing weekend, especially if you can manage to place in the top 3 for a year.  For instance, Mazda provides a first place prize of $250,000 each season.
If you would like to help grow our sport and this podcast:
You can subscribe to our podcast on the podcast provider of your choice, including the Apple podcast app, Google music, Amazon, and YouTube etc. Also, if you could give our podcast a (5-star?) rating or even better, a podcast review, we would greatly appreciate it and it would help us to grow the passion and sport of high performance driving.
For instance, leaving an Apple Podcast rating is very easy. If you go to your podcast library, under shows and click on the podcast you can leave a (5?) star rating and enter your review.
We hope you enjoy this episode!
PS Please don't forget that if you are looking to add an Apex Pro to your driving telemetry system, don't forget to use our discount code for all Apex Pro systems you will receive a free Windshield Suction Cup Mount for the system, a savings of $40. Just enter the code "ghitlikesapex!" when you order. They are a great system and truly invaluable in safely increasing your speed on track and/or autocross etc. The recently released second generation systems and app increases the capability of the system greatly.
Best regards,
Vicki, Jennifer, Alan, and Bill
Hosts of the Garage Heroes In Training Podcast and Garage Heroes In Training racing team drivers
Highlights for this Global MX-5 Cup episode are:
1) If you were ever interested in pro level racing, the Global MX-5 Cup may be the best series to balance low costs and high dependence on drivers skill and results in a series with some of the most competitive and close driving that we have seen in the past few years.
2)  How Flis Performance partnered with Mazda Motorsports to be the sole supplier for all the cars for the series.
3) We describe what the normal weekend racing schedule looks like and in addition to racing with IMSA events, there will be two weekends where the series will be racing with NASCAR.
4) What is involved in converting the road car into the race prepped cup car that you see at the track. It is definitely not just a pretty paint scheme, although we all know that always adds a few horsepower. This results in lap times being several seconds improvement over a normal ND2 Miata.
5) Why the cars have recently changed from an H-pattern shifter to a sequential transmission from SADEV.
6) What is allowed to be tinkered with and adjusted within the series and what is not allowed to be altered.
7)  Todd was also kind enough to share his teams recommended fluid and consumables intervals. He also provided a starting point for a nut and bolt procedure for the cars.
8)  The level that the series goes to assure close racing and maximum dependence on driver performance. The series requires each race weekend to be raced with tired from the same batch of tires for all competitors.
9)  We also discuss with Todd what other racing series the car would be competitive. Also, the potential for use in endurance racing without any modifications.
10)  There are also several spots that can be awarded. This allows several drivers to race within the series by providing scholarships of up to $100,000 for each driver.
11)  Todd's team also provides a complete MX-5 Cup Car each year to the Lemons of Love charity.  So far we have not been lucky enough but we have contributed to the charity each year.
To follow Scott and Flis Performance:
Flis Performance website: http://flisperformance.com/
Facebook at: https://www.facebook.com/flisperformance 
Instagram:  @flis.performance
YouTube at:  https://www.youtube.com/channel/UCKxGpoK-UtoHO4bBOhPoemQ 
To Follow the series:  https://www.mx-5cup.com/ 
GHIT 0283:  Global MX-5 Cup with Todd Flis of Flis Performance