2021 Competition Edition – Quick Snapshot
Top 5'ish
| | | | | | |
| --- | --- | --- | --- | --- | --- |
| Position | Entrant | Podcast | | | Points |
| 1 | Alex L | Listener | | | 75 points |
| 2 | Bill | GHiT | | | 63 points |
| 3 | Eric K | Listener | | | 41 points |
| 4 | Vicki | GHiT | | | 39 points |
| | Jeff | E1R | | | 39 points |
| 6 | Jon | 91 Octane | | | 33 points |
| | | | | | |
Full Update as of February 2, 2022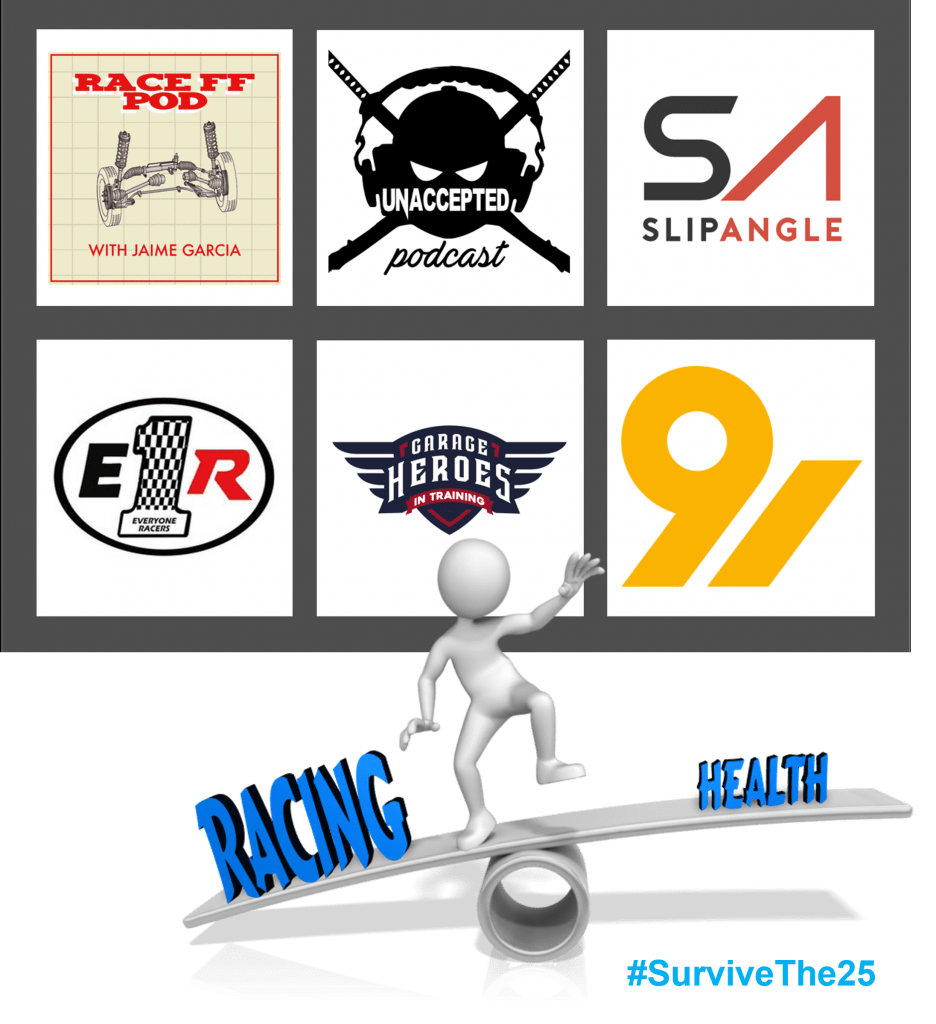 February 2nd update: Sometimes with a hobby, things can get out of balance. Especially if your hobby is in the least bit competitive and you are a competitive person. This is particularly true of racing drivers. And that is why we are starting the Survive the 25 challenge.
As such, four of the hosts from four of your favorite podcasts have joined together for a 2021 winter challenge.
We have agreed to a contest where hopefully we will all win.
By April 15th, each of us will have
Lost at least 25 pounds (~11.5 kg)
Read at least 5 racing books
Raced in at least 5 karting races or sim racing events for at least 1 hour
We would love it if you would like to join us.
Simply post on Instagram using the hashtag #SurviveThe25 and we will figure out how to get a leaderboard together and maybe some swag from your favorite podcasts.
Survive the 25 Podcast Host Challengers
In the South Jersey corner, we have Jeff Wakeman, one of the hosts of the Everyone Racers podcast
In the SoCal corner we have two podcast hosts.
Joining us from parts unknown, is Jamie, host of the Racer FF podcast.
Also from the SoCal corner, we have Jon who cohosts the NinetyOneOctane podcast.
And from the northeast corner of Pennsylvania, we have one of the hosts of the Garage Heroes In Training podcast.
Who will win?
Who will not win?
Do you have a favorite?
Why aren't you listening to all of these podcasts?
Also, any good racing related book suggestions are welcome as well.
Please let us know in the comments below.
Last updated: Just started
Competitors
Pounds Lost
(1 pt per pound)
(2 pt per lb
– Sundae Cup)
Books Read
(5 pts ea)
Races Completed
(5 pts ea)
Total
max
75 pt
Winner?
Podcast Hosts
AKA
Sources of the Swag
Jaime
RaceFF
Podcast
-5 lb
5 pts
1) Making Sense
of Squiggly Lines
10 pts
Nov
Dec
Jan
25
TBD
Jeff
Everyone
Racers
Podcast
-7 lb
5 pts

10 pts
Nov
Dec
Jan
27
TBD
Jon
NinetyOne
Octane
Podcast
-8 lb
10 pts
1) How to Build
a Car
5 pt
Nov
23
TBD
Vicki
Garage
Heroes In
Training
-4 lb
5 pts
1) Optimum
Drive
10 pts
Nov
Dec
23
TBD
Bill
Garage
Heroes In
Training
-9 lb
15 pts
1) Optimum
Drive
2) How to
Build a Car
3) Winning is
Not Enough
4) The Mechanic's Tale
15 pts
Nov
Dec
Jan
Feb
49
TBD
Tony
Unaccepted Podcast
5 pts

10 pts
Nov
Dec
15
Listeners Entered
Alex L
-12.5 lb
Complete!
4
20pts
65
TBD
Amanda T
-4 lb
1) Speed
Secrets
10 pts
Nov
Dec
23
TBD
Dave C
-7 lb
10 pts
Nov
Dec
Jan
22
TBD
Eli V
-4 lb
2
18
Eric K
-6 lb
2
16
Jake
-10 lb
10 pts
Nov
Dec
20
Justin
-6 lb
1) Race to
Win
2) Race Car
Engineer
5 pt
Nov
21
Patrick C
10 pts
Nov
Dec
10
Could be YOU
Updated as of: February 2nd, 2022