or What To Expect When You Are Expecting To Drive On Track For the First Time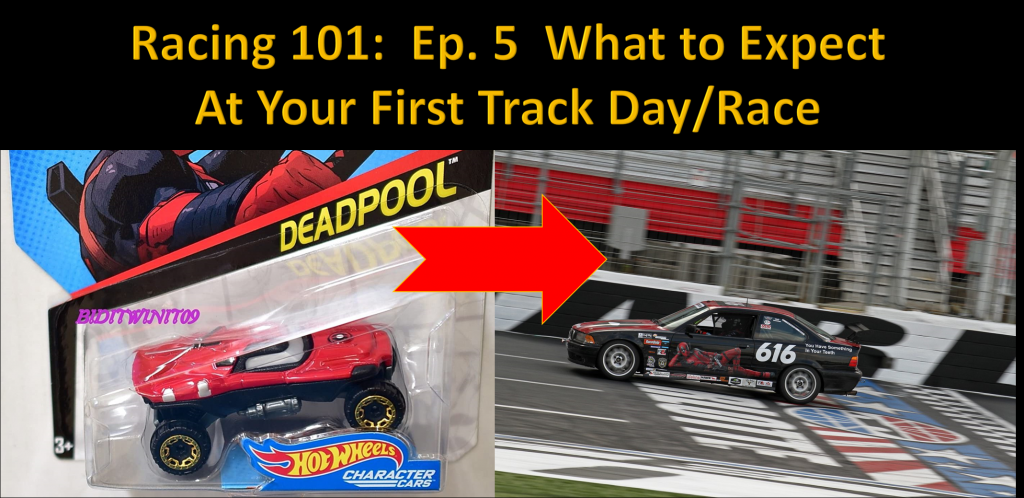 Our podcast is trying to encourage people to try high performance driving and racing, so Vicki wanted to start a special series she calls "So You Wanna Racecar". On this episode, we go over a typical track visit from arriving at the gate to departing at the conclusion of the event. It's like you get to experience everything about racing on a track without the thrill of driving, and without the post-race hangover from your adrenaline crash. The goal of this episode is to help you to be prepared for what usually happens when you visit a track for the first time and hopefully reduce some of the anxiety of going into the "unknown".
Please let us know if we missed anything that you may want discussed in a future episode of our Racing 101 Series.
The outline for the series is:
Part 1: Building Your First Race Car (and options to not)
Part 2: Safety and Safety Related Equipment Needed
Part 3: Best Entry Points To Start Performance Driving
Part 4: Buying and Selling Cars (With Special Guest Lara Vernon)
Part 5: Going To and From The Event/Track – What To Expect
Part 6: Paddock and Pit – Best Practices
Part 7: Perspective of a New Driver (With Guest Adam Owens)
Part 8: Tools, Spares, Supplies Needed for a Race Weekend
Part 9: Common Issues All Drivers Will/May Experience in When On Track For the First Time
Part 10: Miscellaneous Topics (& Things We Forget to Mention Earlier)
On this episode of Dominating with Dawson, we go into the seeming obsession in the paddock with late braking for turns. If it is your first time on track, please don't try to push your brake points to the very last minute. Leave some room and focus more on your corner apex and exit. It is much faster and much safer, especially early on in your career of driving a track.
You can subscribe to our podcast on the podcast provider of your choice, including the Apple podcast app, Google music, Amazon, and YouTube etc.
Also, if you could give our podcast a (5-star?) rating or even better, a podcast review, we would greatly appreciate it and it would help us to grow the passion and sport of high performance driving.
For instance, leaving an Apple Podcast rating is very easy. If you go to your podcast library, under shows and click on the podcast you can leave a (5?) star rating and enter your review.
A link to the episode is: https://tinyurl.com/Racing101Part5
We hope you enjoy this episode!
PS Please don't forget that if you are looking to add an Apex Pro to your driving telemetry system, don't forget to use our discount code for all Apex Pro systems you will receive a free Windshield Suction Cup Mount for the system, a savings of $40. Just enter the code "ghitlikesapex!" when you order. We have two systems for our team and Bill is looking to add a third for this season, pending CFO approval from Vicki. They are a great system and truly invaluable in safely increasing your speed on track and/or autocross etc.
Best regards,
Vicki, Jennifer, Alan, and Bill
Hosts of the Garage Heroes In Training Podcast and Garage Heroes In Training racing team drivers
Highlights from this episode include:
1) Our goal is to reduce some of the flood of information that occurs when you first go to the track for your first event.
2) Bill provides a tip to answering the dreaded question of "Do I look fat in this dress" and also goes into potentially what may be the worst response to the question.
3) Our team is founded on checklists and we provide several examples of what we use on our website at: www.GarageHeroesInTraining.com. Hot tip though, having a checklist that you don't bring with you or use won't help you at all.
4) One of the tried and true sayings from our Lemons races "Numbers are hard". Here are several tips that try to make them a bit easier.
5) Tips on garage and paddock layouts at the track.
6) We try to walk you through the point where you arrive at the track and all the way through the event. Many tracks and series have slightly different details and procedures, but we try to give an overview of many of the most common procedures.
7) We go through the tech inspection process of both the driver's safety equipment and the car's mechanical and safety tech inspection.
8) Tracks also will have varying ways that they hold their practice schedule and we try to give a couple of examples that are most common. It is important to make sure you know what the schedule is and make sure you can get the value for the expense. If it does work for you, especially if you are a new driver or new to the track, we recommend signing up and getting some laps on the track, often with only a few other cars on the track.
9) If you aren't familiar with them, track walks are a great way to learn the track, especially if you can tag along with a group who is familiar with the track. If you see us taking a track walk, please feel free to join us.
10) Our endurance races usually start Saturday morning until Saturday evening, pause, and then resume Sunday morning and finish Sunday evening. As such, Saturday mornings and Sunday mornings are very similar. Also, Friday evening and Saturday evening are usually similar, but often if things are going well, Saturday has a lot more social "opportunities" (read as parties) in the paddock.
11) Organizing the paddock and pilot area are key to getting the car prepped quickly and efficiently. Tips abound.
12) Most races end Sunday evening and the track closes in a few hours after that, so there are a few tips on prepping the paddock and pit area for departure to make this possible.
13) Try to get everything done as early as possible since there are often unforeseen issues and problems that arise unexpectedly. We give a few hypothetical examples we have "heard" about.
14) How did Bill get the nickname "toddler"
15) Some factors that may need to be considered when thinking about and setting up your driver line up, especially for the first stint.
16) There are also a few of the racing etiquette details sprinkled throughout the episode.
17)  Bill gets several homework assignments for providing some lists on our website.  It may take a bit, but they are coming and will be updated shortly. (ish)
GHIT 0185 Racing 101 Part 5: What to Expect At Your First Track Day