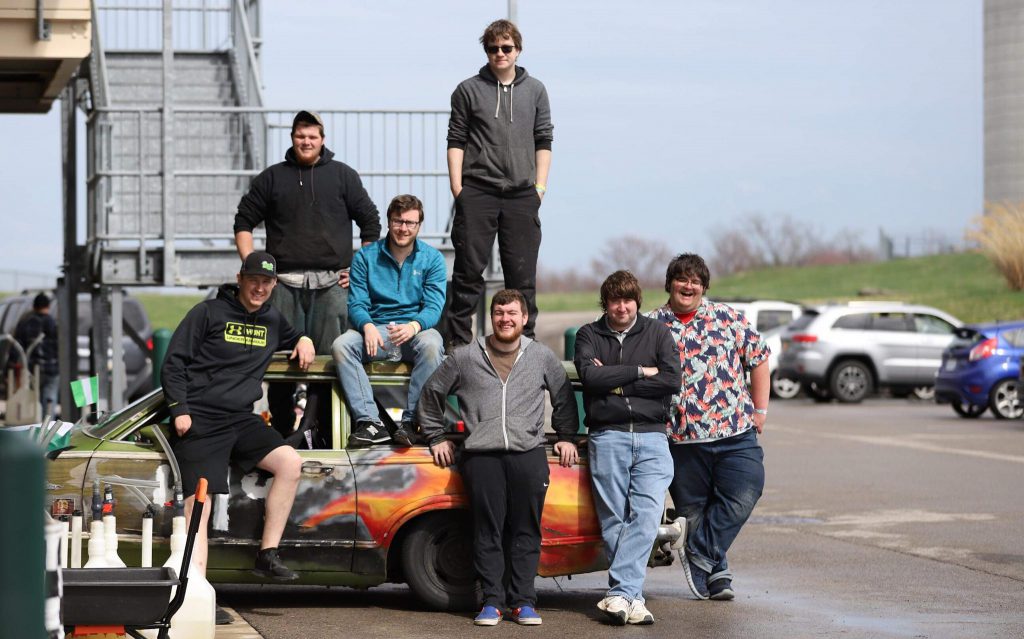 Randy Bish is a relatively new lemons racer for the League of Legitimate Nigerian Businessmen racing team that is off to a spectacularly good start by making all the best bad decisions possible, including racing their 1972 Ford Pinto.  On this episode, we go over his racing experiences so far and cover the topic that no one ever thought they wanted to know:  what is the best way to race a Pinto in endurance racing.  Jennifer and Vicki particularly enjoyed this since their first car was also a 1972 Pinto.  Randy may be new to Lemons, but he seems to have found his tribe. 
On Dominating with Dawson, Ben covers being on track for the first time, what to do, and what not to do. It can be intimidating at first thought, but hopefully, this will assuage some of your potential concerns and give a brief guideline if you are going to a track for the first time and what the other drivers would like for you to do. Short summary, stay on line, stay safe, and be predictable. They also expect you to be off pace, so don't worry about them or the F1 and Indy Car scouts in the grandstands.
We hope you enjoy the episode! The episode you never asked for.
Best regards,
Bill, Vicki, Jennifer, and Alan
Hosts of the Garage Heroes In Training podcast
and team members in the GHiT
Immature Endurance Racing Team
Highlights from the episode include:
1) Design discussion of why the flames go in reverse from the back of his Pinto. Our more seasoned listeners likely already know.
2) How he learned all the details of his grandfather while his grandpa was behind the while as Randy was a boy.
3) A summary of his two races last year at Pitt Race and Gingerman with the 24 Hours of Lemons.
4) Randy's very novel and very lemons charity fund raising method on the 24 Hours of Lemons i-Racing events, how this horribly awesome idea came to be and how much money he was able to generate for charity at the cost of some of his liver. Maybe someday he will remember the race, but we doubt it.
5) We may actually have convinced Vicki to race this Thursday. Tune in this Thursday and we shall see.
6) Matt Ferenchak and Florida Man Donnie get a few mentions, some even complimentary, lol.
7) Randy Bish tries out for being a spokesmen for the Michelin Ice-X tire for amateur endurance racing.
8) How a water pump can become a spinning end mill of death.
9) How the initial "success" at Pitt Race led to his team going all in and winning the Heroic Fix at their next race at Gingerman.
10) We find out the Randy Bish has a car obsession with big, Detroit luxury boats, the floatier the better. But that does not seem to explain his having owned 3 SVX's.
11) Their team's experience as the unintentional role as the unofficial Yellow Flag "Pace Car" at Pitt Race.
12) Randy actually was able to use the term provenance and Pinto in the same sentence. Admirable.
13) We go deeper than anyone ever thought possible into the advantages of a racing Pinto.
14) "Tires are evil and must be punished". Words to live by. And Jen's train agrees.
15) Bill gets an honorary place on Randy's list of favorite drivers. But it turns out to be kind of like winning the Heroic Fix award in Lemons.
16) The El Jeffe makes a surprise appearance in being a desirable race car to swap into, but then again, Randy is used to driving a Pinto race car so….
To follow Randy and his team, you can find their team on Instagram or Facebook as the League of Legitimate Nigerian Businessmen with their official pace car of mediocrity.
GHIT 0108: Randy Bish is our Guest from the League of Legitimate Nigerian Businessman racing team