2022 's version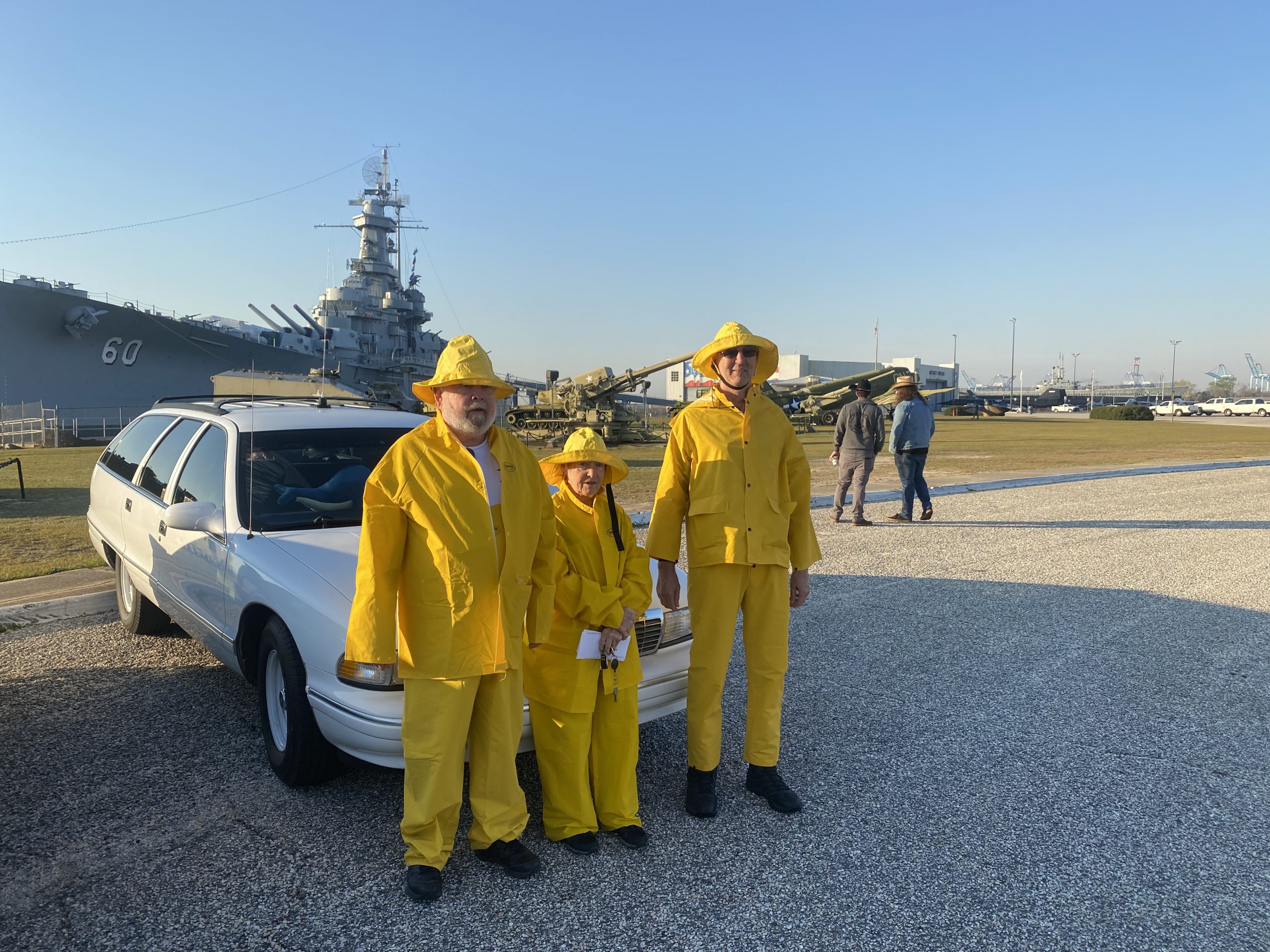 Southern Fried Heaps Rally 2022 Day 1:
Jeff Stobbs and Donnie Petrunak join us to review the first day of the Southern Fried Heaps Rally 2022 that started in Mobile Alabama.  Highlights include a stop at a decommissioned battleship and a team driving a Studebaker that set a record for sourcing a spare part that may never be broken.  Tune in each day for a review of the highlights, lowlights, and spectacles of this years rally.
Southern Fried Heaps Rally 2022 Day 2:
At the conclusion of day 2 of the rally, Jeff Stobbs joins us again from the Mellow Mushroom to summarize another great day. We are then joined by pirate Phyllis who was driving and plundering in their yellow C2 Corvette. Next up for this episode we talk with Jake who competes in the "big block" rental car class after a last minute mechanical prep in the originally intended Dodge Diplomat entry. Completing this episodes trifecta of entrants we talk with first time Lemons rallyist Enrique who entered with a fine example of classic 1979 German engineering from Mercedes Benz.
Overall highlights for the day include several of the teams attending the Amelia Island Concours d'LeMons (including a class "winner" on this very podcast) as well as as several great stops including a train museum and a rather unique petrified exhibit.
Southern Fried Heaps Rally 2022 Day 3:
The rally concludes today and Jeff Stobbs joins us again to summarize another great day.  Awards were given for several teams including the inaugural winner of the rental car class.  The teams were able to get to the NASA Kennedy space center. Despite their valiant efforts, no one was able to successfully talk NASA into sending their car into space. 
If you are interested, the next rally is the four corners rally and will tour the area or Colorado, New Mexico, Arizona, and Utah.
You can follow the progress of the rally on Instagram by following the hashtag #LemonsRally.  We do.
If you would like to help grow our sport and this podcast:
You can subscribe to our podcast on the podcast provider of your choice. This includes the Apple podcast app, Google music, Amazon, and YouTube etc. Also, if you could give our podcast a (5-star?) rating, that would be greatly appreciated.  Even better would be a podcast review. That would help us to grow the passion and sport of high performance driving and we would greatly appreciate it.
For instance, leaving an Apple Podcast rating is very easy. If you go to your podcast library, look under shows. Then click on this podcast. Here you can leave a (5?) star rating and enter your review.
We hope you enjoy this episode!
PS  If you are looking to stream or save your integrated telemetry/racing data with you video, Candelaria Racing Products Sentinel System may be the perfect solution for you.  We are in the midst of installing the system in two of our cars.  If this sounds like something that may help you and your team, please use our discount code "GHIT". This will add a 10% discount during the checkout process.
PS2 Please don't forget that if you are looking to add an Apex Pro to your driving telemetry system, don't forget to use our discount code for all Apex Pro systems you will receive a free Windshield Suction Cup Mount for the system, a savings of $40. Just enter the code "ghitlikesapex!" when you order. They are a great system and truly invaluable in safely increasing your speed on track and/or autocross etc. The recently released second generation systems and app increases the capability of the system greatly.
Best regards,
Vicki, Jennifer, Alan, and Bill
Hosts of the Garage Heroes In Training Podcast and Garage Heroes In Training racing team drivers
GHIT 303:  Southern Fried Heaps Rally 2022 – Day 1
GHIT 303:  Southern Fried Heaps Rally 2022 – Day 2