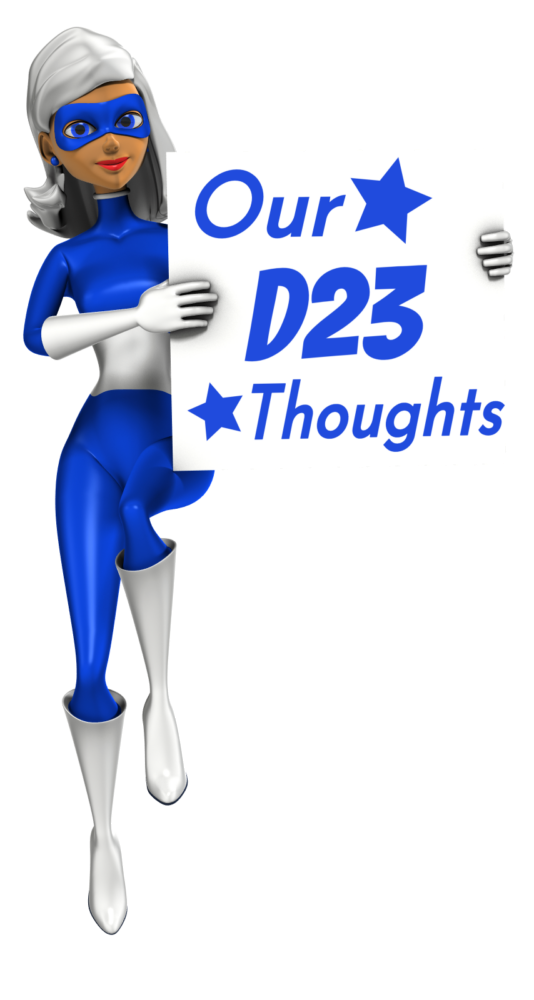 WOOT 0062: D23 2019: Our Review and Impressions
Another new intro bumper starts off our summary of Disney's D23 2019 expo with most of the highlights.  We cover most of the announcements and also give our opinion on most and background in many cases if you are not familiar with the different properties.  Also, we highlighted two additions to the Disney park areas.
We cover a wide variety of the recent announcements including:
Moon Knight
She Hulk
Ms. Marvel: Kamala Khan version
Black Panther 2:Â  May 6, 2022, title still TBD
The Eternals: November 2020, added Gemma Chan as Sersi (no longer playing Dr Minerva?) and Barry Keoghan and Kit Harrington (as Black Knight) Â (Bill makes two feeble joke at Mr. Harrington's expense, but Bill knows nothing!)(and Benny does not get either)
Black Widow:  Footage was shown, not released, yet
Star Wars 9: Rise of Skywalker:  Trailer #2 shown, and internet predictions abound
Kingsman 3
We WooT our WooT episode by talking about The Matrix and Bill's top movies of all-time list
Artemis Fowl
Star Wars:  The Mandalorian
Raya and the last Dragon: with Awkwafina and Cassie Steel 11/2020
Spiderman and His Amazing Friends: on Disney Junior – Animated
Lizzie McGuire:  Hillary Duff starring on Disney+ show
The Muppets: Â Short form TV show on Disney+
Obi Wan Kenobi:  Series Disney+ starring Ewan McGregor
Star Wars Galactic Cruiser Hotel:  Specifically for Jeffe, announced for Disney World
Mulan:  Showed some of the live action footage
Frozen 2
Avatar:  Logo for revealed
Maleficent:  Mistress of Evil:  Poster shown
Cruella Deville:  Emma Stone starring as
Soul:  Disney Pixar movie
Noelle:  Disney+ movie starring Anna Kendrick and Bill Hader
Clone Wars:  animated series returning
Monsters at Work:  Disney+ TV series
Avengers Campus: Announced for Disney Land
Tom Holland presented for Disney/Pixar movie Onward, "I love you 3000", seemed quite sad during talk
Spiderman Sony/Disney Talk here
Krypton Soapbox Time again
Top 5 Most Wasted villain list (attached)
Our open invitation to Kevin Feige remains! We won't try for spoilers but would love to review the MCU and his career to date.