Wow, what a week. Thanks to all who came to our race and put up with the heat of Friday and the rain of the weekend. I will try to summarize as best I can but there is a ton of things that transpired. So here we go. Two big takeaways from our race at Thompson 2018: Racing two cars is way hard! and the Three Pedal Mafia is awesome!!! (Needs three exclamation points just, well because) (Or as Chrissy would say "Because Race Car").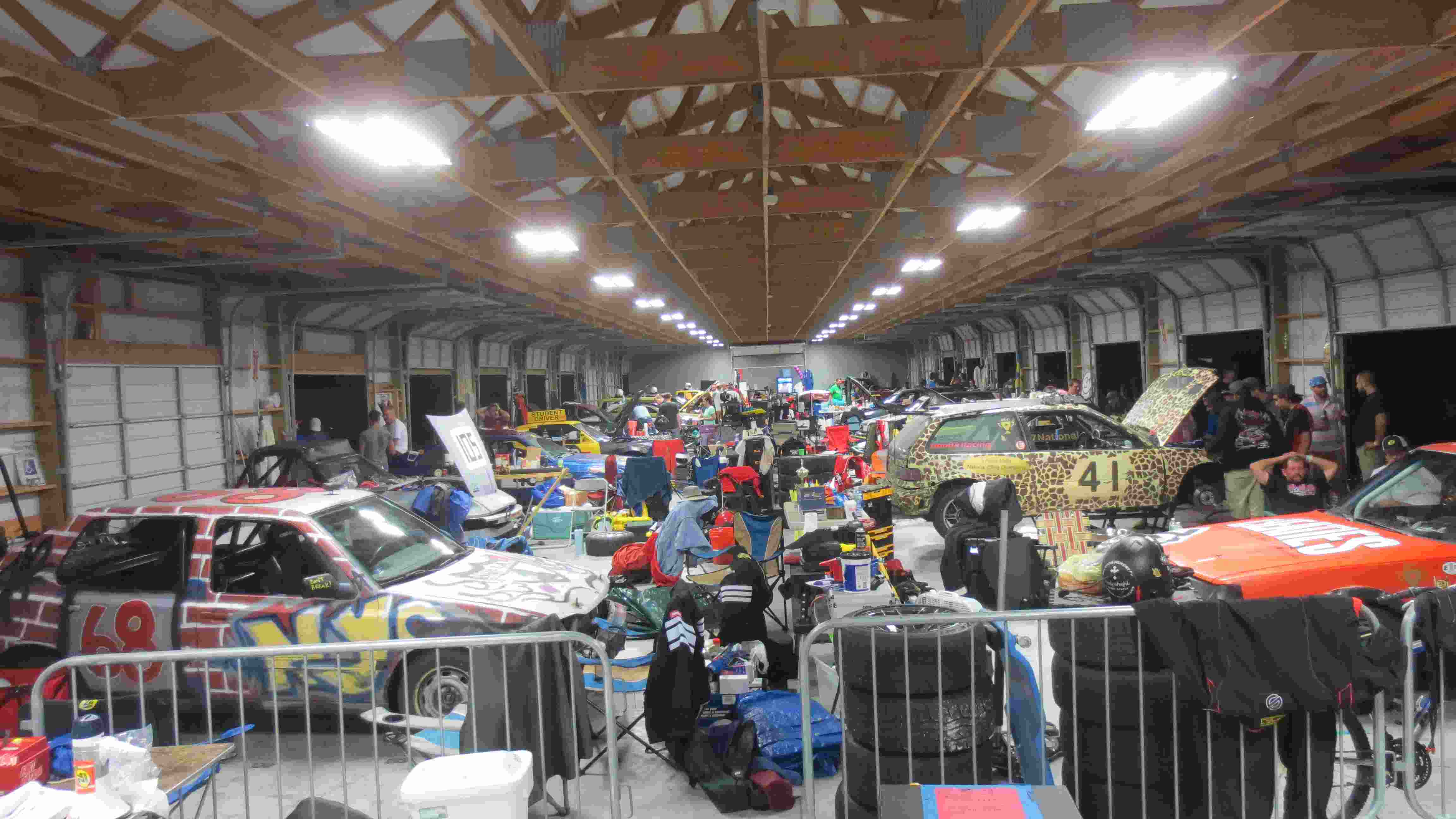 Day by Day Race Weekend Breakdown
Thursday: Our trek over to Thompson started of poorly. We had to change our intended tow vehicle for the Mustang that morning. The Kia Sorrento was just overwhelmed by the U-Haul trailer's weight. We ended up picking up a pickup truck from U-Haul at 7 AM, delaying us by about an hour and a half. Arrived Thursday afternoon to the area and "set up" camp at the campground since the Thompson track was off limits until Friday morning. Let's refer to the campsite as "Camp Crystal Lake".
Vicki had issues with the campsite since it had a car quarter panel in our area and felt it was a bit of a hole. My response was more along the lines of being that the fender was not the issue. I had more issue with the guy in the hockey mask dragging the limp body behind him as he went deeper into the woods, lol. Needless to say, we agreed to find another campsite to setup our camp overnight until the track opened Friday morning.
Enter Camp Site #2 and let's refer to this one as the "Oasis in the Woods". More room, cleaner, well maintained, along with hot rod'ed out golf carts. The only down side was we spent about 3x the camping fees in the gift shop before we set up camp. Beach Boys concert the next night was tempting, but we never made it for many reasons covered below. We could easily stay there again next year.
As we covered earlier, we decided to try camping at the track this time so several of us were off to pick up the rental RV's for the weekend. Unfortunately, we ended up going to the "closest" place, which was just a bit outside Boston. Bad choice on my part, but we will pay for that later in the weekend.
Friday: Camp broke Friday morning (almost on time) and we moved onto the race track. Since we were delayed in arriving at the track, the "good" side of the paddock was already full and we ended up on the other side of the infield and a long way from the main pit area. We were able to spread like a fungus and occupy enough space for everyone to use when they arrived later in the day. The layout was not ideal as we were spread around the lot a bit, but I think it worked out OK.
Friday Practice: "Most" of us had reviewed the track video I had sent out ahead of time, but we need to make sure we all do it next time. The Mustang goes out with the new theme and promptly falls flat on its face.
Now we really are a lemons team and need to repair our car at the Thompson race. Eventually we piece together a solution and remove the center section of the hood to allow more air flow. Lots of help from our friend at Three Pedal Mafia (3PM) and team Prompt Critical (PC). Most of our 8 drivers get out on track and we end the day with both cars running pretty well, especially after dialing the Mustang a bit more in after track close.
But boy it was hot. The paddock area asphalt was 110-120F and we were all a bit hot and short tempered. It did not help that RV #2 did not work and was essentially a shed on wheels.
In the end, both cars passed tech inspection and were both classified as Class B with zero penalty laps. Our themes were very well received. It really didn't matter what class we were in, we were there to drive, hopefully a lot, and winning was not on the agenda at this point in our racing careers.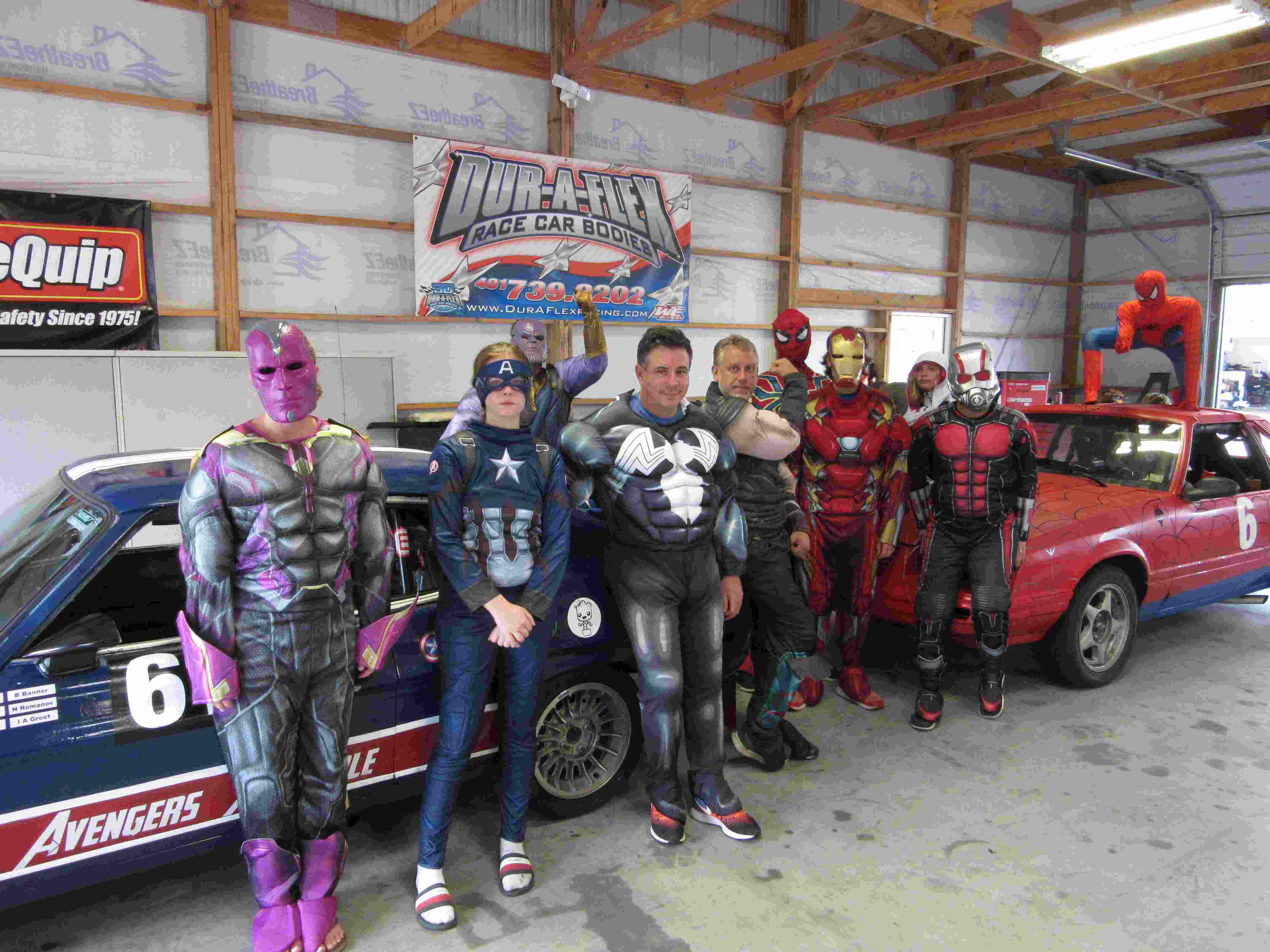 Saturday: We end up working through some more issues with the Mustang as the boost was adjusted a bit too high and the brake balance was still not correct. Saturday ended up being rainy all day, sometimes heavy. Cars were slipping and sliding, and black flags were flowing aplenty around the race course. We surmounted a "minor" issue with a driver not remembering to bring their license and another for not having a valid license. Most issues were fixed by the end of the day, both mechanical and driver related.
The Capri, however, was a casualty of the day.  The car ended the day "stuck in third gear and ran out of gas".  We finally fixed fix both issues, by 2:30 AM only to find out that the car still had plenty of gas and that it was stuck in second (not third).  It appears likely that during the over-revs while being in second gear that we had broken the camshaft.  Game over for the Capri.  We have to figure out what to do going forward.  We also owe Bruce a ton of thank you's and many beverages of his choice for helping us work through the night and well into the morning fixing the Capri until we found out the issue was the terminal cam shaft.
When we finally made it to bed, the other half of our team had the Mustang fixed and pretty well dialed in, well dialed in for us, while we were working with 3PM to try to fix the Capri.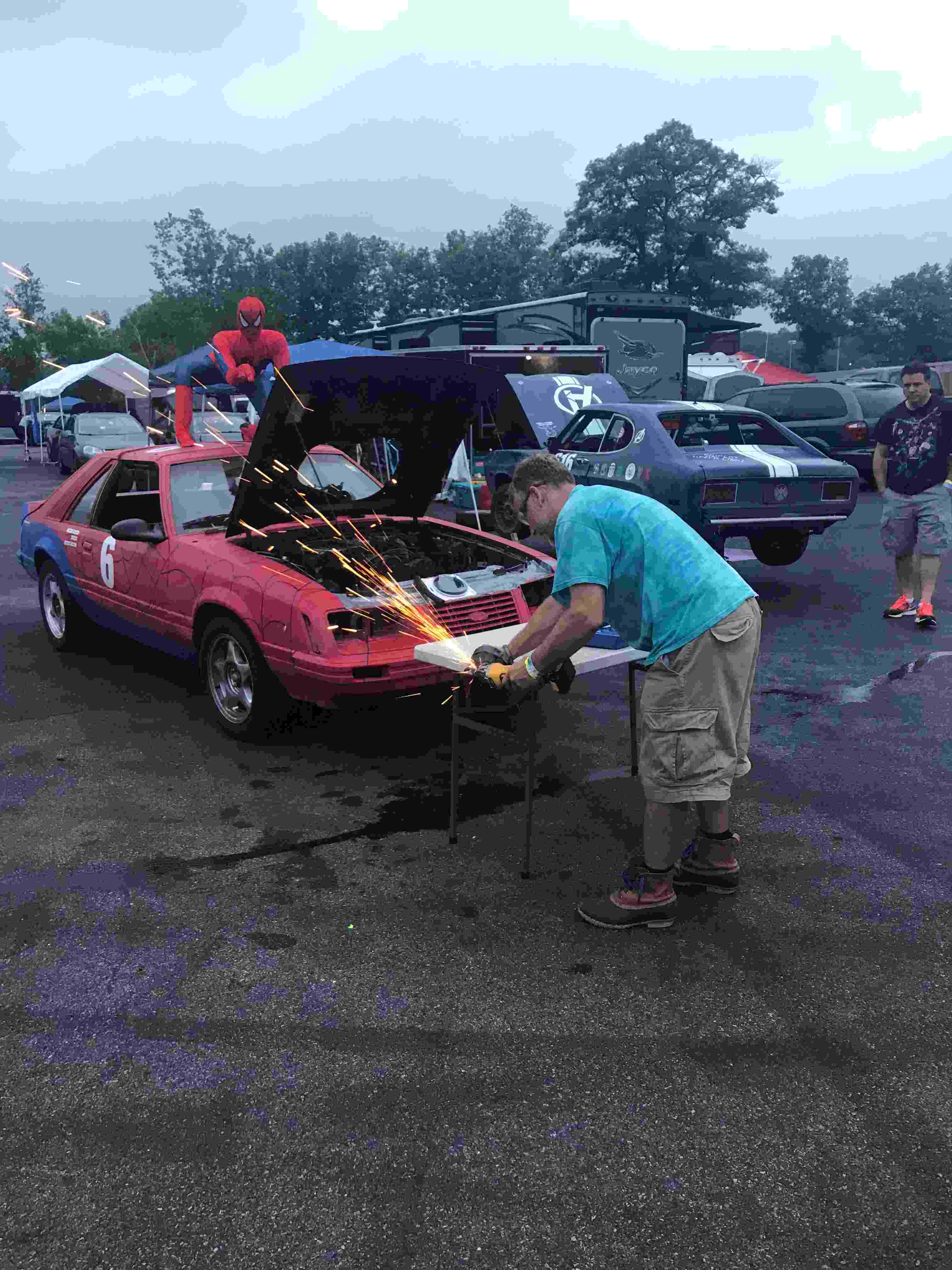 Sunday Race: or "I don't think the heavy stuff is going to come down for a while".
Saturday was rain, but Sunday was real rain. We now had one car and 8 drivers. I wanted to get everyone in, but we had two issues. One: The Mustang blew up our hose repair and that needed to be fixed again after 2-3 laps. We needed to turn the boost down from 15 psi more towards the 5 psi that we were at during our Friday practice. The only "good" news was we weren't losing much track time as a car lost its brakes and the track went cold for almost two hours repairing the wall etc. Thankfully, the driver was ok but the car may be terminal. Here is the in car video and video from a car behind. Great driving and luck helped make sure it wasn't a lot worse.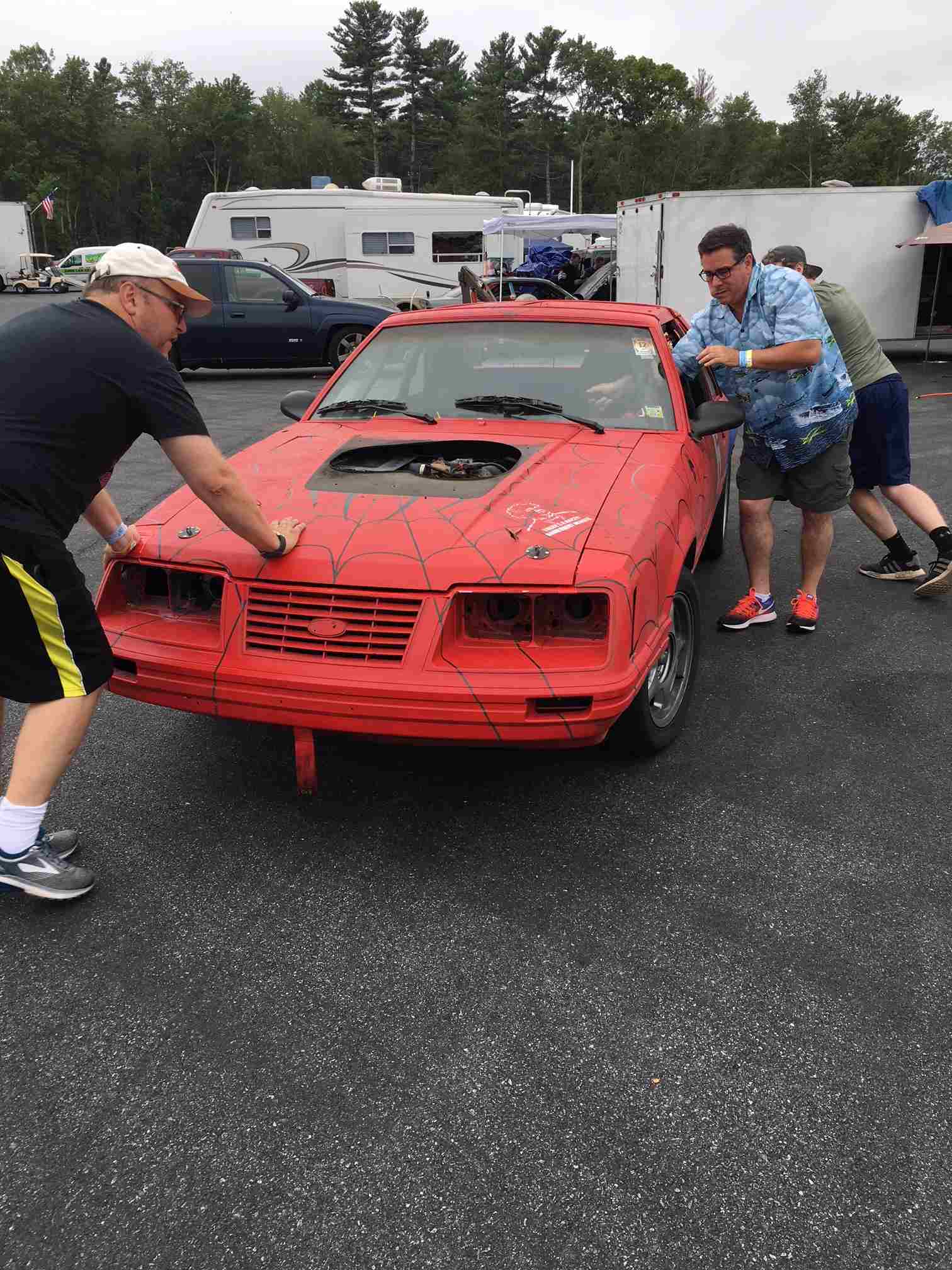 We repaired the Mustang and reduced the boost while we had time and ended up only missing a few race laps (5-10 or so) and then the Mustang handled the rest of the day well.  We turned good laps but had our black flag free race interrupted by two separate black flags, both for spinning.  Otherwise good laps in tricky conditions until near the end of the day when the track finally dried out.
Also, we all are still in need to of learning more and we could all use a lot more track driving instruction. Please let me know if you are interested. I have identified a few and will hopefully find more choices as we go. Remember we were losing a lap every 6-7 laps versus the faster drivers.
Sunday Ride Home:  Well here goes the longest part of the day.  We had to return the RV's to +/-Boston.  Initial thoughts of dropping off half our team and the race cars at the track restaurant and quickly do the trip out and back then head to PA was a bust since the track closes up tight and we can't stay past 7 PM.  Plan B was to Yelp a good local restaurant.  Yelp did not mention the biker bar aspect of the "best" restaurant nearby and the next choice was nowhere close to where we needed to drive.  Enter Plan C, drive in a 5 car and truck convoy to the RV return and then turn around and go back to PA.  (Jen and Jim had a much better plan of camping overnight in the area and driving Monday).  So, we get almost to Boston and finally find a place to break for "dinner" at around 10 PM.  After spiking Cassian's fruit smoothie with "ketchup straw" we move on to return the RV's and return on the PA trip.  We end up deciding to give up for the night and stop at the Danbury CT Hampton Inn at 1:30 AM.  My favorite two quotes from the trip are:
Vicki: "I'm good to keep driving"
Cassian: "we are waking up at 5:30 AM" and getting back on the road to get home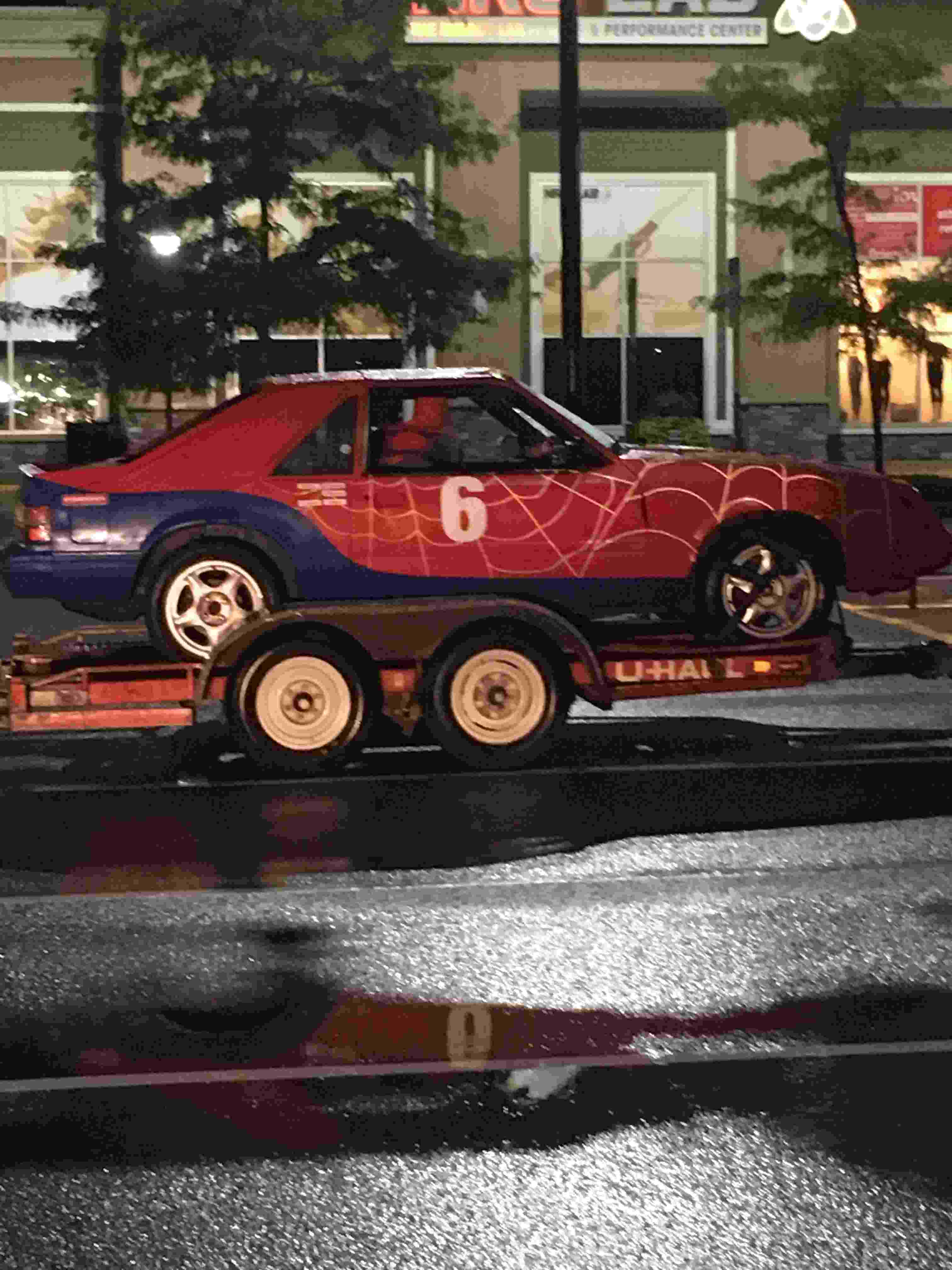 Monday Ride Home: after waking Cassian up at 6:30 and then waking him up again at 7 after he fell back asleep, we get everything together an get back on the road. We arrived home around 1 PM.
Week of Pain/Sleep/Zombieland: Unpacking, drying out, catching up on sleep, trying to work. Pretty much summarizes the week. I think everyone was pretty shot by the end of the race.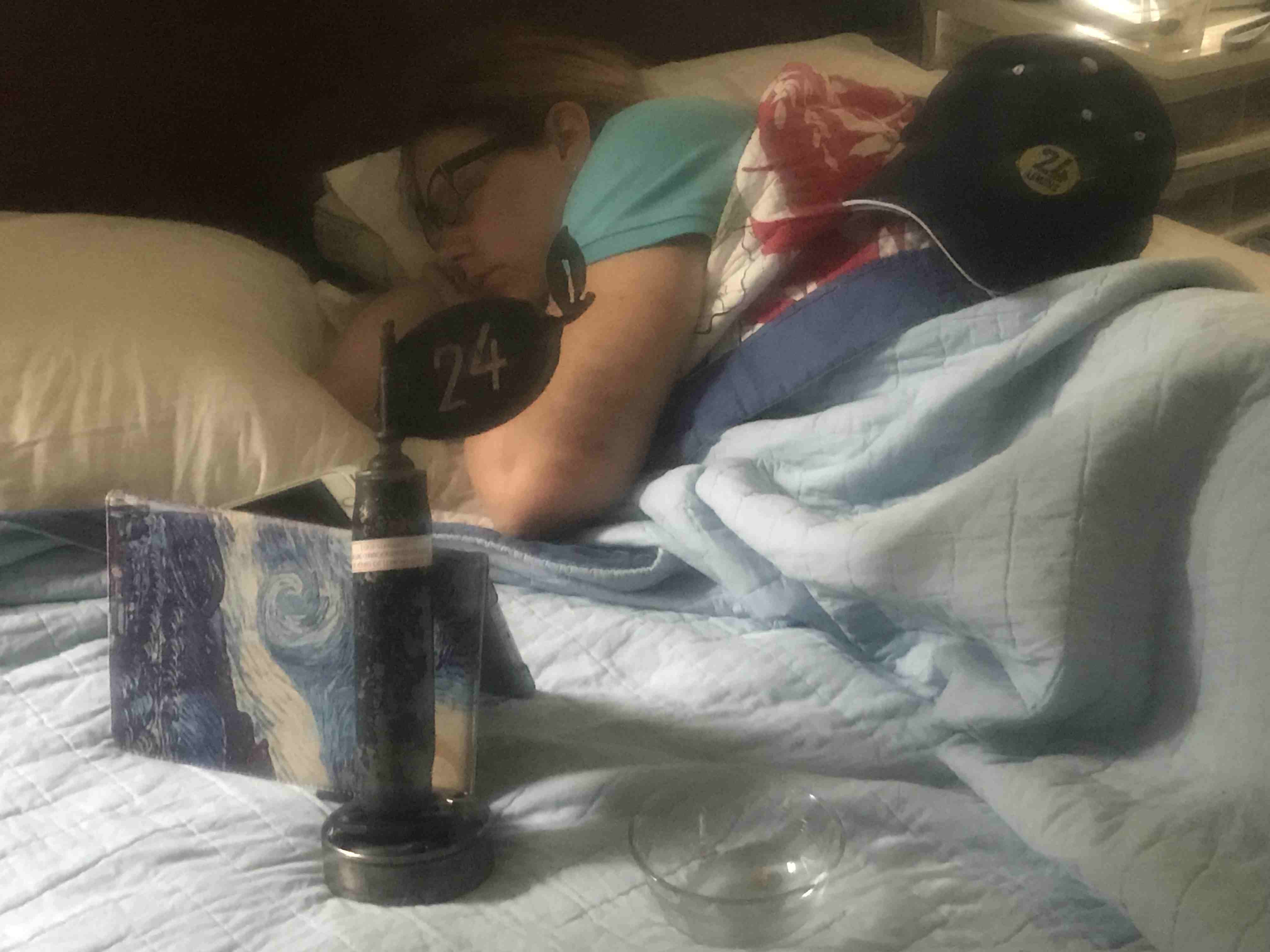 Capri Options: We have one dead car on our hands. I see four potential paths forward.
Sell the Capri, either fixed or as it is now not running
Replace the cam shaft and keep it going as is
Replace the drive train with another turbo 4-cylinder Mustang engine and transmission (since we have two almost complete spares)
Replace the drive train with a 5.0 Mustang/Ford or a 3.8 Chevy/GM engine and transmission
I want to keep the Capri running in lemons. It drives really well and with another 50 or so horse power would be an awesome lemons car. Right now, putting money into the current drive train make little sense to me. We'd end up with a good motor and still have a bad transmission that is only a 4 speed. Turbo 4 engines (like in our mustang) are also beginning to be a bit of a bear to get a hold of and spare parts are starting to dry up. I am leaning to a drive train change to either the 5.0 or the 3.8, more so toward the 3.8. We need to decide. Either way the car is parked until at least the spring race at NJMP.
Mustang needs: Many minor fixes set to go. Including wiring improvements, gas tank seal replacement, radiator and fan upgrade, several minor additional. Make sure structurally sound after race.
Our theme went over well but needs a few final touches. Are we going to upgrade Bondo to where he can race with us?
I would still like to investigate the brake upgrade. Next priority would be handling. Overall plan forward would be to change the Mustang to the same drivetrain as Capri eventually, after we use up the motors and turbos we have (3x)
Garage Heroes (In Training): Well we did win the coveted "I Got Screwed Award" (Talk about burying the lead!). It was for several reasons. In no specific order:
New team with "cool" cars and "cool" themes trying to run two cars in their second race
Take spirit of lemons racing well. Stayed out of their hair, few black flags, drove safe all weekend
Broke Capri 2X, once terminal
Broke Mustang 3-4x, still kicking
Oh yeah, driving off with all the race helmets to get pizza

I thought the race ended at 4-4:30 PM like NJMP so no big deal going for pizza, but I didn't know we had all the helmets in the car nor that we could get the Mustang fixed while we were gone and racing would go to 6:30 PM. Big oops.
So where do we go from here. Well, now that we are an award-winning team, I decided to formalize the team a bit more. We now have a website, Facebook Page, Instagram, and twitter account. Most are set up and running. Web page still needs work and twitter is not running yet.
WE NEED T-SHIRTS, stickers, logos etc. Any volunteers? (Me designing anything artsy is not a good plan as all of you know)
Oh yeah, I bought another car. (I know, I know, I have an addiction) We now own edited out for suspense. The theme bar has been set pretty high for this one, but we will give it a go.
Upcoming Race Schedule:
Race training at several choices and times: who is in? I'll get details. Goal is for at least 1-2 for each driver. Budget +/-$300-500 sometimes cheaper options for a few. May also do a few track days as well. Chime in please if interested. Note, if we now have 3 and maybe cars, we need more drivers…….Who?
NHMP in October: "new car" with Alan, Vicki, Bill, Pete, and Jen.
Atlanta in December: Mustang with Todd, Chance, Paul, and Bill confirmed. Alan is still TBD with his teaching schedule.
NJMP in May (?) 2019: 2-3 cars at this point, still tbd. Who is in?
Thompson 2019?: TBD, who is in?
NHMP 2019: TBD who is in?
One other: trip outside east region in 2019: who is in and any track preferences?
Last one: there is a Lemons rally if interested. Last year it stated in Moscow PA. Anyone intrigued? I have a theme in mind but we don't have any street legal cars. It would be ideal if it was a large convertible (hint).
Last Items/Miscellaneous:
Please send any photos or videos you have. I did not take many since it was a crazy weekend.
We need to gather more pictures and videos at the races. Assistance greatly appreciated.
Should we start a beginner racer podcast? Any interest?
Anything I may have forgotten, please remind me
Thanks to all!!! Very nice job and a great weekend.
Come with us and Enjoy the Ride!