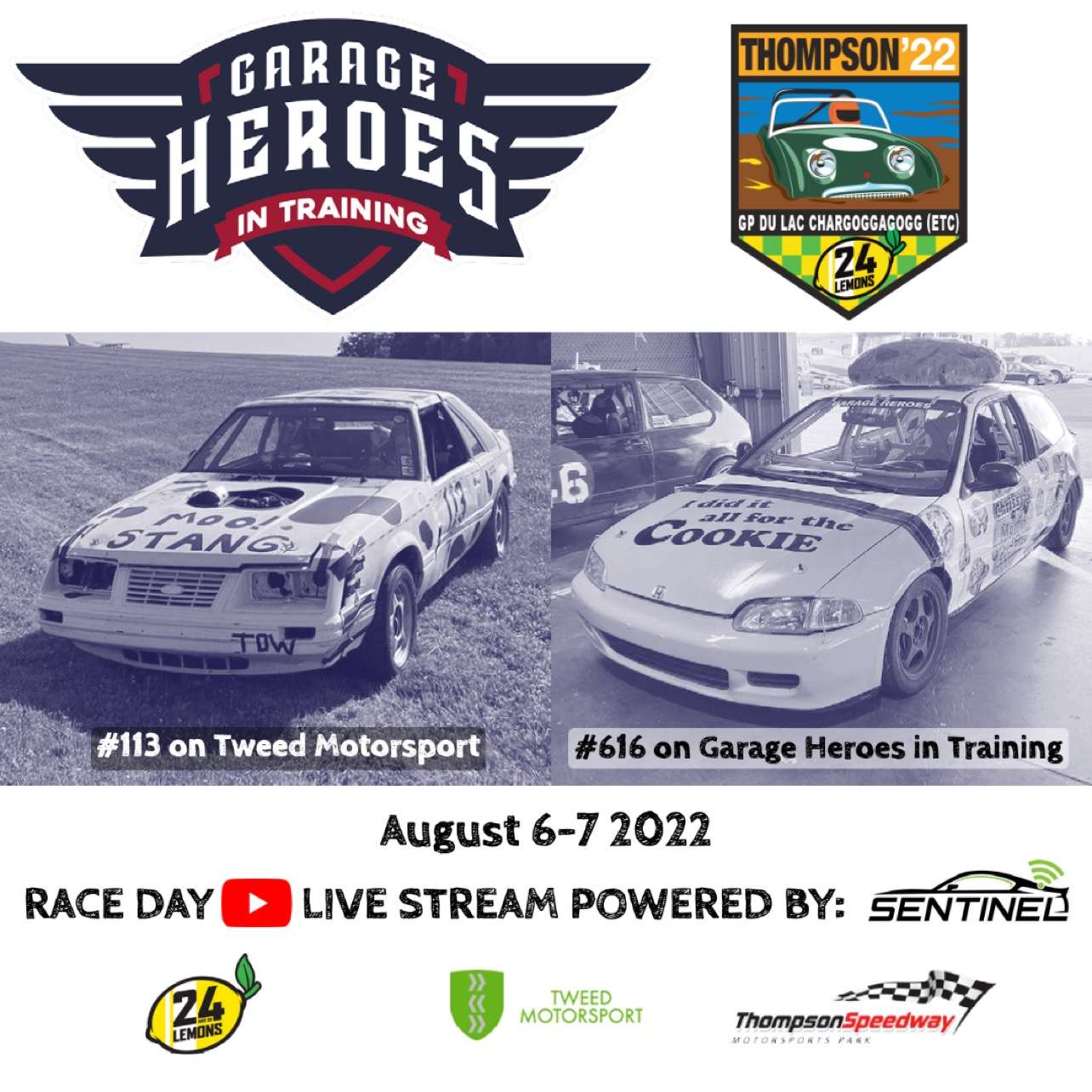 GHIT 0363  Race Review of Thompson 2022 with the 24 Hours of Lemons
We entered three cars into this year's 24 Hours of lemons race with the Honda Civic/Cookie Car still limping after our GridLife event, the El Jeffe/Bad Hombre/Trophy Truck/Chevy S10/Isuzu Hombre etc. prepped and ready for battle, and the MooStang/SpiderStang/1984 Mustang GT Turbo locked and loaded, almost.  This weekend was another hot and humid August race at the Thompson Motor Speedway, and we had a true Good, Bad, and the Ugly weekend.  We had another great weekend with all our friends at the track and we met a whole bunch more.  We cannot wait to get back on track again.  The team is in full post race hangover mode and some of our thoughts may not be directly related to what we said though our mouths.  Sounds like a normal podcast episode.  This week's hosts and drivers are Jennifer, Vicki, Jeremy, and Tim B.
If you would like to help grow our sport and this podcast:
Awesome choice #1: Subscribe to our podcast on the podcast provider of your choice and every episode will show up.
Even Better: If you could give our podcast a (5-star?) rating
Mostest Bestest: if you would leave a podcast review
We really appreciate it.
We hope you enjoy this episode!
PS Are you are looking to stream or save your integrated telemetry/racing data with video? Candelaria Racing Products Sentinel System may be the perfect solution for you. We are in the midst of installing the system in two of our cars. If this sounds like something that may help you and your team, please use our discount code "GHIT". This will give 10% discount code to all our listeners during the checkout process.
PS2 If you are looking to add an Apex Pro to your driving telemetry system, do not forget to use our discount code for all Apex Pro systems. Please enter the code "ghitlikesapex!." You will receive a free Windshield Suction Cup Mount for the system, a savings of $40.
Vicki, Jennifer, Ben, Alan, Jeremy, and Bill
Hosts and Drivers for the Garage Heroes In Training team
GHIT 0363  Race Review of Thompson 2022 with the 24 Hours of Lemons