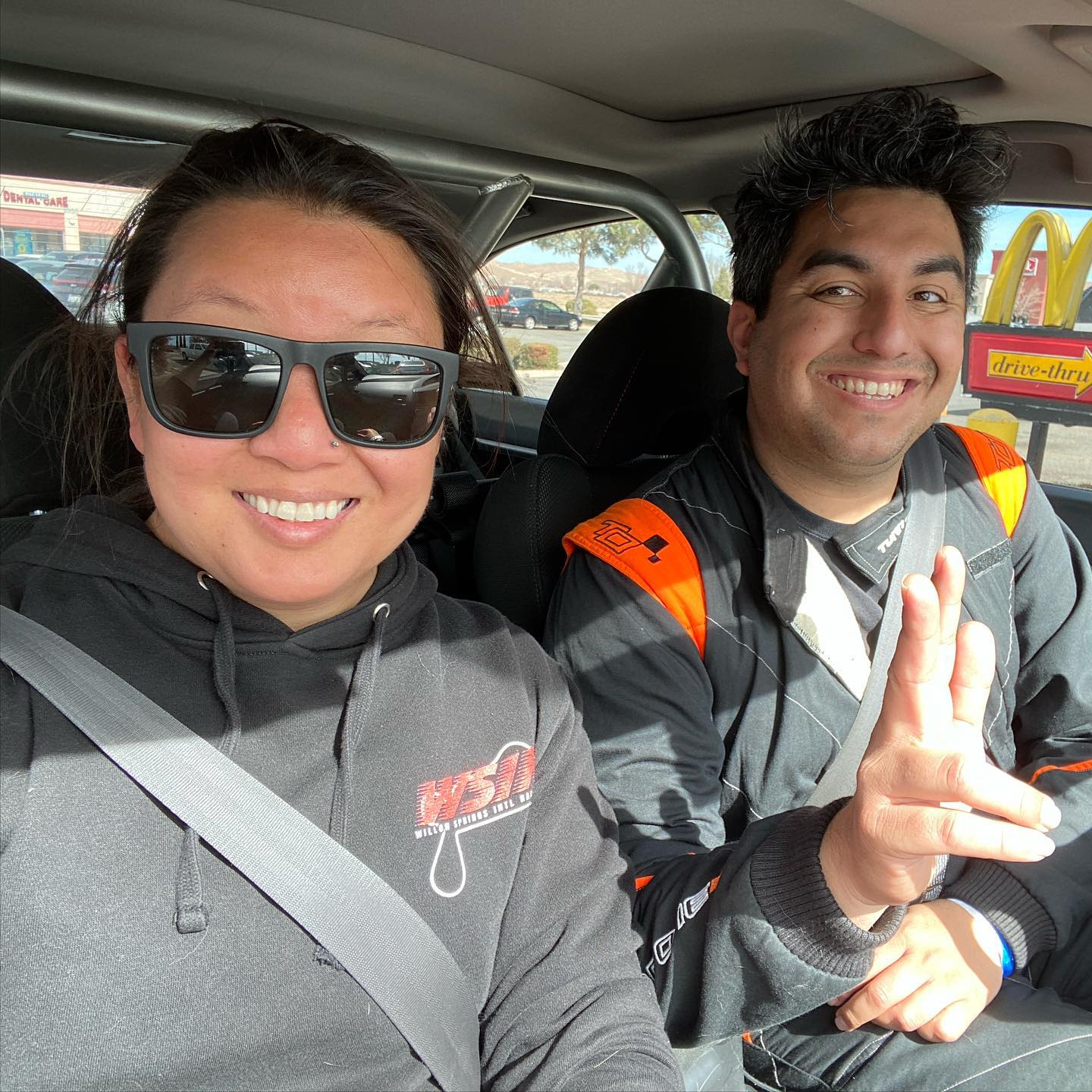 GHIT 0262: Jaime Garcia from the RaceFF podcast returns to Talk about his 1st wheel-to-wheel race and upcoming Endurance Racing Prep
Jaime Garcia returns to discuss his first Honda Challenge H2 race which was his first ever wheel to wheel race and satisfied his lifelong goal. We also talk through his upcoming preparation for his new 24 Hours of Lemons endurance race. In Jaime's last episode he was driving back his car after getting the cage installed so we had to see how his event went. Now we need to figure out how to get a photo of his (short) cross country exploits during the event. (Jaimie, please send us a shot or a link to where it is)(Christmas is coming you know, lol).
We also start discussing some of the differences in racing a front wheel drive car vs a rear wheel drive platform.  Vicki is still going through some PTSD from her last race at Laguna Seca with Lucky Dog Racing League.  We also discuss Jaime's upcoming preparation project for his endurance race. 
If you would like to help grow our sport and this podcast:
You can subscribe to our podcast on the podcast provider of your choice. This includes the Apple podcast app, Google music, Amazon, and YouTube etc. Also, if you could give our podcast a (5-star?) rating, that would be great. Even better is a podcast review. We would greatly appreciate it and it would help us to grow the passion and sport of high performance driving.
For instance, leaving an Apple Podcast rating is very easy.  If you go to your podcast library, simply under shows. Then click on the podcast you can leave a (5?) star rating and enter your review. 
We hope you enjoy this episode!
PS Please don't forget that if you are looking to add an Apex Pro to your driving telemetry system, don't forget to use our discount code for all Apex Pro systems you will receive a free Windshield Suction Cup Mount for the system, a savings of $40. Just enter the code "ghitlikesapex!" when you order. They are a great system and truly invaluable in safely increasing your speed on track and/or autocross etc. The recently released second generation systems and app increases the capability of the system greatly.
Best regards,
Vicki, Jennifer, Alan, and Bill
Hosts of the Garage Heroes In Training Podcast and Garage Heroes In Training racing team drivers
Highlights from this episode include:
1)  Jaime discusses his recent H4 Honda Challenge race, how it went and what he can improve.  He also goes into some of the car improvement projects that he has upcoming. the goal is to improve his car's capability and hopefully improve his competitiveness within class.
2) We discuss potential things we have learned about towing vehicles to the race track and a story of poor dealer service that led to our switching in tow vehicle (and Bill crossing off our local Ford Dealership, even though he is still eyeing a GT 350R longingly)
3) Tips we learned about renting car trailers from U-Haul.
4) We walk through Jaime's endurance race car plans and provide some tips and things we have learned, most the hard way, lol.
5) Jaime has an experience with the local carp parts store brake pads from his last endurance race. We try to appeal to his budget consciousness to upgrade to our brake pad of choice.
6) Our introduction to the anime show "Initial D". Time to do some homework.
7) We discuss the aspects of theming, tech inspection, and bribing the judges to help make up for experience and potential black flags.
8) Several tips on racing seat installation and making accommodations for a team of different sizes, heights and lengths.
9) In the past, we have had three drivers have claustrophobic experiences/panic attacks when getting strapped into the car. We discuss several things we have found to help if this happens.
10) Critical spares and parts to bring tot he track with you and how to decide what to bring and what not to bring. We have a bit of a philosophy for each of our cars that dictates what we bring to an event.
11) Bunches of little tips and tricks for detailing the last few percent of your car.
12) We start planning a 2022 meetup and race. Perhaps a honeymoon race?