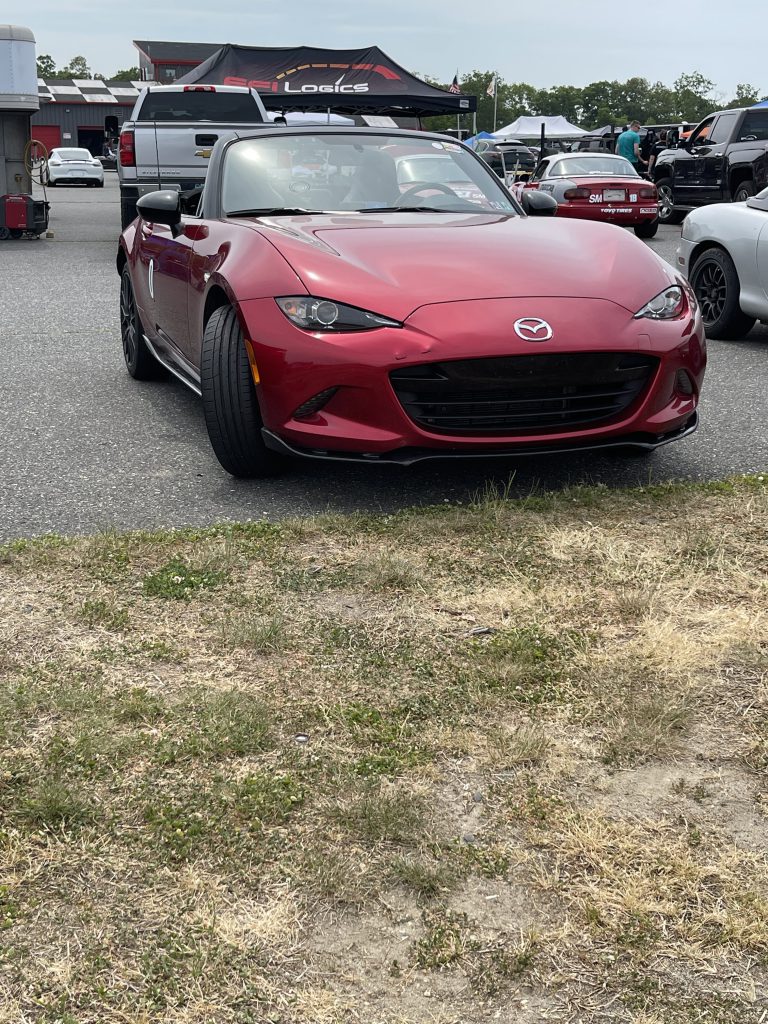 GHIT Podcast 0203: Our Latest HPDE with NASA Northeast in May 2021 at NJMP Lightning
We review our latest high performance driving education (HPDE) event at New Jersey Motorsports Park (NJMP) in Millville, New Jersey.  We had four drivers at the event from our team.  Jennifer, Vicki, and Liam were in the HPDE 2 run group for this weekend. Bill was in the HPDE 3-4 group.  We each learned quite a bit a this event and we are all better drivers after these two days on NJMP Lightning.    
On this episode's Dominating with Dawson, Ben goes into the acronym OSB. OSB is sometimes used to describe someone in a learning environment where it stands for "Other Sports Beckon".  We believe that anyone can learn how to drive at a track or an autocross event.  While there are differences in everyone at the rate that they learn, or their initial skill/experience level, literally everyone can get to a very proficient level. But they take need to be open to learning and be willing to put in the effort to improve.  We then move into how different teaching approaches are better able to match with different student personalities and how the needs of the student may change as their experience and skill level progresses.
You can subscribe to our podcast on the podcast provider of your choice, including the Apple podcast app, Google music, Amazon, and YouTube etc.
Also, if you could give our podcast a (5-star?) rating or even better, a podcast review, we would greatly appreciate it. This would help us to grow the passion and sport of high performance driving.
For instance, leaving an Apple Podcast rating is very easy. If you go to your podcast library, under shows and click on the podcast you can leave a (5?) star rating and enter your review.
A link to the episode is: https://tinyurl.com/NJMPHPDEMay2021
We hope you enjoy this episode!
PS 
Please don't forget that if you are looking to add an Apex Pro to your driving telemetry system, we have a discount code for all Apex Pro systems. You will receive a free Windshield Suction Cup Mount for the system, a savings of $40.  Just enter the code "ghitlikesapex!" when you order.  They are a great system and truly invaluable in safely increasing your speed on track and/or autocross etc.  The recently released second generation systems and app increases the capability of the system greatly.
Best regards,
Vicki, Jennifer, Alan, and Bill
Hosts of the Garage Heroes In Training Podcast and Garage Heroes In Training racing team drivers
Highlights from this episode include:
1) Car reviews:  Jennifer was in a 2019 ND.2 Mazda Miata with the stock OEM Continental tires and brakes.  Liam was in his 2017 Toyota 86 TRD with Hankook RS4 tires and Raybestos ST-43 racing pads.  Vicki was in her 1999 NB Miata with a Flyin' Miata Turbo, Hankook RS4 tires and ST-43 racing pads.  Bill was in his 2004 BMW E46 M3 with yellow Pagid brake pads and Michelin Pilot SuperSport 4 tires.
2) Telemetry we used for this event: Apex Pro and Garmin Catalysts.
3) How we owe our friends Jeff and Jim from the Three Pedal Mafia for saving our weekend by letting us use their family's RV. Let's just summarize by saying our prep for the vent did not go as planned. Situation normal.
4)  Vicki's prep to her turbo NB Miata did not go as planned before the event and at the event, but we did a few adjustments and all went well.  It should be back up and running for our HPDE at Mid Ohio this coming weekend.  Pro tip, do not try to adjust your wiring harness while the car is running.
5) Vicki and Jennifer's thoughts on being in HPDE 2 vs HPDE 1. It was Vicki's second time in HPDE 2 and Jennifer and Liam's first time in HPDE 2. We also go into some of the differences in the HPDE's between this event and some of the other organizations we have attended.
6) Let's talk about point by's at every post stint debrief, lol.
7) Vicki's impressions of driving the E46 M3 on track for the first time.
8) We go over our goals going into the event and how we did during the event and what we learned over this weekend. We also go into some of the challenges we each face as we progress and grow as drivers on the track.
9) Liam pops in for a quick summary towards the end with his thoughts on the weekend. He also had a great time at the event and finally had a chance to be on track with the Garmin Catalyst.