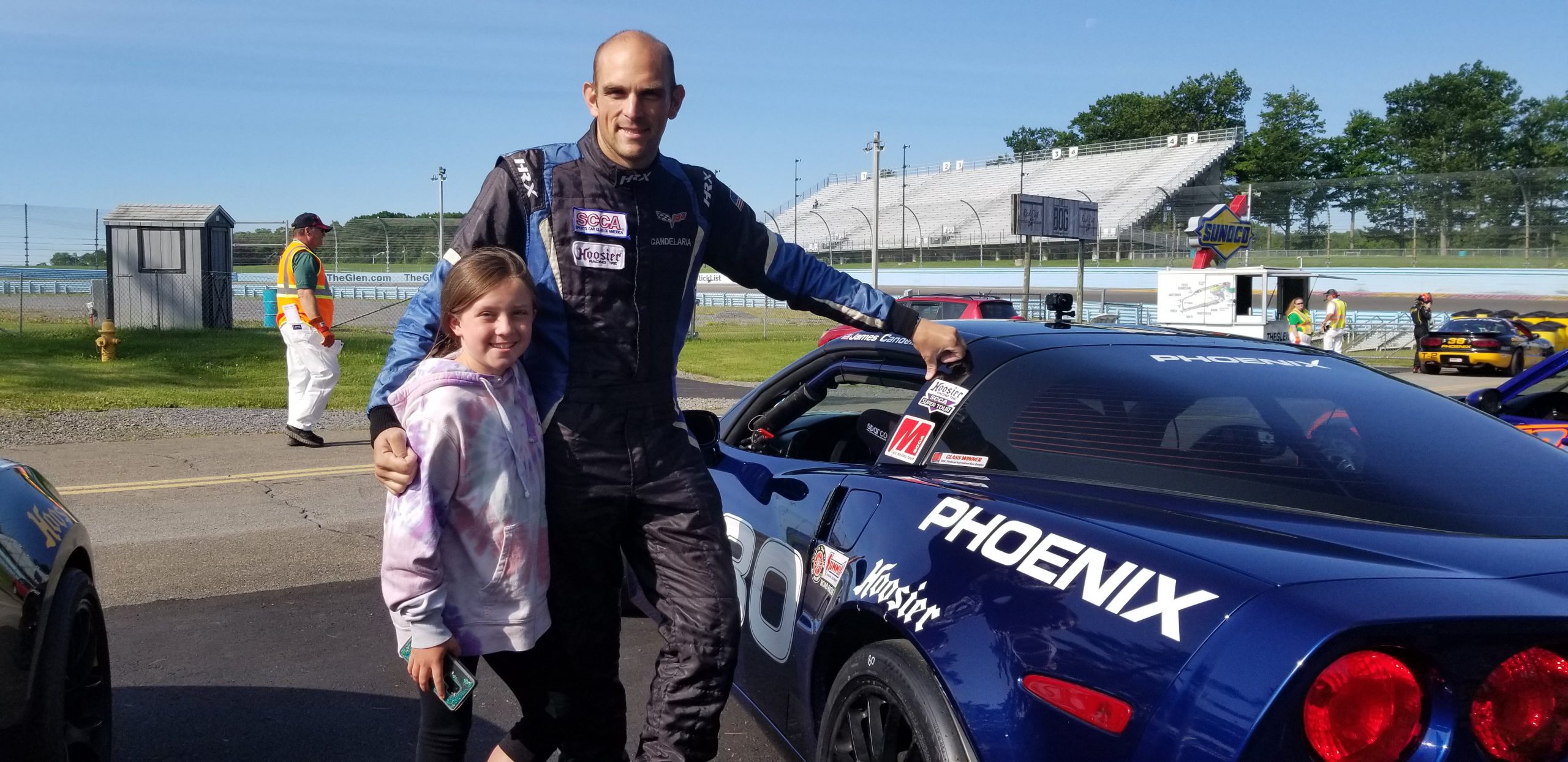 GHiT 0299: James Candelaria from Candelaria Racing Products (makers of the Sentinel System) and Hagerty's The Drive Within with Round 3 Racing
We continue our introduction to Round 3 Racing (R3R) and Hagerty's "The Drive Within" with another team member James Candelaria. James races with the R3R team in the WRL endurance racing series. Last season James was racing in the #601 Porsche Boxster and this season he will be in their new #609 M4 GT4 BMW. If you watch the series, James was present but his on screen role was slightly diminished a bit as a result of a racing incident which we also discuss during this episode.
In addition, James races in a variety of cars and series, and in his "spare" time he started up Candelaria Racing Products. The lead offering is the Sentinel Streaming System that solves one of our teams issues and allows us to combine the race car data with our in car video and race standings in one simple package. In addition, all of this information is available live through streaming. We are in the midst of installing the system in two of our cars and will cover the installation and use of the Sentinel system in future episodes. If this sounds like something that may help you and your team, James was kind enough to offer a 10% discount code to all of our listeners. Please enter "GHIT" during the checkout process.
If you would like to help grow our sport and this podcast:
You can subscribe to our podcast on the podcast provider of your choice, including the Apple podcast app, Google music, Amazon, and YouTube etc. Also, if you could give our podcast a (5-star?) rating, that would be greatly appreciated. Even better, a podcast review, would help us to grow the passion and sport of high performance driving and we would greatly appreciate it.
For instance, leaving an Apple Podcast rating is very easy. If you go to your podcast library, look under shows. Then click on this podcast. Here you can leave a (5?) star rating and enter your review.
We hope you enjoy this episode!
PS Please don't forget that if you are looking to add an Apex Pro to your driving telemetry system, don't forget to use our discount code for all Apex Pro systems you will receive a free Windshield Suction Cup Mount for the system, a savings of $40. Just enter the code "ghitlikesapex!" when you order. They are a great system and truly invaluable in safely increasing your speed on track and/or autocross etc. The recently released second generation systems and app increases the capability of the system greatly.
Best regards,
Vicki, Jennifer, Alan, and Bill
Hosts of the Garage Heroes In Training Podcast and Garage Heroes In Training racing team drivers
Highlights for this episode include:
1) What do you do when you find our you are about to have your first child? Well, James goes out and buys a Corvette. We knew we would get along immediately.
2)  The story that illustrates what to do on track with a bad "feeling" brake pedal. And also the importance of pre-planning your reactions as a driver ahead of time for as many potential situations as possible.
3)  If you want to hear the sound of Vicki's brain bending, Its here. When James goes into a description of driving a car with aero.  
4) A bit more behind the scenes stories of R3R and the Drive Within show.
5)  We go into some depth on the Sentinel System. The Sentinel integrates your car's telemetry data with the current racing results. It also combines this with any in car video and can be streamed live and recorded.  
6) Bill and James bond over being robots. And it dawns on Vicki that the data and video she wants may not be exactly what she wants, lol.
7) James has been into Vette's for a long time, even the super rare 1983 model he had at a young age.
To follow James further:
Candelaria Racing: https://candelaria-racing.com/
Instagram: @CandelariaRacingProducts
The Drive Within: https://www.hagerty.com/media/series/drive-within/
Round Three Racing:  https://www.round3racing.com/ 
GHiT 0299: James Candelaria from Candelaria Racing Products (makers of the Sentinel System) and Hagerty's The Drive Within with Round 3 Racing