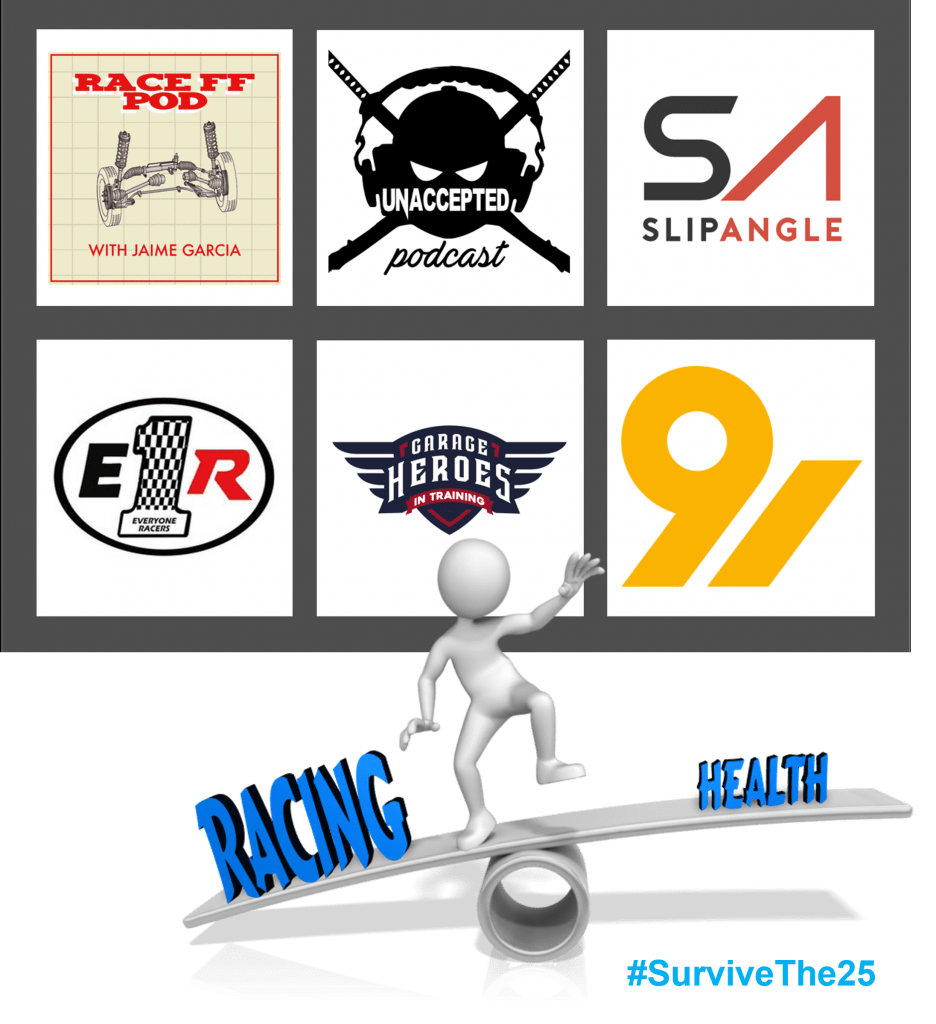 Survive the 25
Top 5'ish Scoreboard
| | | |
| --- | --- | --- |
| Current Position | Name | Points Total |
| 1 | Alex L | 57 |
| 2 | Bill – GHiT | 37 |
| 3 | Jon – 91 Octane | 23 |
| 4 | Jeff – E1R | 22 |
| 5 | Justin | 21 |
| Other | Podcast | Other Podcast Hosts |
| 8 | Jaime – Race FF | 18 |
| 10 | Vicki – GHiT | 17 |
| 12 | Tony – Unaccepted | 15 |
| | | |
| | ARE YOU IN? | |
Scorecard updated December 31, 2021
Our Survive the 25 Podcast Participants
Slip Angle Podcast: New Slip Angle Podcasts are posted every Tuesday and Friday (usually). They cover track days, club racing, autocrossing, and other various driving hobbies. By drivers, for drivers.
RaceFF Podcast: A podcast about road racing in So Cal focusing on FF cars.
Everyone Racers (E1R) Podcast : Everyone Racers is a podcast that focuses on amateur endurance racing from beginner to advanced, as well as the news, tips, and tricks that go along with our hobby. Four friends and often teammates; Chrissy Mittura, Christopher Abbott, Jeff Wakemen and Christian "Mental" Ward discuss current racing trends and news, as well as occasional interviews and guests who are interesting people with different perspectives on racing and car culture. You never know what they'll discuss each week, but it will be entertaining!
Ninety One Octane Podcast: An automotive enthusiast and a self proclaimed track junkie break down cars, car culture, and everything in between. Randy from Detroit, and Jon from Los Angeles, offer differing and down right wild perspectives that go well past the usual car review dribble you have grown accustomed to.
Garage Heroes In Training Podcast: You are here, so you probably already know, but, we are an amateur endurance auto racing team. We hope to show everyone that they too can participate in performance driving. We are a relatively new team and learning right along with you. Our assumption is that you know very little to nothing about the sport but are interested in learning to drive better and eventually maybe even race in a local event of interest. We will cover all forms of racing and hope to be entertaining as well as educational.